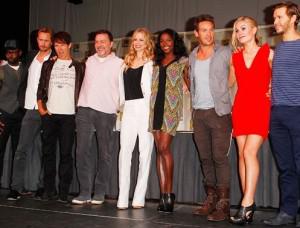 Inside True Blood blog went inside Comic-Con this past weekend and posted some of the best, albeit some very strange, questions and requests from fans. Check them out below:
"First things first," a young woman began to ask Nelsan Ellis, "Can you call me 'hooker' real quick?" The actor granted her request, and though this may seem like an odd wish, it apparently happens all the time. Later in the evening, Ellis explained, "A girl at a panel yesterday asked me the same thing. I guess everybody loves to be called 'hooker.'"
A man stood up, recording video, and asked the group to send a video message to his friend serving in Afghanistan as an Air Force sergeant. Alan Ball jumped in, speaking to the camera, "Lisa, please come home safe. Keep your eyes and ears peeled for vampires … and get home safe."
Another girl aimed her camera directly at Alexander Skarsgard, explaining simply, "I need Alex on video." She went on to ask him why Eric's voice has gotten higher since Season 1 – was it because he was becoming more human? "Wait, are you filming me now?" the actor asked, gamely producing a rakish grin for her. So the fan got her video, but Skarsgard admitted to being stumped on the question. "I don't know. But I like your interpretation, so I'm gonna go with that," he said. "I was more of a robot in the beginning, and now I'm getting more human."
Another guy asked Ball to please stop killing every attractive waitress who gets hired at Merlotte's. "Are we ever going to get a hot waitress with some staying power," he asked, "for the male fans?" The exec-producer gestured to Anna Paquin, incredulous, and asked, "What about Sookie? She takes her clothes off all the time! Though I do think that working at Merlotte's as a waitress is probably the most dangerous job in the world. So, there's a lot of turnover, so you'll definitely get to see some new waitresses. Whether they survive – or get naked – I guess we'll have to see.
Any Truebies attend Comic-Con? Tell us about your experiences in the comment section below.
Source: Inside True Blood – Best (and Strangest) Fan Requests for the True Blood Cast
Photo Credit: Getty Images