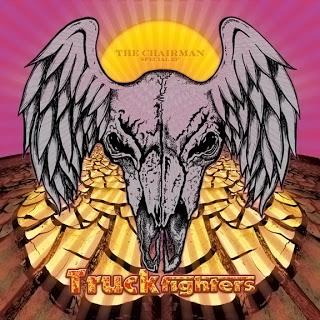 The folks at Last Hurrah Records are pleased to announce the release of The Chairman Special Edition EP, from Swedish fuzz rockers, TRUCKFIGHTERS.
Treading the trenches of heaviness somewhere between Fu Manchu and Queens Of The Stone Age, to hear TRUCKFIGHTERS is to hear the sounds of the desert; it's in their wide open expanses, grand open grooves and dust-caked metal riffs. You can hear progression and imagination; a band bred on the California badlands, on sprawling vistas and parched wilderness. The dynamic trio however hail from Örebro. Unafraid to plow their own furrow, TRUCKFIGHTERS have forged ahead and spend months on the road touring the world. Closing in on four-hundred gigs across four continents (Europe, Australia, and North and South America), being in front of crowds, sweat-sodden and crazed is where they are happiest. It's why a TRUCKFIGHTERS show is such a wild, free-form, charged affair.
The band's forthcoming new full-length is slated for release next year and includes the track "The Chairman," hence The Chairman Special Edition EP. Delivering over thirty minutes of pure power fuzz, the EP features the title track plus three live tunes -- "Desert Cruiser," "Monte Gangano," and "Traffic" -- all recorded while on tour in Australia. Presented at 45 RPM for best sound quality on a multi-colored vinyl 12-inch, The Chairman Special Edition EP comes in a full-color sleeve and jacket limited to 500 copies worldwide and only available from Last Hurrah Records. The jacket cover artwork has spot UV gloss, spot PMS, and silver metallic ink designed by artist Lindsey Kuhn and comes in two different vinyl colors: Desert Sunset and Desert Sunrise, each a mix of opaque and translucent colors (250 of each color).
Preorders are now available for the TRUCKFIGHTERS The Chairman Special Edition EP courtesy of Last Hurrah Records at THIS LOCATION where you can also check out a video for the title track!