Aztec Well Servicing in Farmington plans to convert its entire fleet of 121 trucks and many of its 13 drilling rigs from diesel to natural gas.
The company, which employs about 750 people in the San Juan area, also will open Farmington's first compressed natural gas (CNG) fueling station in early 2013 to service its own fleet, and to sell natural gas to the public.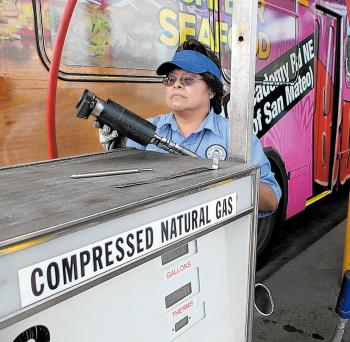 Frances Carabajal of the Albuquerque Transit Department readies a natural gas nozzle to fuel a bus at the Yale Yard Station. Photo Credit – Greg Sorber/Journal
"We need to put our money where our mouth is to demonstrate the value of natural gas as a legitimate fuel source for our nation," Sandel said. "We see it as the wave of the future."
Aztec is part of a growing national trend by commercial fleet operators to convert vehicles to natural gas. They are spurred on by extremely low prices, the prospect of abundant supplies well into the future, and growing public support for cleaner-burning fuels.