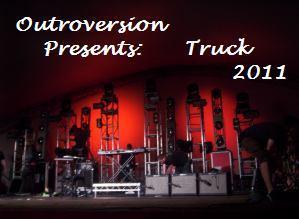 Times they are a changing for sure. Everyone's favourite off the beaten track festival returned bigger and better than ever. For a festival that has always been a familiar and comforting occasion with the only surprises being on the always mind blowing line up, there has been an air of mystery over proceedings this year. New stages, more fields, a cinema, fine dining, an extra day and the main stage moving to Steventon's 'Natural Ampitheatre'; all this sounded amazing but oh so tantalisingly ambiguous!
The most important thing is undoubtedly the music but rather than turning up and being able find everything in your sleep/stupour, there's a whole load of new dimensions to attract and intrigue.
We were there for the full three days to completely immerse ourselves in the experience of the jewel in Oxfordshire's musical crown, Truck 14.

One of my highest anticipated acts of the weekend was also one of the earliest. It gave us the chance to see the new location for the mainstage which is now located in Steventon's aforementioned natural ampitheatre, it's about a 20 second walk from the old one- relax ;)
An understated and apologetic mid afternoon set from Mark Christopher Grassick's London based midwestern revivalists. Their wounding sound brought back memories of Fionn Regan at last years festival. Unashamed and honest music with beauty pouring from the wonderful lyrics, there's no way this feels like 4pm. They convert the mild and bright outdoors to a dusty saloon at midnight in Texas.
Impossibly unheard of.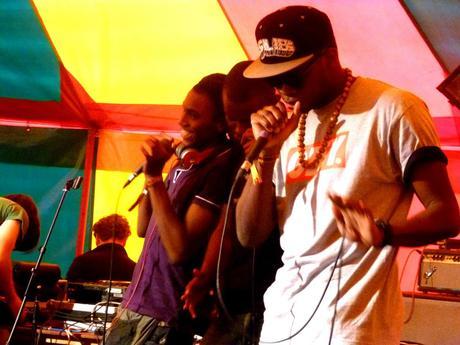 Mr Shaodow
Getting the Last.fm tent moving, Oxford's Mr Shaodow. Flanked by hype man ABIADE and DJs Amz and Watchcase he chooses to start off proceedings with "Look out, there's a black man coming". An energetic showing which is nothing less than expected from what seems to be a fairly hardcore following. Mascara streaming from those in the front row, the words and his name are screamed out in "That's MR Shaodow" while the tent becomes increasingly crammed and increasingly smoke filled.
"Hustle Smart" keeps the place rocking with Shaodow spitting with unbelievable speed and potency. Showcasing his athletic prowess as well as lyrical dexterity he makes this, probably 200 person audience, feel like they're in a packed nightclub. It's one of those moments where you walk outside and are dissapointed to see sunlight.
Shaodow creates a unique atmospheric bubble, nothing outside could come close to suggesting the revelry inside.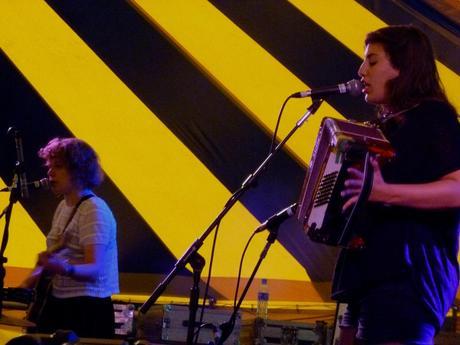 Peggy Sue
Our first visit to the Clash Stage, which hosts artists from a different label each day, sees friends of Camera Obscura Peggy Sue who are signed to Transgressive.
Softly and mournfully the tone is set with an ambling beat accompanied by fragile and straining vocals. Having replaced Dry The River in good time it's easily apparent everyone here is here for them. Reminiscent of the artificial mire of Dear Reader and using rhythm from the bass and drums to the same great effect ,the tempo switches up and down while keeping the feel just as languid.
They have single Cut my Teeth out now from their second album which is available in September.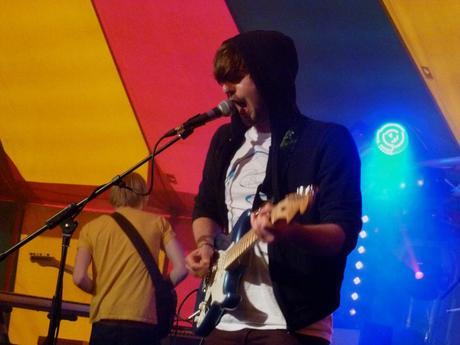 The Math Rock elements of the next Oxford band, Gunning for Tamar are highlighted extensively here showing the band's true musical mastery.
Potential Outroversion track of the year "Bonfires" was pulled out pretty early, crude video below, I was pretty close to the speakers :/
Consistantly hooded frontman Joe Wallis spearheads the attack with pulsating energy attacking either side of him and intricate, puzzle like drums thrusting from behind. That sounded weird but wait until you hear it live.
They've only been together a year and a half and played here like they were headlining, you get the impression they'll be a few more steps closer to such billing in another years' time.