I received this book for free from NetGalley in exchange for an honest review. This does not affect my opinion of the book or the content of my review.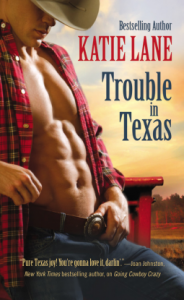 Trouble in Texas
by Katie Lane
on Dec 18 2012
Genres:
Adult, Contemporary, Fiction
Pages:
352
Source:
NetGalley
Goodreads

THERE'S A FOX IN THE HENHOUSE
Inheriting the most notorious house of ill repute in Texas can spell trouble for a girl's reputation . . . especially when she's Elizabeth Murphy, Bramble's prim and proper librarian. Yet when she discovers a buck-naked cowboy handcuffed to a four-poster bed, she forgets all about the town gossips. Elizabeth has sworn off men, but the stranger's kisses melt her resolve faster than ice cream on a hot summer day.
Waking up in Miss Hattie's Henhouse isn't how Brant Cates reckoned on getting to the bottom of his great-granddaddy's murder. The plan was to solve the centuries-old crime, then get the heck out of Dodge. But after meeting Elizabeth and discovering that the buttoned-up beauty is a sexy siren in disguise, he just can't pull himself away.
Now Brant needs Elizabeth to finally put his past to rest, but is she willing to risk her future on Bramble's newest bad boy?
This was the first book from this Deep in the Heart of Texas series that I have read. And I must say that it wont be the last. I found this book to be hilarious and couldn't put it down once I started to really get into it. The characters are so colorful especially the three Hens that live in Miss Hattie's Henhouse, you can't help but laugh at their antics. Brant and Elizabeth are fun to watch as they deal with the Hens. and trying to solve they mystery of Brant's great-granddaddy's murder. The story is fast paced, and completely enjoyable. I look forward to trying some more of Katie Lane's stories.