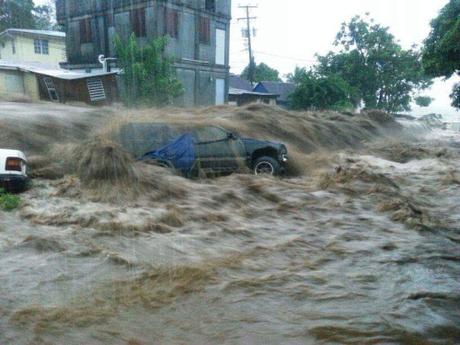 Torrential rains caused by Tropical Storm Erika have unleashed devastating floods and landslides on the Eastern Caribbean island of Dominica, leaving at least four people dead and more than 20 missing.
This was confirmed by Dominica's Prime Minister, Roosevelt Skerrit at a press conference in St. Lucia on Thursday, which was also attended by St. Lucia's Prime Minister Kenny Anthony. (Link to Da Majority.com for a podcast of the press conference provided by the Dominican radio station Kairi FM, as well as photos and video clips of the devastation caused by the storm.)
Roosevelt who stopped over briefly en-route to Dominica via helicopter said the storm had caused extensive damage across the island after floods swamped villages and wiped out roads and other infrastructure.
He said he was especially concerned about Petite Savanne, a coastal village hit hard by mudslides and rendered inaccessible to vehicles. The coast guard was deployed to try and reach the community via the sea.
"This is where many are feared lost," Skerrit said.
The immediate focus for the government is on search-and-rescue efforts. Trinidad & Tobago and other islands in the region have provided helicopters and other assistance to help with the rescue effort. Late Thursday, rescue crews began fanning out across Dominica to search for the missing and injured.
Skerrit said the task of repairing the island's damaged infrastructure would come later, and estimated that the cost of repairing damaged homes, roads, bridges and other structures would run into tens of millions of dollars.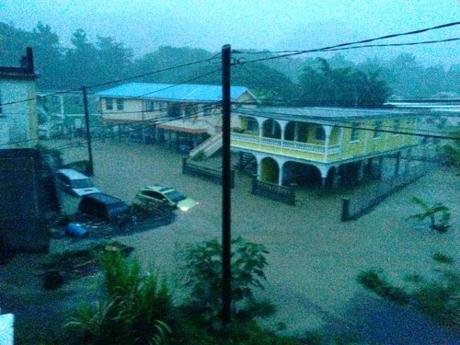 Flood hit houses in Roseau. Phot credit: Covert Intelligence LLC
Meanwhile, in an interview with the Associated Press, Dominica's Police Superintendent Daniel Carbon confirmed that an elderly blind man and two children were killed when a mudslide crashed into their home in the southeast of the island. Another man, he said,  was found dead near his home in the capital of Roseau following a mudslide, but the cause of death could not be immediately determined.
Further reports indicate that the main river that cuts through the capital overflowed its banks and the surging waters overwhelmed the main bridge leading into Roseau.
Up to Thursday, about 80 percent of the island was reportedly without electricity and the water supply was cut off. The main airport had to be closed due to flooding.
See more photos of the storm damage at LoopNewsBarbados.com