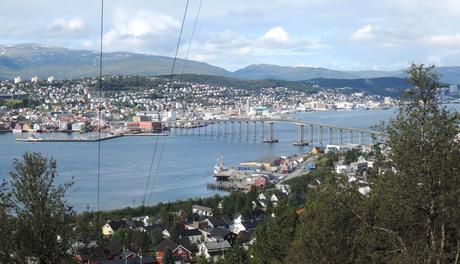 Panoramic view of Tromso
Located on Tromsoya island and connected to the mainland by a bridge and the Tromsoysund tunnel, Tromso is the second largest city north of the Arctic circle –first is Murmansk, in Russia– and a main cultural centre for all northern Norway. Famous –among other things– for the old wooden houses and the modern Arctic Cathedral (quite a landmark), it hosts several international festivals in summer and does for an exceptional observatory of auroras during winter time.
All along the late middle ages, the native Laplanders had to share this area with the Norse, who arrived as colonizers from lands more to the south; and though the rich heritage from both cultures is well documented, the Sami got the mice's share and, today, they're almost extinct. The first church on Tromsoya was erected in 1252 (the northernmost one on the globe at the time), called Sancta Maria de Trums juxta paganos, i.e. "near the heathens", namely the natives. But Tromso was not just a Norwegian outpost in an area mainly populated by the Sami, but also a frontier city towards Russia; the Novgorod state had the "right" to tax the natives east of here, whereas the Norwegians taxed them to the west. During the next five hundred years Norway's limits would be pushed eastwards, making Tromsø lose its character as a "frontier town".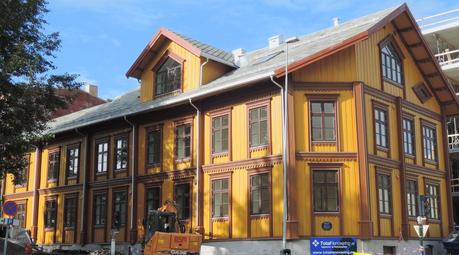 One of the old wooden houses Tromso is famous for
Then, when Bergen lost its centuries-old monopoly on cod trade by late 18th century, Tromso quickly rose in importance. Decades later it would become the major centre for Artic hunting and grew increasingly important in other maritime economica activities, with the first shipyard being established in 1848. By the end of the 19th century, it had become a major trade centre from which many Arctic expeditions originated, and explorers like Roald Amundsen, whom we already met in the Vadso chapter for being the first man overflying the north pole, made use of the know-how in Tromso on the conditions in the Arctic. Also from that time are some of the oldest wooden houses in town.
Today seems to be the Spaniards day: first I met the seven bikers from Barcelona while waiting for the ferry; then now, right after going into Tromso, I'm approached by three Galicians who've noticed Rosaura's plate. Funny that it's been weeks of not meeting a single Spanish and now, in just one day, I stumble upon total ten. One of these Galicians is quite a chatterbox, and a fan of Scandinavian culture. He tells me about some miscellanea, the places he's been to, the pictures he's taken; in about ten minutes' talk, he shows me a hundred photographs, only to turn his back on me with a hasty goodbye when it's my turn for adventure telling. Jesus, what a weird people you meet out there!
Tromso is a very touristic city, abounding in acommodation; so, despite the two international events taking place this weekend, it doesn't take me long to find an affordable room: it's a small hotel called AMI, right in the middle of the historical centre, where most of the old wooden houses are, across Konge park. As usual, the staff is very friendly and welcoming. By the way, Norway is one of those traveler-friendly countries where –like France– there is no registration form in acommodation places; not a police-state like Spain or Italy. You're just given your room's key, pay on checkout, and goodbye. Often you're not even asked your name. I love it. Good for Norway!
And they live good, these Norwegians! Damn good. Their houses are big, neat, charming, perfectly equipped and conditioned. Besides, this country has the highest ratio of campers and RVs I've ever known, and that's the way they take their holidays. Hotels, but for exceptions, are so expensive not even Norwegians can pay for them, and here's a vicious circle: the less customers, the higher fares, then the less customers, and so on. Besides, Norway's infrastructure for motorhome holidaying is unbeatable, there being campsites in every corner all over the country. Problem is, if you want or need to stay in a city, then you're in trouble because campgrounds are usually located on the outskirts, and a hotel downtown will charge you 80 to 120 € for a nothing special room.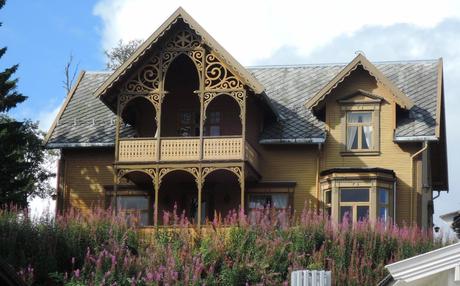 A humble private house in Tromso
This city's atmosphere reminds me of Reykjavik, I don't know why, since they're not at all alike and Tromso is far more touristic. Yet, they have something in common I'm not sure to be able to convey: I believe it's about some relaxed and hospitable feeling, resistant to hurries and worries, akin with a personal and spiritual well-being. It is lively while not stressful; offering a variety of activities, they're not overwhelming; with 70,000 inhabitants is no small city, yet easily walkable; despite being far away from everywhere, it's not in the middle of nowhere; plus it feels safe and lovely. Maybe its only drawback –from my very special point of view– is the tourism; yet, I guess this is mostly during the summer time. Tromso might well be my dream city–were it not for Norway's so expensive I can't afford it. What Spaniard can pay a rent here, or go grab a beer at ten euros apiece? Right at Pérez's, for instance, I've been charged sixteen for a glass of wine and a can of peanuts…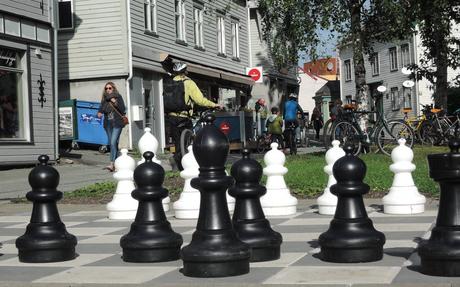 Funny "monument" right by Pérez bar. Those chess pieces wouldn't last long in a Spanish town
But I still didn't mention Pérez, did I? Having "hosted" me a couple of times during my stay, this chapter about Tromso would be incomplete without talking about quite a landmark.
Though it'd be hard to oversee –located as it is on Skippergata, the first street you hit when arriving from the bridge– there's nothing flashy about it from the outside, and it wouldn't call anyone's attention but for a Spanish, and particularly a Spaniard; an Osborne-shaped bull, a Virgin Mary and some other Andalusian motifs drawn on the front (besides the name, of course) couldn't but awake my curiosity; and, though I soon realized that all resemblance with our bars in Spain ended right there on its doorstep, I was not disappointed. True, the tapas advertised on the façade were not such (unless we take burgers, a hot-dogs or french fries with ketchup for tapas), yet one has to acknowledge Pérez the credit of not serving other beers but Spanish: Mahou and San Miguel.
However it be, the element which made for the local's true character, its alma mater, was the barman. Not a fellow countryman of mine, oh, no!–even the owner isn't–but a viking looking Norwegian: baldie, reddish hair, long beard, short, wide, nice, talkative and very serviceable. The moment I told him my nationality and showed my interest, we stroke up a conversation and kept talking for quite a while, except for the moments his job prevented him from. As for the bar's name and ambience, the place had been opened up a bunch of years back by a man from Andalucía called Nino Pérez. At the time, they did serve tapas. But after it was transferred to a Norwegian, the menu was reduced to a few Mexican typics (too common a habit in the non-Spanish world: mixing and mistaking Spain with Mexico) and half a dozen other international bites. Still the local preserved some if its original character and kept a numerous clientele, being now quite a classic in Tromso.
As one of the topics we addressed –almost a must-talk when visiting Norway– was about how pricey this country is for foreigners, wherever we come from, the barman sympathized with me and, straight away, treated me to a beer and a snack on the house; more yet: hadn't I refused a second one and assured him I could pay for myself, he would've keep inviting me. Just another sample of how greedless these people are. Besides, he also tried to provide some help with finding an affordable acommodation and –very important– a fair workshop for replacing Rosaura's tyre, to which ends he placed a few phonecalls.
But he wasn't the only welcoming and friendly fellow in the bar: there were a couple of loners this side of the bar who, upon overhearing our chat, also willed to engage in some talk. One of them was a sarcastic mathematician, nice though a bit of a bore, who also treated me to a glass of wine–not without having first declared he was not gay–which statement I appreciated a lot. The second one, who took over, turned out to be more tedious, since he insisted–certainly with all his goodwill–in telling me about every event that would take place in the city for the next two or three months, despite having told him I'd only stay for the weekend. But he would not listen, or just didn't care about what I cared for, because he kept searching activities online with his Iphone and placing the device on my hands to make sure I was reading; and there was no way I could make him understand that, by the time this or that concert or festival took place, I'd be very very far from Tromso.
I'm used to be addressed by lones, boozers and such kind of fellows–some of them quite intereseing, others bizarre–from the subspecies often called 'loosers' by the money-oriented USAn society, but the truth is, these two guys and the barman helped entertaining me at Pérez, and I visited the bar again the next day. Pity, though, chicks don't approach me so often as men or coons do! Perhaps a man like me has 'tragedy' written on his face.
But there's more to man than just Pérez, and I amused myself with a few other things while 'trapped' in this city, until on Monday morning I could take Rosaura to the tyre shop. To begin with, there being no vacancies in AMI for Saturday, I had to move to a nearby hostel called ABC, just a bit down the scale but equally fine. Also I took a very long stroll across the bridge and over to the quarter of Hungeren on the mainland (remember that Tromso is on an island), behind which rises a very steep hill whose top you can reach by cable car and has a stunning panoramic view of the city, the island, the strait, the fiord, the peninsula and such a vast horizon you can even perceive the roundness of the globe. However, as I climbed on foot, I was out of breath before reaching half the slope.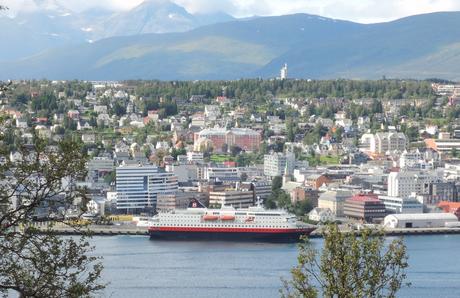 El Trollfjord amarrado en Tromso
As the Trollfjord motorship was putting in here, for a while I considered forgetting about the tyre replacement, jumping on board and taking a cruise to any of the following ports of call; but two good reasons advised me not to: the first one, Rosaura needed a new front tyre as soon as possible, and it was risky to keep riding without knowing where next –and when– I'd find another suitable town for the replacement; the second, more powerful one, was the departure schedule for the Trollfjord: at one a.m., which wouldn't suit my insomnia at all. So I ditched the idea.
Also I watched the Arctic race's cyclers on their way across the city centre, and I was surprised to see it was the Army who provided for security and medical attention, rather than the police and the public health care. Not a bad way of taking advantage from an institution which –most of all in these rich and pacific countries– is hardly likely to be put to work in real, armed conflicts.
Monday morning I went to where the barman at Pérez had told me, Tromso Motorcenter AS, in Tromsdalen across the bridge and right by Hells Angels Tromso, the local 'branch' of that well known North American club of braggarts. My bike got the rubber changed in a blink: the original Continental (which I didn't like aft but no complaints fore) has been substituted with the popular Metzeler Z6. The damage, 180 €: twice as much as in Spain. Then I dropped by the BMW dealer (northern Tromso) and had them check a strange noise coming from my bike's rear which is making me miserable since two months. I have to say they saw me quite politely but solved nothing: 'the bearing and belt are correct and we can't hear anything strange', same as I got six thousand kilometres back in a German dealer. Let me foretell: whatever it is, it will break down the next day after the motorcycle's guarantee expires.
Nothing else was left for me to do in Tromso. I put my helmet on, pulled my gloves down, climb on Rosaura's seat and, since Tromsoyund tunnel was closer, that way Rosaura and me took straight along route E6, leaving behind this lovely and memorable Arctic city.