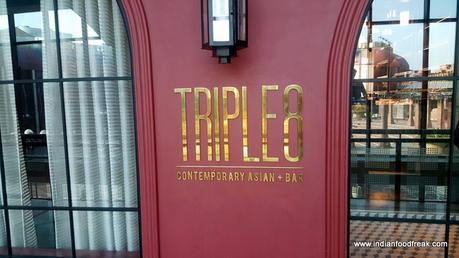 Gone are the days when Indians had more exposure to Chinese cuisine than various other International cuisines. Pan Asian cuisine has come in strongly with people relishing dishes from various Asian countries. Several restaurants serving the same have opened over the last few years with Triple 8 being the latest entrant on the scene. Am curious on the choice of name and get a logical answer to my question. Number 8 is considered an auspicious number in the oriental culture. It is considered extremely lucky in China, Japan, Thailand and Vietnam. Triple 8 is a venture by the owners of Tamasha in Connaught Place which has been having a successful run since it's opening. Located at Ansal Plaza Mall Delhi Triple 8 has an added advantage of being centrally located and in a complex where parking is not an issue, though I wish that the parking is better lit too.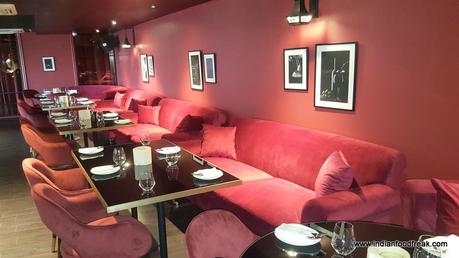 The interiors are tastefully done up in a combination which I personally find elegant. Wine, black and white is the color palette used giving the restaurant a sophisticated look. Spread over 2 levels, I like the play of black and white pictures on both floors. I especially loved a huge egg framed picture adorning the wall of the stairway leading to the upper level. With wine color in the backdrop the picture looks lovely. The restaurant has a PDR too with a live Sushi station on the 2nd level. As I understand the first floor will have place for casual meal with music and 2nd level will be a place for more serious diners.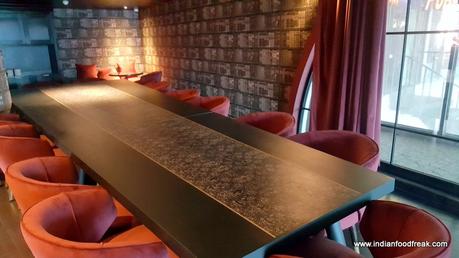 Before we begin our Pan Asian food journey we have the opportunity of meeting Chef Vivek Rana who is at the helm of affairs at Triple 8. He is ex Chef of Indian Accent hence the excitement has already begun to build more so since we were completely unaware of his talent in Pan Asian Cuisine. The team also includes a Japanese Chef, Hiro, who has been in India since the last 3 years and has brought in his expertise as well into the food especially the sushi and sashimi.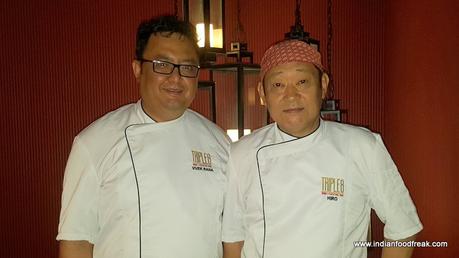 We start with Amuse bouche with the Triple 8 version being Tom yum soup/tom yum rice. The flavours are intact and the start excellent.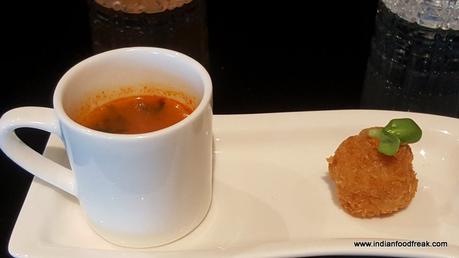 From the Wok & Fry category we had various dishes of which the Goat brain tempura was amazing and is a must have on your visit. The 5 spiced Goat brain tempura is served with Spicy mayonnaise. Goat brain cooked with 5 spice powder is kept over night to get the flavor, rolled into balls it is then deep fried with tempura batter. Sweet and sour cabbage kimchi is also served along. Since goat grain is a little heavy, the accompanying cabbage kimchi helps it to clear the strong flavors and balances it.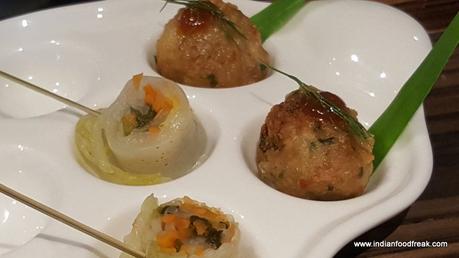 Chilean Pork spare ribs is braised for 6 hour braised and then fried and tossed with chilli and basil. Thoroughly enjoyed it for it being perfectly cooked and nicely flavoured.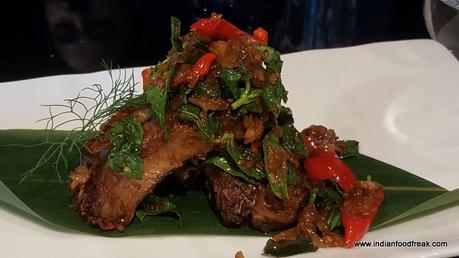 Moving to the Sticks & Grills we are served Chicken Winglets 'Kai Yang', skewered with pineapple. These chicken wings with skin cooked in robata grill (a Japanese method of cooking similar to barbecue). Robata helps in slow cooking the meat and skin adds both to the texture as well as to the taste.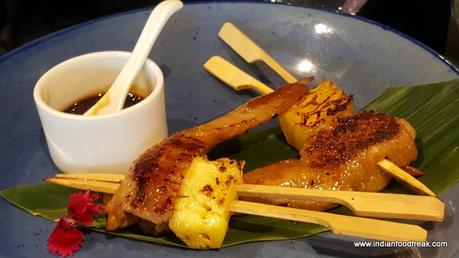 Dim Sum are on the table next and certainly something which many people relish eating. We were served a variety which included Corn Asparagus and pinenuts in Thai red curry. These vegetable crystal steamed dumplings are served with a very light red curry foam. Edamame and Himalayan Morels is served with Black bean chilli. I have not seen many using gucchi or morels in dimsum. Chef Vivek Rana says – "Indian morels are the best in world and certainly something that should be promoted". Amongst the non veg dumplings we had Chopped Scallop Siu Mai, Chicken, wild mushroom, water chestnut and Pork and Leeks Dim Sum with spicy tomato dip. While all the dim sums were delicious in their own way I especially enjoyed the both the vegetarian and the pork one which is extremely juicy.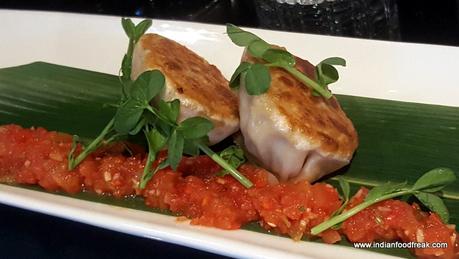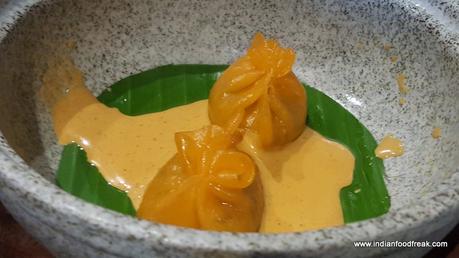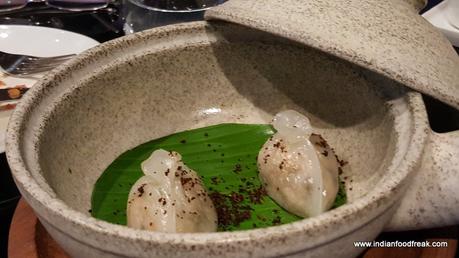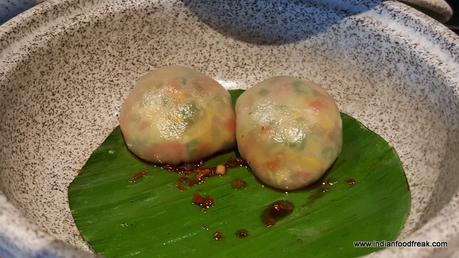 How can one visit a Pan Asian restaurant and come away not having had Sushi. Spicy big eye Tuna Sushi and avocado roll topped with spicy tuna tartar. Sushi is topped with tuna tarter, jalapeno chillies and gold leaf. Not only the taste, even the presentation is royal.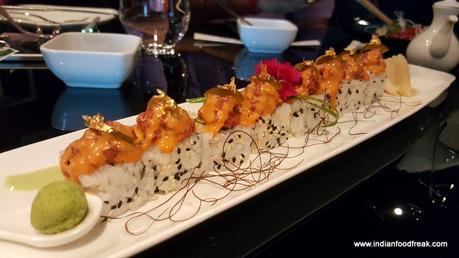 Sashimi platter as most people familiar with Japanese cuisine would know is slices of very fresh fish or meats served raw which included Salmon, scallops, salmon roe, otoro, and Hamachi. This platter smells of freshness. It tells you what Japanese quality is all about. If Chef Hiro is even doing this one dish then it is worth all the efforts and it is something I so relished that would love to go back for it again.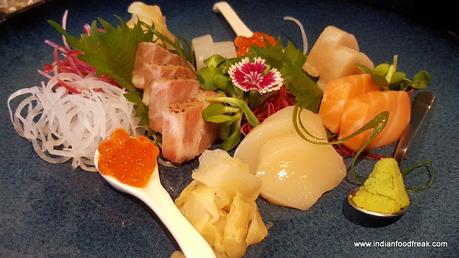 To cater to our sweet buds we have the Night Market Custard Bun (Chinese custard bun stuffed with sweet corn custard and served with yuzu flavoured cream). The condensed milk drizzle in the dessert makes it irresistible and I couldn't resist licking it off the plate. All in all a yummy dessert to have.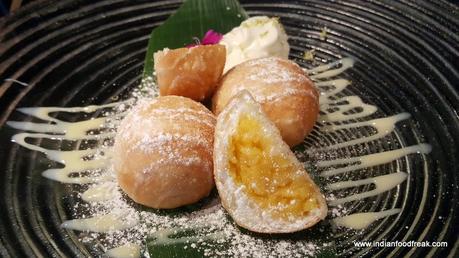 I come back very impressed by the hard work put in by the team to provide innovative dishes that tastes as good and uses quality ingredients in a relaxed atmosphere. If you enjoy Pan Asian fare this is one place you shouldn't miss. Ours were small portion size and actual portion sizes differ from as shown in the pictures. Amongst the restaurants offering this cuisine currently I would certainly rate it amongst one of the best in Delhi-NCR.
Ratings (Out of 5)
Food: 4.5 | Ambience: 4.5  | Service: 4.5 | Overall: 4.5
Meal for Two: Rs 2500 | Wheel Chair Friendly: No | Credit Card: Yes | Alcohol: Awaiting license
Address: Triple 8, B 103 A , First Floor Ansal Plaza , Khel Gaon Marg,  New Delhi | Phone: 011- 33105609
Disclaimer: This review was done on an invitation from the restaurant. Due judgment and care has been applied by the author to remain objective and unbiased in the review, but readers need to consider this review keeping this fact in mind