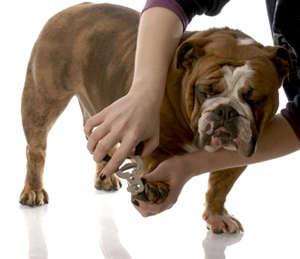 Most dogs wear down their nails through activity. If they are not worn down naturally, however, they can become extremely long and damage carpets and upholstery. Excessively long nails can splay the toes and interfere with traction by preventing the foot pads from making contact with the ground.
(Check Basic Dogs Routine Care)
Long nails should be trimmed. Nails are also trimmed to prepare a dog for show. If trimming dog nails is done twice a month, the quick (the bundle of nerves and blood vessels inside the nail) will recede toward the base of the nail and the nail will remain permanently shorter. Dogs with dewclaws must have these nails looked at frequently. Dewclaws are remnants of fifth toes and are found high on the inside of each foot. In many breeds the neglected dewclaw has grown claws are removed shortly after birth.

In other breeds, such as Briards and Great Pyrenees, the presence of dewclaws is required by the breed standard. These nails do not contact the ground and thus can grow around in a circle and pierce the skin. Dewclaws should be trimmed regularly. This is particularly true for dogs with dewclaws on the rear legs. If you have a puppy with dewclaws, it is important to get her used to having them trimmed, even though trimming may not yet be necessary.
(Check out Why Groom Your Dog)
Some nail clippers for dogs have two cutting edges, while others of the guillotine type have one. Either type is satisfactory. Nail clippers designed for humans do not work well because a dog's nails are not flat the way a person's are.
Dog Nail Trimming Tools (image source)