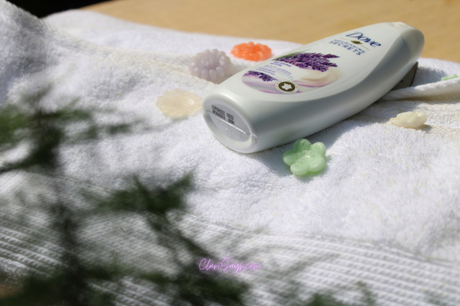 Do you know what I like about Dove? They never fail to give you that soft and smooth texture right after you use their product, may it be soap or body wash. What's even more astonishing is how calming and beautiful the scent of their products are.
Take Dove's Relaxing Ritual Body Wash with lavender oil and rosemary extract for example. Inspired by the natural ingredients used by women in France, this body wash does smell like lavender. Upon opening the bottle, its fragrance that calms the senses greets you. When you pour into your palm and massage across your skin, you can feel that it cleans and nourishes it.
You can use it the body wash like you do or, use a shower puff. Just make sure you always sanitise it. Pour the Dove Relaxing Lavender Body Wash onto the puff and exfoliate. Gently do it in a circular motion all over your body which will leave you feeling fresh and rejuvenated.
Besides Dove Relaxing Lavender Body Wash, there are also other variants like Sensitive Skin, Shea Butter and more. I do have sensitive skin and I also love a calming scent. So I highly recommend the Dove Relaxing Lavender Body Wash.
I give this product ⭐⭐⭐⭐⭐/5
WANT A CLOSER LOOK? CHECK OUT THE FULL VIDEO. SUBSCRIBE!
#ShowerYourselfWithCare #TryandReviewPH

Hola, kumusta? I'm a north girl who blogs about film, food, etc. ❤ To catch my latest FOOD or REEL-ated posts, follow me here or on FB: @ClariSaysBlog and IG: @ClariSays For collaborations or invitations, simply shoot an email at [email protected] Gracias!