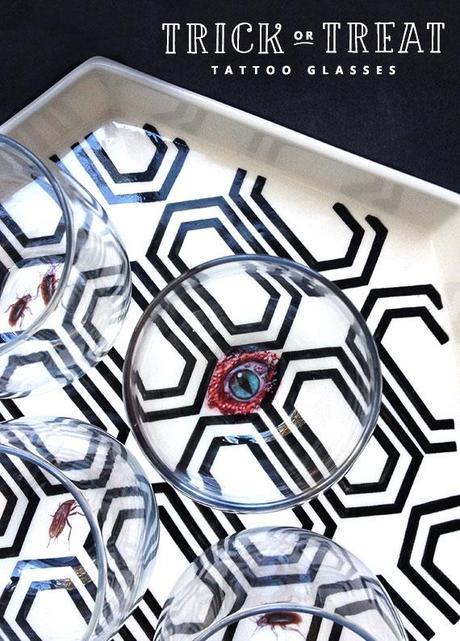 Remember when temporary tattoos became a part of my DIY arsenal? Well here it is again with a fun Halloween twist! Imagine finding a leggy cockroach or giant eyeball staring at you from the bottom of a delicious cocktail – I would probably throw my glass clear across the room in terror! This DIY is particularly fun because it uses regular old drinking glasses, so no one will suspect that they've been rigged with creepy crawlies! If you're feeling extra evil, just alter one glass when you have a few friends over, fill up their glasses and see who ends up screaming their head off later into the night :-) Halloween roulette, anyone??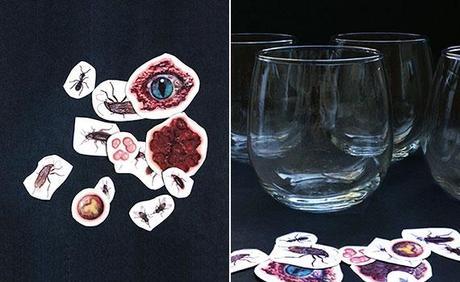 Here's what you'll need:
an assortment of creepy and gross temporary tattoos (I found mine on clearance at Party City in the "gory doctor" costume section)
a few drinking glasses with flat unmarked bottoms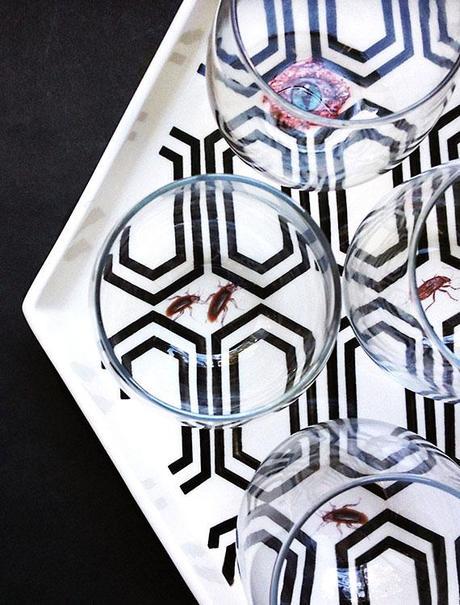 Flip a clean and dry glass upside down so the flat surface is facing upwards
Remove the tattoo's clear protective covering, and center it face down on the bottom of the glass
Place a wet paper towel against it and gently press down until it's thoroughly wet. Wait 30 seconds, then carefully peel off the paper backing
Carefully dab away any excess water around the tattoo, and leave the glass upside down until it's COMPLETELY dry. If there's any moisture left, your tattoo may stick to the surface when placed right side up and be ruined (sad face)
Fill up the glasses with a dark colored drink for the best effect – red wine, or a bit of grape juice with seltzer water as I've done here
Time to party!
And the best part? The effect is completely temporary! A dip in hot soapy water with a sponge will de-spookify your glasses pronto.