No tricks, just a treat for you today!! I've posted a new free design to my website and I am giving you a preview here!
The project is a counted canvas design that you can turn into a display for your magnetic needle minder collection!  I have a ton of needle minders and I am always looking for different ways to store, organize and display them.  I decided I'd really like to stitch a display and so I came up with this.  The idea was inspired by vintage "Jewelry Trees" from the '70's, remember those?  They were a great craft project-- you would take all of your old, broken or mismatched rhinestone costume jewelry and glue them down to a velvet background in the shape of a Christmas tree.  They were so sparkly and decadent, I just love them!  So here is my modern day "jewelry tree."  I stitched a tree shape onto black canvas with a gold metallic thread, using my favorite open-type background stitches and trimmed it with a rhinestone chain "garland",  then decorated it with my glitziest Halloween needle minders.  I placed it in a photo frame, added a glitter paper backing and a thin sheet of tin for the magnets to stick to. After putting the frame backer board in place, I set it up on an easel display.  The great thing is that I can easily move the magnets around, and take or add more as I like.  I also could easily convert this next month to Thanksgiving/Harvest themed magnets and then Christmas/Holiday in December.  I may even stitch another one on a lighter canvas for Spring and Summer themed magnets!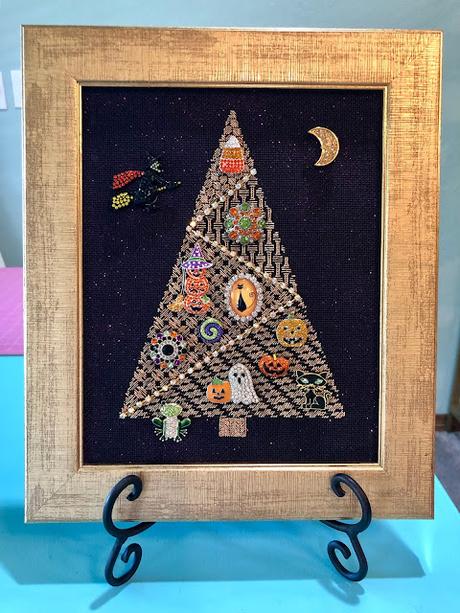 Here's a closer look at the tree, you can really see the glitter paper sparkle in the background!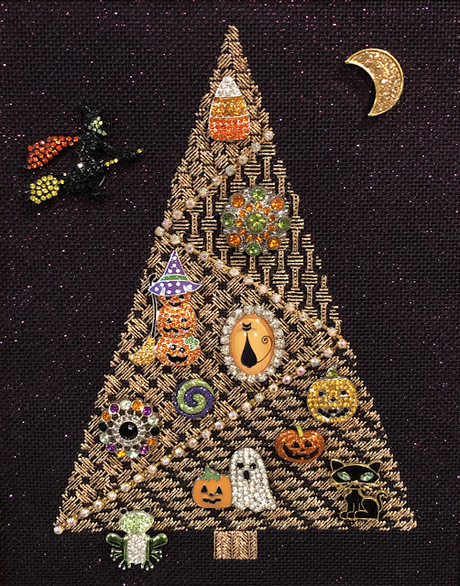 You can download the charts and instructions for this project on my website, but I'll cover the process for you here on the blog. The first step was to put the tree outline onto the blank canvas.  Since the canvas was dark I opted to baste the outlines with a contrasting color thread.  Another option would have to been to trace the lines with a chalk pencil.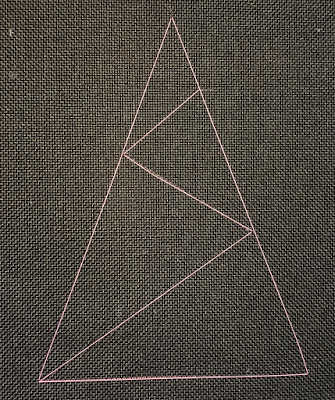 Here is the tree before I attached the Rhinestone cup chain: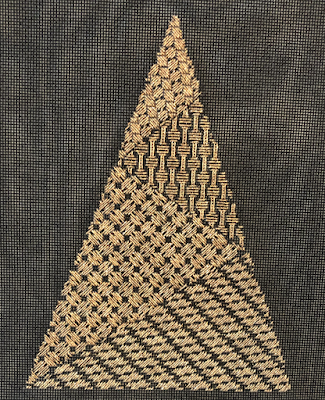 I did draw the shape first onto graph paper, my dimensions are 6" wide across the bottom and 8" tall.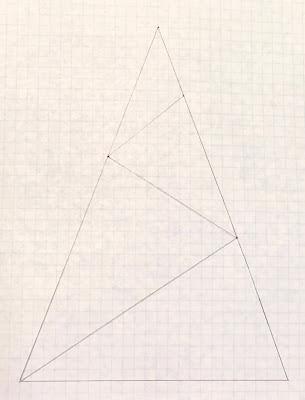 Here is a picture of the rhinestone cup chain I used, you can find this in the bead department of craft supply stores.  My chain has a 4mm sized rhinestone: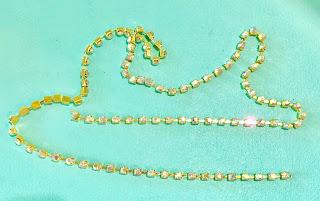 And here are the stitches I used, but you could certainly pick your own.  At the last minute, I decided to add a trunk to my tree, so I have included the chart for that as well: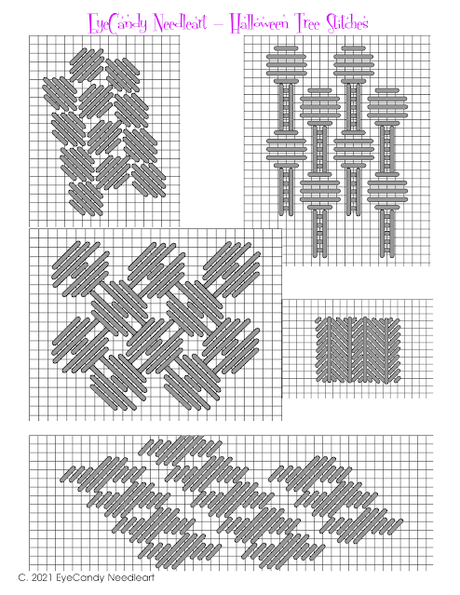 I am offering this design project as a FREE DOWNLOAD over on my website, www.eyecandyneedleart.com.  You'll find the the stitch chart as well as more detailed instructions that you can download and print. Happy Halloween!!  Or whatever holiday or collection you may want to stitch a display for! This project is easily adaptable, so I hope you will send me photos of your projects,  I'd love to see what you come up with!!