The Taper invited me to a Social last night, that included tickets to TRIBES by Nina Raine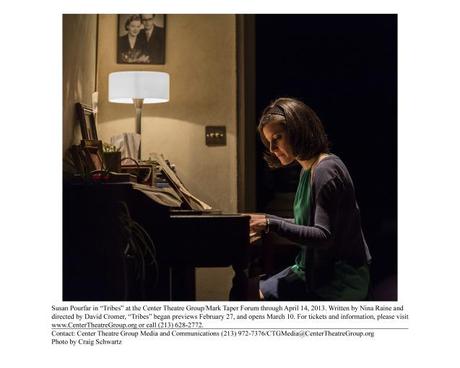 The story centers around Billy, deaf since birth, and how his family clashes with the woman he loves. In a household that revolves around language and finding your unique voice, Billy alone is expected to stay home even as an adult, isolated even though he lip reads.
That's really all you should know before seeing the show. And I do suggest you see it. TRIBES is one of the best new plays I've seen at the Taper, which has disappointed of late.
The Social part of our evening came in the form of a pre-show chat with DJ Kurs, Community Liason for Deaf & Heard of Hearing Patrons; also Artistic Director of esteemed Deaf West Theatre), Thomas DellaMonica (Understudy for Billy/Daniel), John Arce & Francine Stern, ASL Interpreters.
How are we hindered and set free by language? What does it mean to belong? Where is our own Tribe? Those are the simplistic versions of the many themes that rattled through my brain the whole evening, and I believe you'll leave the Taper with a lot of questions, not many answers, and stories to haunt you for days.
Just the way I like my theater.
—–
TRIBES by Nina Raine, Directed by David Cromer.
#TribesPlay
Tuesday through Friday at 8 p.m.; Saturday at 2:30 and 8 p.m.;
Sunday at 1 p.m. and 6:30 p.m. No performance on Mondays.
Exceptions: No public performances March 19 – 22 (student matinees only). No 6:30 p.m. performance on Sunday, April 14.
TICKET INFO:   Ticket Prices: $20 to $70 (Ticket prices are subject to change.)
Tickets are available by calling CTG Audience Services at (213) 628-2772, in person at the CTG box office or on-line at http://www.CenterTheatreGroup.org.
Hot Tix: $20 each may be purchased in advance or, subject to availability, on the day of performance at the box office (no checks). Groups: (213) 972-7231. Deaf community: Information & charge, TDD (213) 680-4017.
LOCATION:   Center Theatre Group/Mark Taper Forum
At the Music Center, 135 N. Grand Avenue in Downtown L.A., 90012