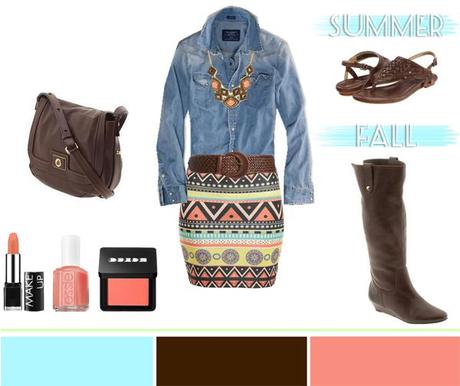 August is when I start thinking about fall (don't send me hate emails) and begin asking myself "How will this transition to fall?" when buying new pieces. You'll be seeing more of this on the blog starting nowish. Summer enthusiasts beware.

Vindictive Aztec Print Tube Skirt
($21.00), American Eagle Denim Western Shirt ($49.95),
Bauble Bar Ossie Necklace
($32.00), Frye Madison Woven Sandals ($119.99), Inspirre by Steve Madden ($169.99), Marc by Marc Jacos Revolution Messenger Bag ($428.00), Buxom True Hue Blush in Euphoria ($24.00), Make Up For Ever Rouge Artist #N40 Pastel Coral ($19.00), Essie Polish in Tart Deco ($8.00).