Text
So During my few days as a freelance photo journalist for dMAG, I have been looking closely at window displays, visuel merchandising etc etc
Normally I only take photos of what I like and dont pay much attention to things which are not so eye catching. It was a great surprise though, when I started to notice trends happening within the displays. Not only were the products and fashion items following certain syles and themes but the way in which they were displayed. For instance i noticed that the color Yellow seems to be a key factor, popping up at Fendi, Hermes & Diptyque.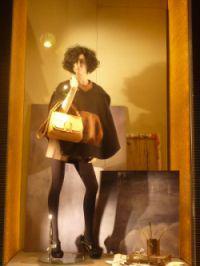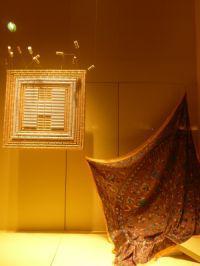 Above:Fendi                          Above:  Hermes
As i worked my way across the cities Golden triangle ,Coloured fluorescent lights were popping up everywhere too. Everything from fashion to cars and cosmetics companies seemed to be embracing th traditional christmassy window lighting as ways to catch the consumer eye. However the streets were in fact saturated with light - giving less impact. Companies ranging from Lanvin & Benetton to Mercedes Benz to Nespresso embraced this trend using it in different, creative & individual ways.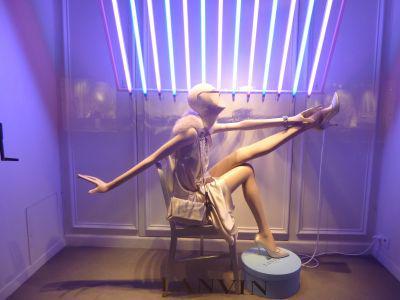 Above: Lanvin.   Below:Mercedes Benz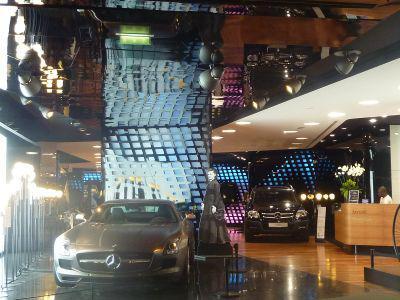 Next on my list of trends is the Bicycle! everywhere I looked there was references to this healthy piece of transportation. I am of the belief that Bikes are becoming fashionable in a much more general way right now, with new styles on the market and the reproduction of the traditional town bike, which is commonly seen in old photographs of Paris. Here the bike appears at Morgan, Brooks Brothers & Peugeot.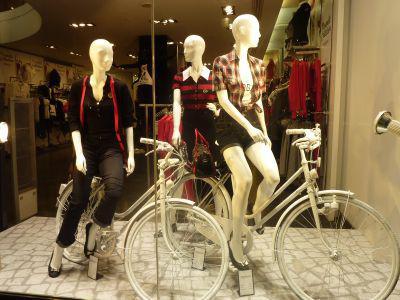 (Morgan)
Along the same lines of transportation & travel, Louis Vuitton used Speed boats, Airplanes and hot air balloons.
                Louis Vuitton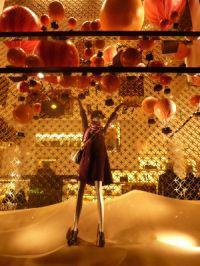 Woodwork and tradional Autumn themes were on show at Benetton, John Galliano & Kenzo.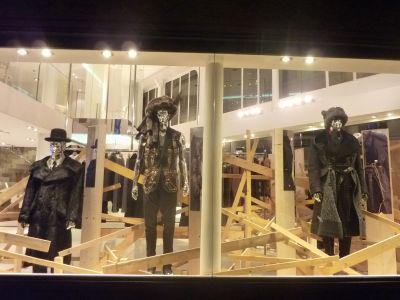 Above: John Galliano. Below: United colours of Benetton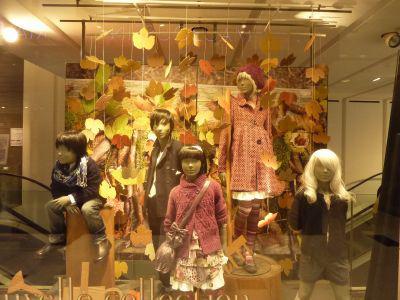 Colour Blocking was used at both Dior & Hermes.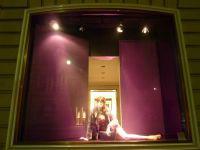 Above: Dior.    Below: Hermes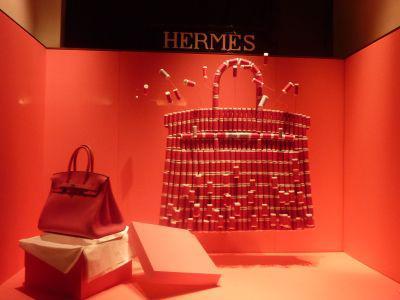 While Loewe, Naf Naf & Hugo Boss opted for a more individual look - disregarding the current fashion in set design.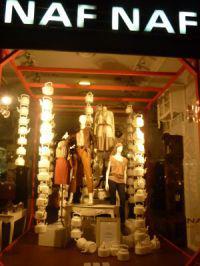 Kettles at Naf Naf.
Well thats it for my trend report on window displays, but im sure now when you are out and about, you will notice the above mentioned and maybe even some that I havent noticed yet. Keep your eyes peeled xoxo LLM