This post contains affiliated links. I receive a small commission if you purchase anything by clicking these links.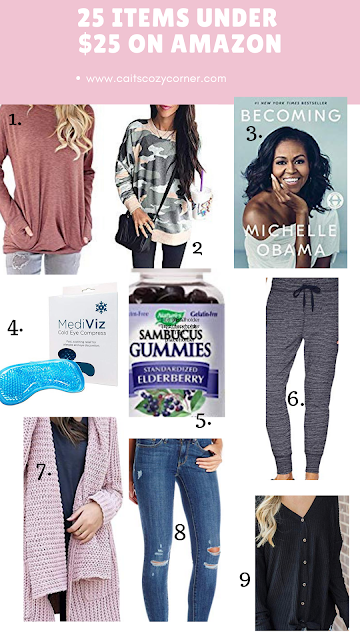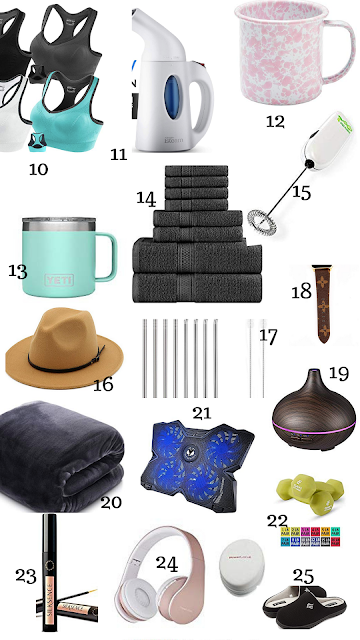 1. Super Cozy Sweatshirt 2. camo sweatshirt 3. Becoming 4. Cooling Eye Mask 
5. Gummies 6. Joggers 7. Oversized Cardigan 8. Skinny Jeans 
9. Loose Blouse Shirt 10. Racerback sports bras  11. Steamer 12. Marble Mug 13. yeti mug 14. Comfortable Towels 15. Milk Frother 
16. Fedora Hat 17.  Stainless Steel Straws 18. LV Apple Band  
19.  Soft Blanket 20. Cooling Pad  21. Oil Defuser 22. work out weights
23. eyelash growth serum 24. wireless headphones 25 memory foam slippers
Hope you all had a great weekend friends! I've been asked by a few of you on my Insta Stories on what are my favorite finds on Amazon the last few weeks so I put together 25 items I've saved into my cart, as well as purchased, and the best part is that they are all under $25! I hope you enjoy some of them as much as I do and if you decide to get a few, let me know what you're wanting to get or thinking or purchasing! 
I'm also thinking that Michelle Obama's new book Becoming may be March's book club novel if you all are interested in voting for! Let me know what you think and how our February book club is coming along! 
How was your weekend?Any new books you're loving reading right now?