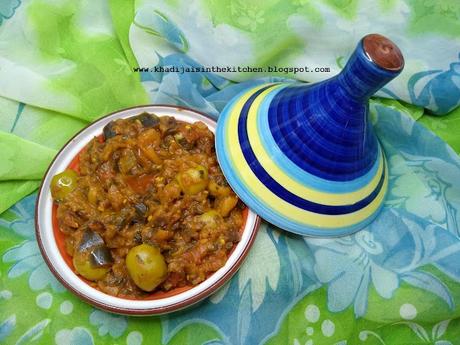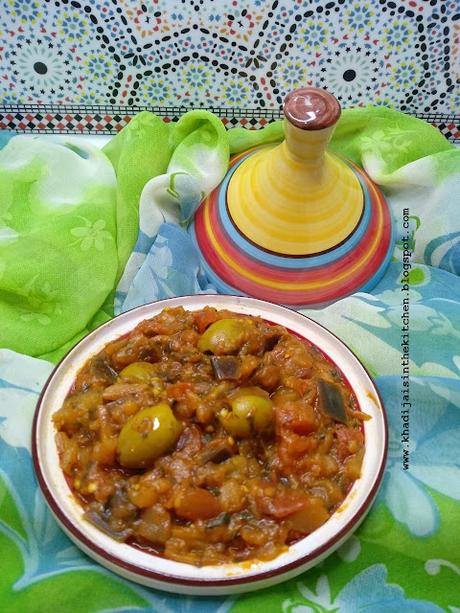 RECETTE /
RECIPE
/ RECETA /
الوصفة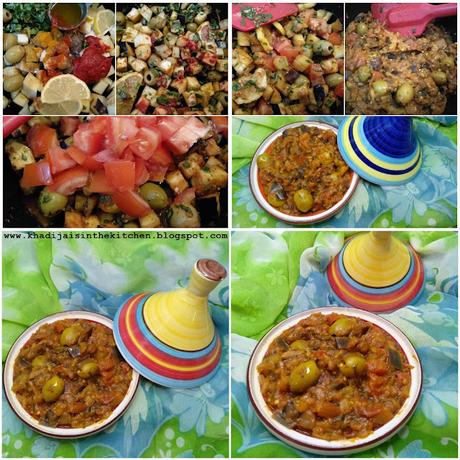 TREMPETTE D'AUBERGINES (ZAALOUK)
INGREDIENTS :
1 aubergine d'environ 250 g, coupée en dés.
1 petite tomate, coupée en dés.
1 cuillère à soupe de pâte de tomates
2 gousses d'ail, râpées.
½ petit citron (ou citron confit), coupé en tranches.
2 cuillères à soupe d'huile d'olive
¼ ccuillère à thé de paprika
½ cuillère à thé de cumin
½ ccuillère à thé de gingembre moulu
1/8 cuillère à thé de curcuma
¼ cuillère à thé de sel
¼ cuillère à thé de poivre
1 cuillère à soupe de coriandre hachée
Quelques olives
INSTRUCTIONS :
1- Mettre tous les ingrédients dans une casserole et mélanger un peu.
2- Cuire le mélange à feu moyen jusqu'à ce que les légumes ramollissent, en remuant régulièrement pour faire évaporer une partie du liquide. À l'aide d'une fourchette, écraser le mélange un peu jusqu'à l'obtention d'une texture de purée.
3- Servir chaud ou à température ambiante.
************************************
EGGPLANT DIP (ZAALOUK)
INGREDIENTS:
1 eggplant aubergine, approximately 250 g, diced.
1 small tomato, diced.
1 tbsp. tomato paste
2 clove garlic, grated.
½ small lemon (or preserved lemon), sliced.
2 tbsp. olive oil
¼ tsp paprika
½ tsp cumin
½ tsp ground ginger
1/8 tsp curcuma
¼ tsp salt
¼ tsp pepper
1 tbsp. chopped cilantro coriander
Some olives
INSTRUCTIONS:
1-   Put all the ingredients in a pan and mix a little bit.
2-   Cook the mixture over medium heat till the vegetables soften, stirring regularly to evaporate some of the liquid.Using a fork, mash the the mixture a little bit to give it a pureed texture.
3-   Serve warm or at room temperature.

***********************************
CAVIAR DE BERENJENAS (ZAALOUK)
INGREDIENTES:
1 berenjena, de unos 250 g, cortada en dados.
1 tomate pequeño, cortado en dados.
1 cucharada de pasta de tomate
2 dientes de ajo, rallados.
½ limón pequeño (o limón confitado), en rodajas.
2 cucharadas de aceite de oliva
¼ cucharadita de pimentón
½ cucharadita de comino
½ cucharadita de jengibre molido
1/8 cucharadita de cúrcuma
¼ cucharadita de sal
¼ cucharadita de pimienta
1 cucharada de cilantro picado
Algunas aceitunas
ELABORACIÓN:
1- Colocar todos los ingredientes en una sartén y mezclar un poco.
2- Cocinar la mezcla a fuego medio hasta que las verduras se ablanden, removiendo regularmente para que se evapore parte del líquido. Con un tenedor, triturar la mezcla un poco hasta conseguir una textura de puré.
3- Servir caliente o a temperatura ambiente.
*******************************************
 زعلوك
المكونات:
حبة باذنجان ، حوالي 250 غرام ، مقطع إلى مكعبات.
حبة طماطم صغيرة ، مقطعة إلى مكعبات.
ملعقة كبيرة معجون الطماطم

فصان ثوم مبشور.
نصف حبة ليمون (او ليمون مرقد) صغيرة مقطعة إلى شرائح.
ملعقتان كبيرتان زيت الزيتون
نصف ملعقة صغيرة بابريكا
نصف ملعقة صغيرة كمون
نصف ملعقة صغيرة زنجبيل مطحون
1/8 ملعقة صغيرة كركم
نصف ملعقة صغيرة ملح
نصف ملعقة صغيرة فلفل
ملعقة كبيرة من الكزبرة المفرومة
بعض حبات الزيتون

طريقة التحضير:
1- توضع جميع المكونات في مقلاة و تخلط قليلاً.
2- يتم طهي الخليط على نار متوسطة حتى تنضج الخضار مع التحريك بانتظام حتى يتبخر بعض السائل.بواسطة شوكة يدعك الخليط قليلا للحصول على مهروس.

3- يقدم الزعلوك دافئ أو بدرجة حرارة الغرفة.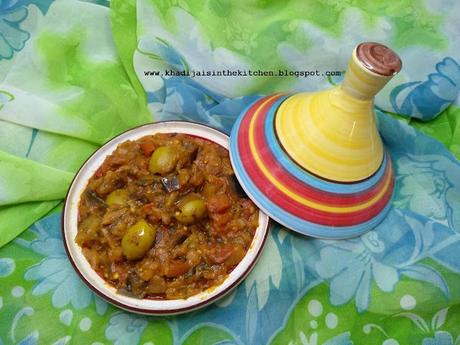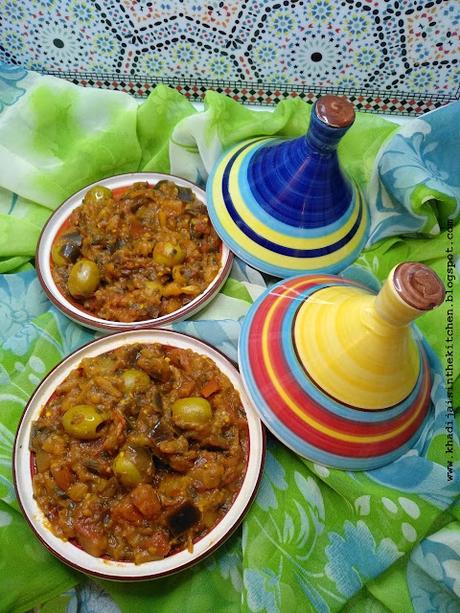 *********************
Hope you'll enjoy!!
*********************
Merci de votre visite / Thank you for your visit /Gracias por su visita/ شكرا على زيارتكم
Pour d'autres idées de cuisine / Forother cooking ideas/ Para otras ideas de cocina / من اجل افكار اخرى للطبخ : Facebook, Instagram, Pinterest