One Saturday morning I went trekking with my friends to Mt. Kan-irag. We had our rendezvous at Sunnyhills in Talamban, and by 11am, we headed to our jump-off point via habalhabal.
From the jump-off point in Budlaan, we hiked for 10 minutes and went down to continue our trek nearer the river. We jumped on small rocks scattered in between the river, and climbed boulders the size of SUVs. Don't fret if you have short legs, you just need to stretch more, maybe a little yoga will help before you set out to try this trek/trail. But for the weak in legs, it's going to be a shakey-need-to-balance ordeal.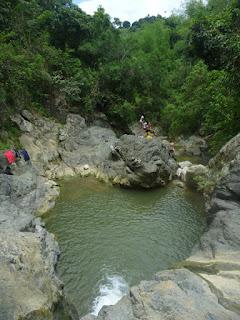 You will definitely pass a river and scale boulders here.
Just a reminder for those who will try this trail:
bring extra clothes
 (shirt, pants, and undies). There's a possibility of getting wet and having a ripped outfit. I remember my second time scaling these boulders - my pants got ripped in the middle, groin area, from stretching my legs as far as I could reach. Luckily I had a friend who brought extra shorts and I was saved from the shame.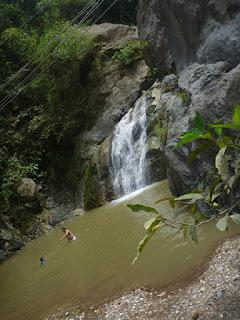 Strangers taking a noon swim.
You're going to meet locals on the way. Always be courteous - great them a "hello" or "good morning/afternoon/evening". One thing I learned about my mountaineering escapades is to always respect the locals in the area. They're the ones who know the place well, so in case you get lost, they can assist you. Also, respect begets respect. Once you come back, the locals will never go hostile on mountaineers or trekkers because they know how respectful the mountaineers are.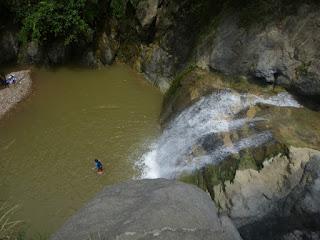 View from the top.
We passed by two small falls before we got to the taller waterfall where we had our late lunch and relaxed for almost an hour. Another group did some photoshoot near the waterfalls. One can really appreciate the big rock formations here, but, sadly, being near the city and visited frequently by people, this natural beauty is slowly degrading. The surrounding trees are being cut and burned to be made into charcoal. We passed by locals who just left their picnic leftovers by the river. You can see trash being left out here.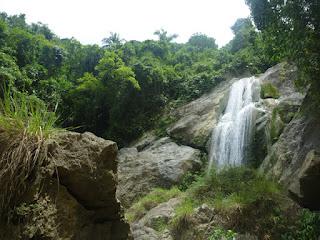 The taller waterfall.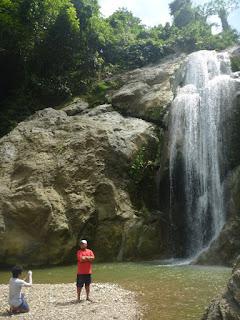 Its a good spot for a photoshoot.
The falls was pouring fast, with clearer waters flowing down, spilling into the brownish pool below. I think it rained a day before. It's not always flowing water here, during the summer season or on very hot days, the falls is all dry. Only little drops trickle from the rocks. But be more weary of the opposite season. Rainy days makes the river overflow, boulders slippery, and the stepping ground soft. Never dare to trek this river if it rains hard.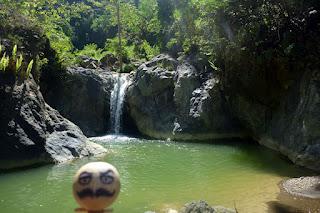 Passing a little lagoon on the way.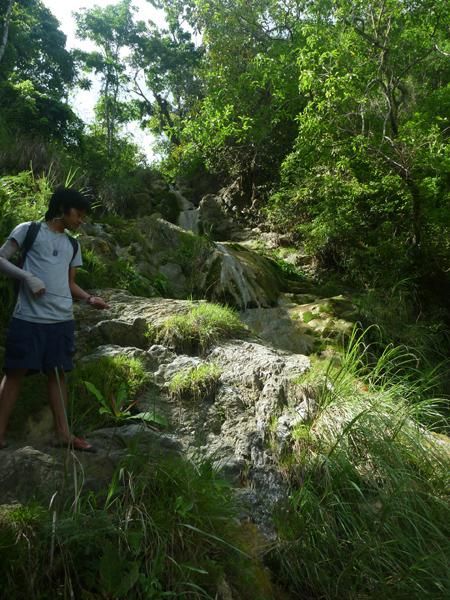 Watch your step, its slippery in here.
After passing by the river and seeing the falls, we were now in the midst of grass and trees. In my head, I recite Robert Frost's
The Road Not Taken
, remembering the line "in leaves no step had trodden black" as I saw pathways leading anywhere.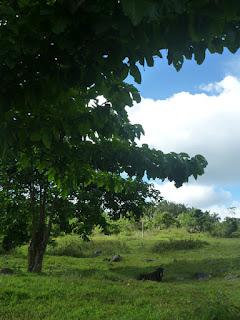 Spot the cow!
Just before entering the grassy area, you can stop and replenish your fluids at a water source (looks like a dug well). It's actually clean and most who stop by there - locals and trekkers - drink and/or refill their bottles from its waters. Water is so much essential, especially in these areas, so please refrain from polluting or contaminating these water sources.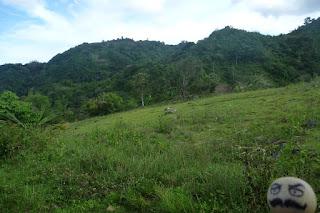 The green green grass of Sirao.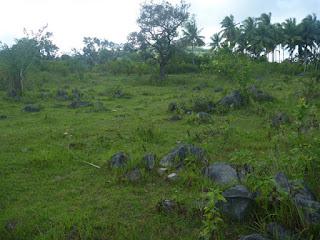 On our way to Brgy. Sirao. Gonna look for something to drink.
After passing the grassy area, we then headed to Baranagay Sirao. I've been told that Mt. Kan-irag is also known as Sirao Peak, owing its name from this barangay (or vice versa). If you doubt the cleanness of the water source, you can buy bottled water and other refreshments here.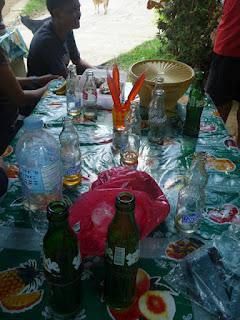 Sparkle: the favorite softdrink of the highlanders.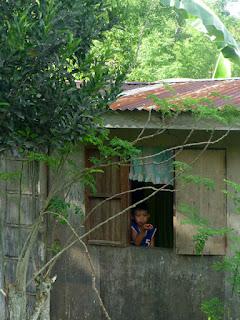 Ice pop kid by the window.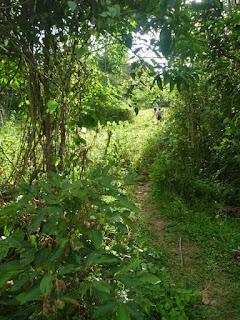 Just a short walk after the barangay and we're in the woods again.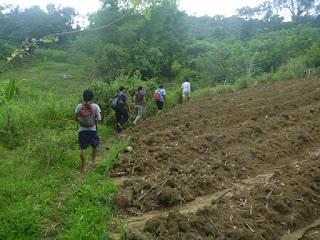 Soil being cultivated. They plant vegetables in these areas.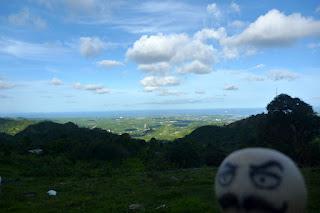 Having a look around.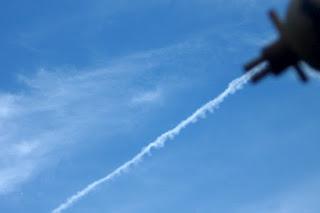 Zoooooooooomm!!!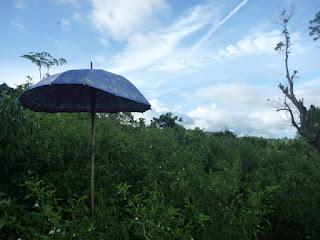 Makeshift umbrella shade. Where's Mr. Scarecrow?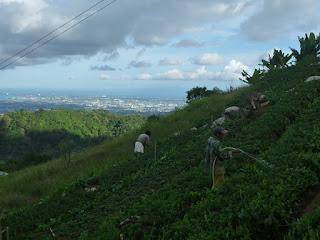 Manong and Manang tending their...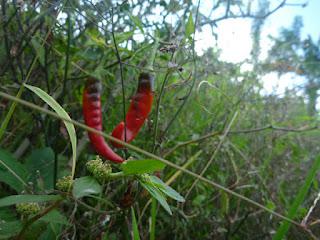 Sili (Capsicum annuum) garden.
We took a new route for this trek. Going via the "bayabasan". It was an easier and fast route, my friend suggested with confidence.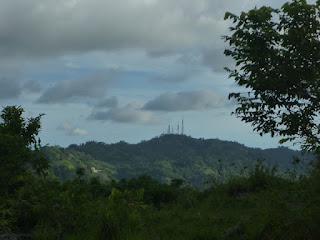 The towers in Brgy. Babag can be seen from here.
Well it turned out to be a trail search. After looking for the "bayabasan", asking directions from two farmers, following a trail of blue water pipes, passing thorny plants, a small detour because of a blocking cow, and encountering a foot-long snake - we landed on familiar grounds.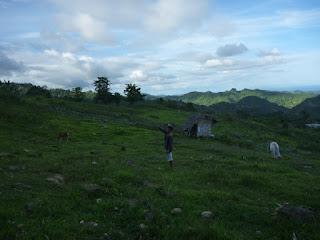 Manong pointing us the way.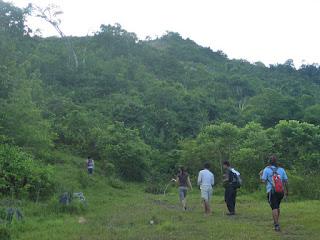 Walking...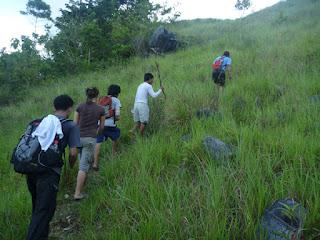 Walking...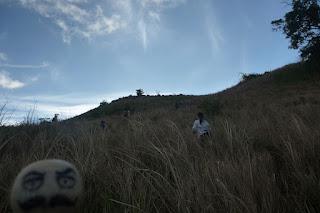 I can see the peak.
We reached the peak almost 5pm. We still had some time to view the scenery and catch the cold breeze before it got dark.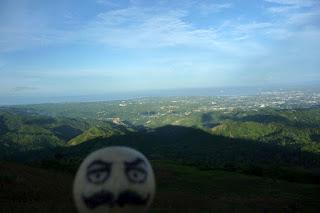 The view from the peak. That's the city down there.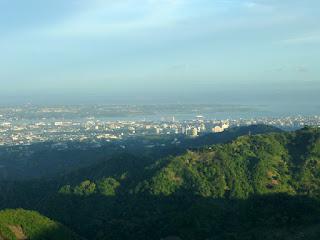 Smoggy Metropolitan Cebu.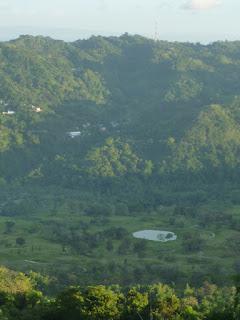 This was the trail we usually take. Passing by that little pool.
Up on the peak, you can see how small the surrounding village and city is. I remember reading about how Sherpa's revere Chomulungma (Mt. Everest) and call it the Goddess Mother of the World. When you're up on the mountain, you really feel like you're an all-powerful being looking down on those little mortals.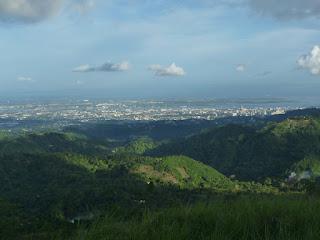 One last look before we head down to the road.
We descended 30 minutes before 6pm. Most who stay either wait for a view of the sunset or camp overnight. Just be sure to have a courtesy call from the barangay so that they can have tanods to look out for you during the night.
Since it's back to the rainy days, the trail down was mostly an overgrowth. Thorny plants abound, so we had to watch out what to grab. I forgot to bring my arm sleeves so I ended up with lots of scratches.
After a short thorny walk, the landscape changed into a long stretch of plain green grasses and lined up trees. This was the route to the main road, passing by Kan-irag Park, and reaching the transcentral highway.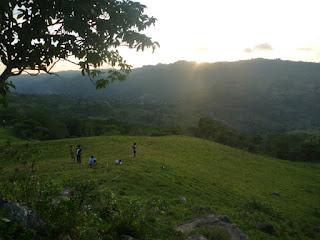 Taking a short rest on the grass.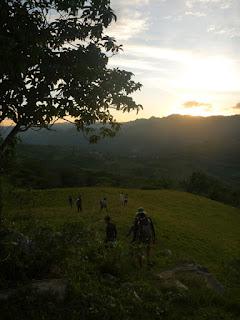 Better get to the road before it gets dark.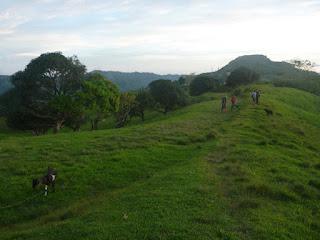 On our way to the main road.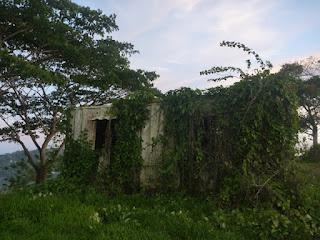 I had to take a picture of this beautiful and creepy structure.
You can ride a van, jeep, or habalhabal by the roadside store just meters away from Ayala Heights, but the latter transpo is more available during late hours. This highway is also famous for selling flowers, potted plants, and fresh corn (cooked or uncooked). While waiting for a habalhabal, we bought and ate fresh corn - which was cheaper and better tasting than the ones sold in malls. Also, check out the dogs that vie for your attention while you are eating. The
askal
will try hard to catch your attention by performing a sitting-while-praying position, and other dogs sometimes tap/touch your legs to make you feed them. Of course, this kind of dog show almost always works - and I give the praying dog a fourth of my corn.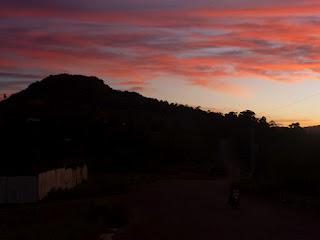 God paints Sunsets.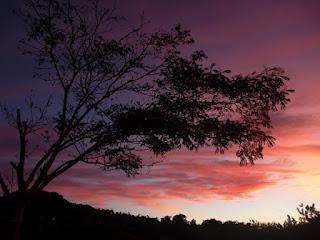 A nice silhouette amid the sunset background.
I'm not new to this place, visited it almost 6 times already since 2009. But this was a trek I need to join - for the reason that I have been disconnected with my climbing buddies for many months now. Honestly, I missed laughing with them and enjoying their company. In the end, I was happy I joined this not-so-short trek. After all, the thing that matters most in any travel isn't the place you're going, but the experience you enjoy with the people around you.
Itinerary:
1000 - 1100 Assembly at Julie's Bakeshop in front of Sunny Hills Subdivision
1100 - 1110 Habalhabal to jump-off
1110 - 1230 Trek to Falls(Baogo Trail)
1230 - 1330 Lunch by the falls. Relax.
1330 - 1430 Trek to Water Source
1430 - 1500 Trek to and stopover at Brgy Sirao1500 - 1700 Trek to Kan-irag/Sirao Peak
1700 - 1745
Relax at Sirao Peak
1745 - 1830 Descend to Ayala Heights/Transcentral Highway
1830 - 1930 Habalhabal/Jeepney to JY Square Mall
1930             Home sweet home
Things to bring:
1.5 to 2L water
Extra clothes
Trekking shoes
Sleeves and Leggings
Jacket/Raincoat (in case of sudden rain)
Sun protection (hat/cap/sunblock)
Headlamp/Flashlight
Extra cash
Always remember:
The LNT (Leave No Trace) principles:
1. Plan Ahead and Prepare
2. Travel and Camp on Durable Surfaces
3. Dispose of Waste Properly
4. Leave What You Find
5. Minimize Campfire Impacts
6. Respect Wildlife
7. Be Considerate of Other Visitors
How this reunion trek bore a good hole in Mustachio's pocket...
Habalhabal (motorcycle) from Sunny Hills Subd to jump-off point Php 25Habalhabal (motorcycle) from Kan-Irag to JY square Php 50