The January Tree Following update is usually one of sleep and snooze, frost, snow and rain. I wandered out as usual to go and talk to the Quince Brothers to see what they would like me to talk about this month. They barely raised an eyelid as they are, of course, asleep.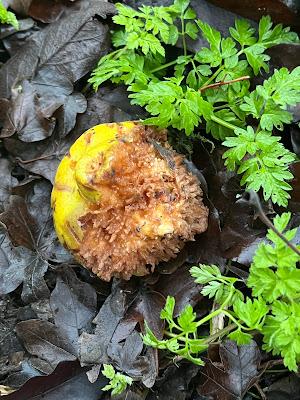 I looked up at the trees and studied their branches, I thought about the cold and the rain we have recently had and the mild and the rain we currently have. I noted that the lonesome quince had now gone from the high up branch and wondered on its fate.
As I made to move away something caught my eye on the ground. I had spotted the quince right by my feet. The lonesome quince which was now rather munched. I looked at it for quite a while, it is peppered and punctured and pierced with beak marks. It is being enjoyed by the birds and I could not be happier that this is what has become of it. It has not gone to waste, it is performing a vital task of feeding the birds that visit my garden at this time of year when food can be quite scarce (I have to add I do have bird feeders too, I try not to let them go hungry).
I wished the birds well, I wished the quince well and I thanked the Quince Brothers for their foresight in providing this needed resource.
As I stood there with the munched quince at my feet, not for the first time I thought about how these trees are such a good addition to mine and anyone's garden. They are not too tall and easily prunable to keep not too tall. They leaf up early and lose their leaves late. They blossom reliably and beautifully. They are good for insects and for birds. What a great all round tree they are. Yes if there was more fruit they would be better, but they provide some fruit and that supports the local wildlife too plus the odd apple crumble here and there. I start the new year in praise of the quince trees and looking forwrad with anticipation for the monthly round of Tree Following.
May I pause a moment and wish Squirrelbasket a happy new year and all of the other tree-followers a happy new year too. I am looking forward to seeing what our monthly updates will bring.
The forest of followed trees can be found here.
Take care and be kind.