April is an exciting month in the world of quince tree-stalking tree following. Quince Major and Quince Minor are blossoming more than I have ever seen before.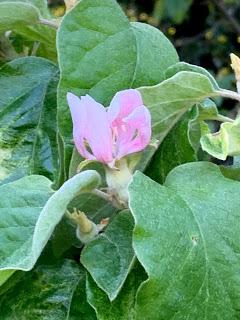 Every single blossom is precious and whilst I do not count every single one of them, I do spend an inordinate amount of time walking around the trees admiring them.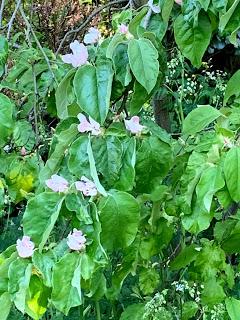 To see so much blossom brings joy to my heart. I pruned Quince Major in the Autumn and it seems to have focussed its mind.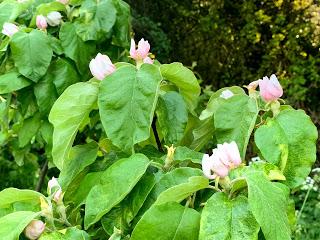 Quince Minor has had several strong talkings to and has now reached the age where he is taking his responsibilities seriously. No more tree-teen tantrums will be tolerated.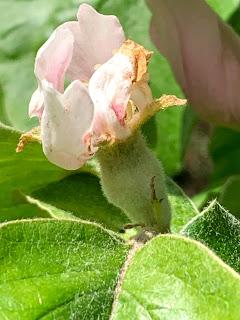 When admiring the blossoms I am of course focussing on whether I think there is a quincelet forming behind it. I am looking for that little bit of plumpness that might imply a bee has visited and done what a bee does best.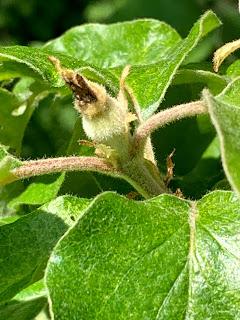 I think there are definite quincelets appearing. This makes me very happy and also anxious in equal amount. We had a frost this week and we are threatened more frost this coming weekend. I fear the frost might lead to quincelet-death, a quincacide. Frost might just get medieval on the trees ass.... (I have gone too far haven't I?).
No matter how much I worry about this it will make no difference. Nature does what it will so I shall not waste my time in worry. There are far more important things to be concerned about.
On the plus side: last month I was worried that the trees looked a little pale.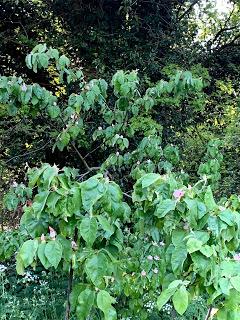 They are pale no longer, they have developed their leaf colour nicely. Phew.
More trees being stalked followed can be found here under the stewardship of Squirrelbasket.