A rare treasure, a treacherous conspiracy, and a first love set off this witty, wry romp through a depression-era, sleepy-seaside village's rags-to-riches-to-rags story. During the summer of 1934 the town of Tesoro gets a taste of fortune when ten-year-old Conner O'Halloran discovers a chunk of ambergris encased in a thousand-pound blob of sewage-sludge that washed ashore. Instead of keeping the treasure of the blue whale to himself, he chooses to split the spoils equally with the town. The people react in a manic race to acquire useless trinkets-comically transforming the town into a bastion of consumerism. As they are otherwise-occupied, the miserly, cantankerous, and allegedly felonious local millionaire-villain devises a plan to cheat the town out of their new-found wealth. Fearing that the people will lose their homes and livelihood, Connor, together with a small group of sharp-minded, prominent townsfolk, attempt to out-swindle the master swindler. In this quirky coming-of-age fable of ruin and abundance, Connor learns what is real and what is simply sludge. As the sludge clears the town realizes they had the true treasure all along.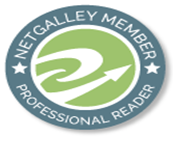 ***
[The Whale was middle-aged - a great, block-headed beast nearly forty years old - and he bore numerous scars, the bushy spray from his blowhole, yet to be quieted by a whaler's harpoon]
***
(@RegalHouse1, 1 April 2020, 258 pages, e-book, copy from @RegalHouse1 via # NetGalley and voluntarily reviewed)
***
****
I really enjoyed this crazy and quirky book. It was very original and unlike anything I've read before. There are a lot of characters in the book, they are all unique and interesting and I enjoyed all of their stories. This book takes the idea of greed, sin and mass hysteria to a know new level. The main character, Connor, does a good deed for the town who helped raise him and his brother when their father walked out, and their mother's depression got out of control. He has the best intentions and things get messy. This was a fun read and so entertaining. It's one of the most original books I've read in ages.