This is one of those 'how did I never see this before now?" moments...
Hatton Garden has for many centuries been London's "Jewellery Quarter" – the place to buy and/or trade in gold, silver, precious gems and diamonds.
In the early 1980s I used to work just around the corner within a grubby inner courtyard off Greville Street called Bleeding Heart Yard (before anyone knew where that was) and at lunchtime I'd find bargains in Leather Lane market (when there was a much greater variety of goods for sale) or I'd just go for a wander about and go back to work with something tasty from Grodzinki's Bakery.
So how come I had never noticed the panels above 19-21 Hatton Garden until last month?! Jeez! I even used to drink often in the Mitre which is accessed through an alley a few doors along from this building!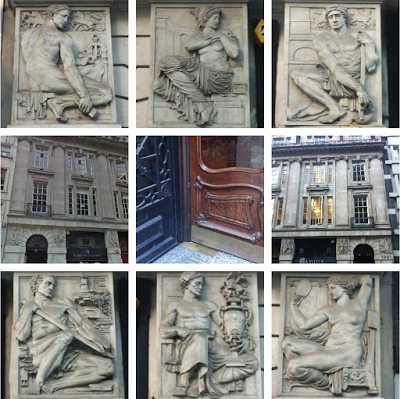 Treasure House (1906) has Art Nouveau styling on the doors with panels above depicting the story of gold from its ore to being a wearable item, though they don't appear to be in a chronological order and all the figures are muscular and godlike and hence shown naked whether mining or just admiring their own reflection. Perhaps having spent all the money on gold they can't afford clothes?!
I have tried looking for the name of the company who was originally here but so far not found anything, though I did find some info Ornamental Passions here. If you do know more, please do let me know