Two weeks of travel by train across Canada with thirteen of the world's most influential travel bloggers and photographers.
A fortnight's worth of activities in the great outdoors, accompanied by fine dining and casual brunches, museum and gallery tours, wildlife watching, unique Canadian provinces, cities, and some of the best tourist attractions Canada has to offer.
Attendance at a renowned travel conference in Toronto with more than 1,000 writers, bloggers and photographers present.
Some way to explore Canada, eh?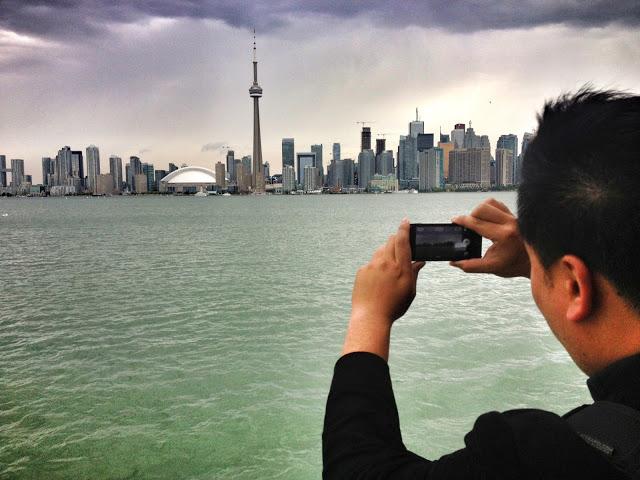 Instagramming the Toronto skyline.
I'm back in Sydney with a wealth of written material and enough digital photos to fill a year's worth of posts. I've rediscovered my passion for photography and a fascination with my Instagram account, both of which will feature more often in my work this year. I'll be hunkered down over the next few weeks either writing here on this blog, pitching stories to publications, or spending time going through my camera and 
printing digital photographs
for friends, family and, of course, myself.
The cross-Canada trip was a whirlwind of experiences, opportunities and emotions. It went something like this...
After an epic fourteen hour flight from Sydney, the trip started in Vancouver where we spent four days exploring this West Coast city including a welcome dinner at one of Vancouver's top restaurants, Market at the Shangri-La, where we sampled the
Best of BC
. Over the next few days, we visited Stanley Park, the Capilano Suspension Bridge, Grouse Mountain, experienced the popular street food cart scene, went to Gastown, Yaletown, tried the Aquabuses on False Creek, headed to Granville Island and the Chinatown night market, and made it to the Vancouver Aquarium with its unique Jelly Invasion experience.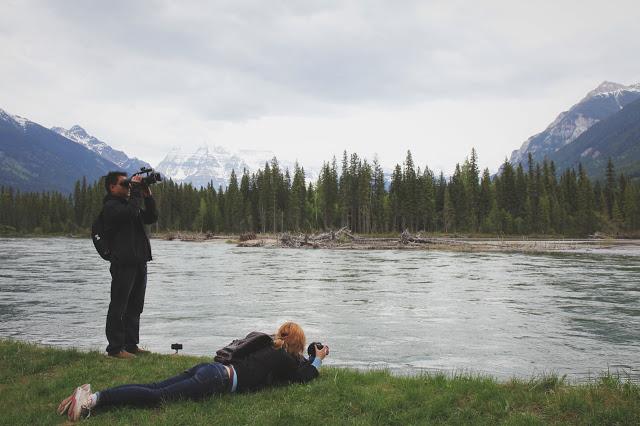 Photography and film work by the Fraser River.  Photo credit: Maurice Li Photography
With our bellies stuffed full of Vancouver delights, we boarded the VIA Rail Canadian for a journey of a lifetime crossing Canada. Next stop: Jasper, Alberta.
In Jasper, we were treated to an Albertan feast of outdoor and indoor experiences. We took the tramway to the top of Whistlers Mountain, rowed rafts (and swam!) down the whitewater of the mighty Fraser River, drove the world famous Icefields Parkway, trod glaciers, watched black bear, spied big horn sheep, ate a sumptuous dinner overlooking the Rockies at the Jasper Fairmont Park Lodge, and learned the art of lager brewing and exquisite cuisine at the Jasper Brewing Company and Tekarra's respectively.
Overindulged and overwhelmed by the Rockies experience, we overnighted by train to Winnipeg. For three days, our Manitoban hosts provided us with a thoughtful and relaxed guide to this historic prairie city where, six thousand years ago, people traveled to the junction of the Red and Assiniboine rivers to meet, trade and share experiences.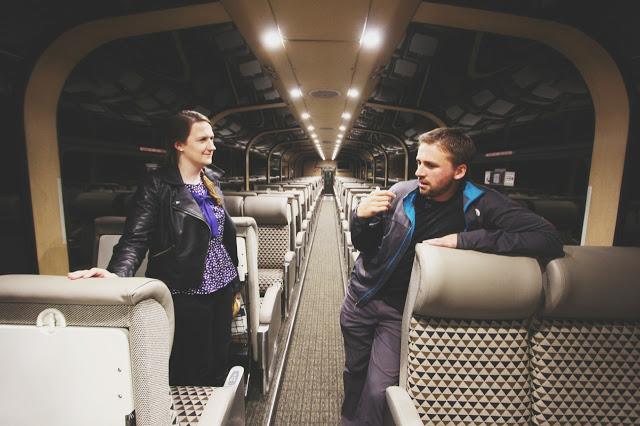 Deep in conversation with train blogger Sophie Collard about The Canadian.
Winnipeg was the one place I was slightly uncertain of - would it excite or disappoint?
I should never have doubted the place. We experienced prairie life and got up close and personal with bison, explored the Legislative Building as part of a Hermetic Code tour, and visited the Art Gallery, exposing us to a treasure chest of Inuit art deep in its vaults. Winnipeg had a story to tell and we were fortunate enough to be able to listen.  
A final train ride of two nights and we reached our final destination - Canada's largest city, Toronto. It was here that I caught up with friends old and new, explored some of the city's back streets and less touristy spots, and was hosted with my traveling colleagues by the Shangri-La Toronto at a cocktail party to celebrate the our arrival in advance of TBEX, the world's largest gathering of travel bloggers, writers and photographers.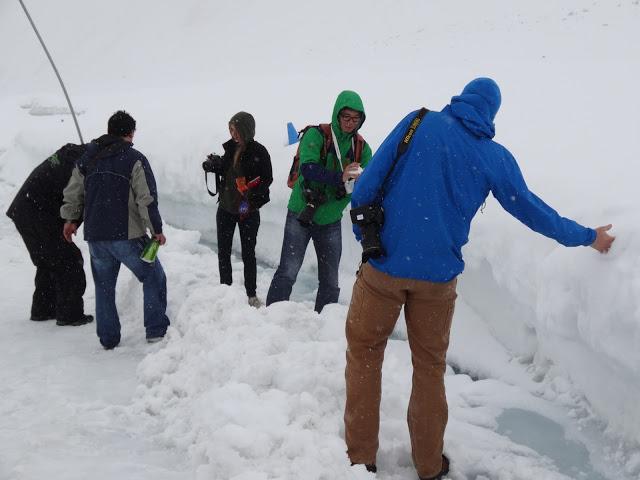 Treading glaciers, sharing experiences. 
Several weeks later, I reflect on what crossing Canada meant to me.
I experienced a once-in-a-lifetime opportunity which allowed me to photograph and write about my travels to a country that I've always been fond of. Few are fortunate enough to be provided with such experiences and I'll no doubt find this one hard to top.
I learned that my one defining passion is to share these incredible stories through my words and pictures. Through this, I realised a desire to spend more time on the photographic elements of a visit like this to compliment the words on the page.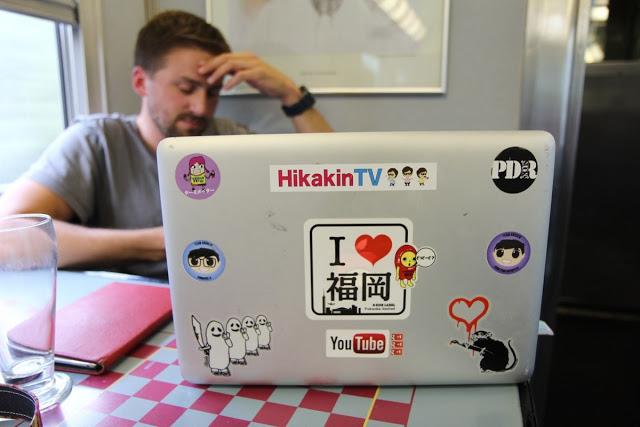 Using the train journey to get work done.  Photo credit: Maurice Li Photography
I learned about the value of support from my community in the UK, Australia, Canada, and beyond.
The comments, tweets, messages and emails from people following the cross-Canada journey inspired me to share more. It's often difficult to gauge how interested people are in a trip like this and the messages that came through showed a genuine interest and passion for the country and the visit.
Most importantly, I met some wonderful people on this visit.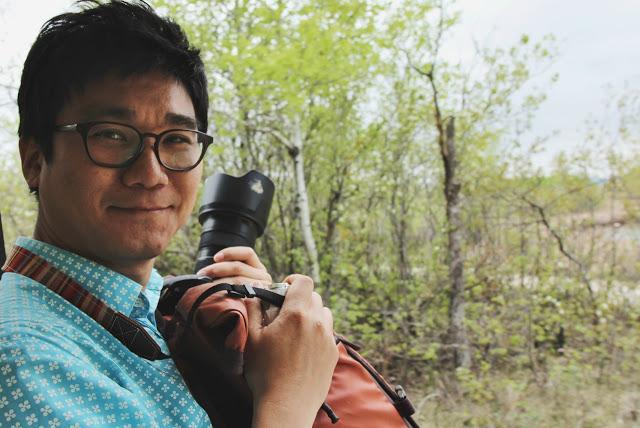 JJ Park, a leading photographer from South Korea.  Photo credit: Maurice Li Photography
I was fortunate to travel with some of the world's most reputable and influential bloggers from South Korea, Japan, Germany, Australia, India, Mexico, China, Canada, the UK and USA.
Some of the blogging and photographic celebs included the Mexican stage and television icon, Alan Estrada, of Alan x el Mundo fame; Maurice Li, a Vancouver-based photographer with exceptional talent and a nose for finding great food away from the mainstream; and Micaela Braithwaite, one of Japan's most prominent YouTube vloggers, to name but a few.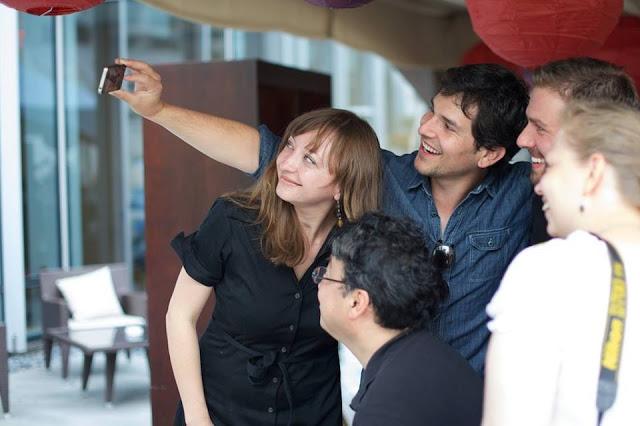 Capturing lasting friendships.  Photo credit: Shangri-La Toronto
Minor celebrity aside, traveling across a country by train allows you to meet incredible people, including other train travellers whom you wouldn't have met under other circumstances.
Travelling across Canada also ensured face-to-face contact with my fellow bloggers and photographers. We witnessed extraordinary natural spectacles and dined on some of the tastiest and most diverse fare Canada could offer. We shared valuable tricks and tips on our work and we worked side by side, often without needing any words.
We experienced the real Canada first-hand. And I'm certain we made friendships that will endure.
Have you enjoyed these posts from the cross-Canada journey? Are there any parts of Canada we didn't see that you'd recommend? Have I interested you in a life of travel blogging or writing?
Do leave a comment below and let me know what you think.