I came across two very different videos which have something in common: Unmanned cameras provide vistas unseen before thus they discover astonishing new dimensions for a more holistic understanding.
The Government of Catalonia, Spain, has done a pilot project to evaluate the use of UAVs, popularly known as 'drones', in the field of public administration. They recorded images with drones inside and outside of the Abbey of Montserrat and the Montserrat Natural Park. Impressive views from bird's eye.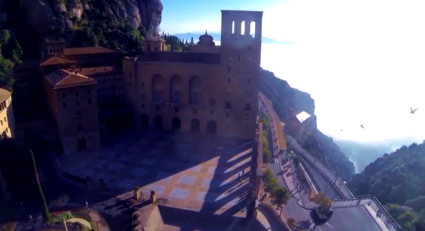 Entering the Montserrat Monastery from above. Image (c) Generalitat de Catalunya
The other video is even more spectacular: 3D views of the valleys, canyons, lava flows and the highest known mountain in the Solar System on the surface of Mars. The pics are taken by a high resolution stereo camera on board the Mars Express spacecraft. The topography of the Red Planet appears so three-dimensional that you could walk through it. This is possible because of the unusual imaging principle used by the camera: Nine light-sensitive detectors sweep the surface in sequence from nine different observation angles. This data is then processed into three-dimensional images by the DLR German Aerospace Center.
The scientists put the camera images together piece by piece like a jigsaw puzzle, creating a global map of Mars. Of the 145 million square kilometres of the surface of Mars, 97 million have already been covered at very high resolution, where one pixel corresponds to less than 20 metres on the surface. Almost the entire surface of Mars has now been imaged at a resolution of better than 100 metres. "We can see the entire topography almost as well as if we were standing on Mars ourselves," says Jaumann, project manager for the mission at the DLR (Deutsches Zentrum für Luft- und Raumfahrt).
The spacecraft with the camera on board was launched on 2 June 2003. Since its arrival at Mars six-and-a-half months later, it has orbited the planet over 12,500 times. The video was released by the DLR German Aerospace Center as part of the ten years of Mars Express celebrations in June 2013.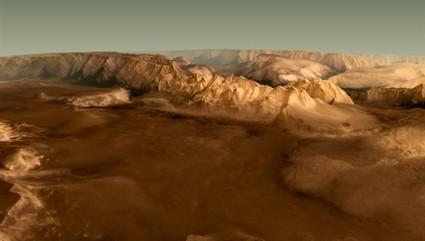 View of the Valles Marineris (C) DLR video
If you want to walk at the surface of the Red Planet, have a look at this 30° Gigapixel image from NASA's Mars Exploration Program and its rover named Curiosity. Well, in view of the rugged surface, I wouldn't like to live there.