A trip to Georgetown just wouldn't be complete without a stop by Georgetown Cupcakes. This cupcakery was opened by two friends in 2008 and now serves some of the most famous cupcakes in the world. If their name sounds familiar to you, it may be because Georgetown Cupcakes had their own reality series on the TLC in 2010. Their business has done extremely well in the past few years, as they now have several franchise locations across America. At first I was very surprised with how a cupcake business could make it so far in such short time, and my visit to this cupcakery showed me all the reasons for their success.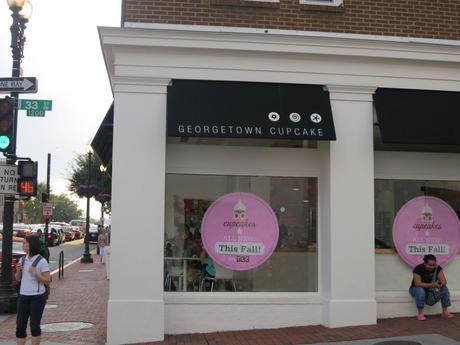 Georgetown Cupcakes on M Street
Georgetown Cupcakes is popular with both tourists and locals. Each day, there are 18 fresh flavours available for customers to choose and indulge in.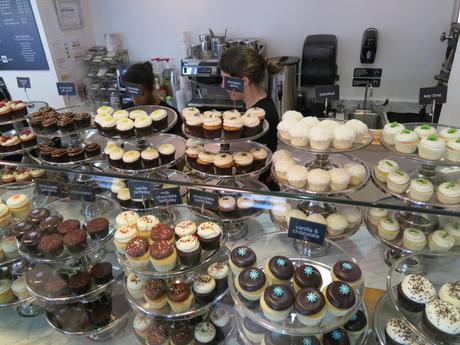 I wasn't able to buy too many cupcakes during my visit, since I was leaving that same night. So, I just bought myself an Iced Latte and two cupcakes. The latte was fairly good, it was flavourful but yet not too sweet. It was a perfect iced drink to have alongside cupcakes. I really liked the small box I got my cupcakes in too; it was presentable yet practical at the same time.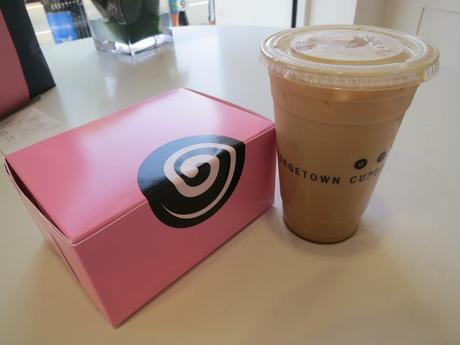 For my cupcakes, I got the two August specials: Blueberry Cheesecake and the Banana Split. The Blueberry Cheesecake was absolutely fantastic. It was completely a cheesecake rather than a sponge cake, but it was thoughtful how it was made in the shape of a cupcake. The Banana Split was good too, but all its toppings made it a little bit on the sweet side for me.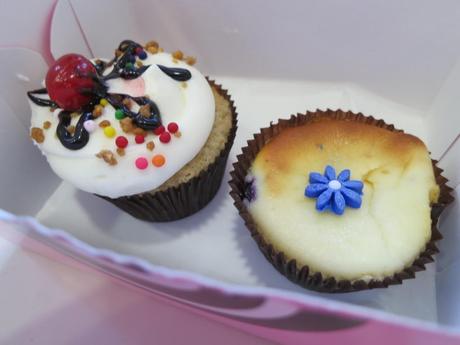 Left – Birthday Cake, Right – Blueberry Cheesecake ($2.75 each)
If I lived in DC, I'd be a regular customer at Georgetown Cupcakes too. These cupcakes are such delectable treats that I can have on any given day. Mind you, this is coming from someone who doesn't have much of a sweet tooth! On top of this, I really liked this bakery's clean and minimalistic layout. It's a comfortable place that serves comfort food. I wish they'd open up a Georgetown Cupcakes here on the West coast, because every big city should have something like this.

Delicious cupcakes
Reasonable prices
Clean, minimalistic restaurant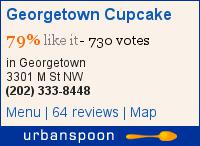 Thanks for reading, and please comment or click "Like" below to show your support!