Happy Friday!!! Or should I say FriYAY!
As you know, some traveling will be happening in October for our family. Even though I would love to take my entire wardrobe, vanity, and movie collection… I can't. When it comes to traveling, you have to bring the essentials. In some cases, you can bring a little something extra, but I try to keep my bag as light as possible. David would argue that my idea of "lightweight" is over 50 lbs. I promise to keep it under that this time, though!
To start off this Travel Tips segment of the blog, I wanted to share with you what I keep in my makeup bag. What you see below is not every piece of makeup on my vanity. We can save that for another day! Today, I am ONLY sharing my essential makeup items when traveling.
Before getting into my must-haves when traveling, I want to share a few tips about traveling with makeup.
I will write a separate post about traveling with makeup on an airplane, but here is one to start you off: Double bag your liquids. Separate them, too. In case of spills, you do not want your liquid foundation mixing with your primer or setting spray.
Check the weather at your destination before packing your makeup bag. If the temperature is expected to be hot hot hot, a thick foundation is probably not your best choice. Stick with lightweight options like a BB Cream.
Consider your day-to-day activities. Are you going to be swimming or spending the day playing on the beach? Don't bother with makeup. If you must have a little something, I recommend a lightweight option for foundation (preferably one with SPF) and a waterproof mascara. Anything more is probably TOO much for the beach anyway.
If you don't NEED it, don't bring it. Do you really need three highlighters? Probably not. Try to be cutthroat here. You can change your look sometimes by simply adding eyeliner or a darker eye shadow on the outer corners of your eyes.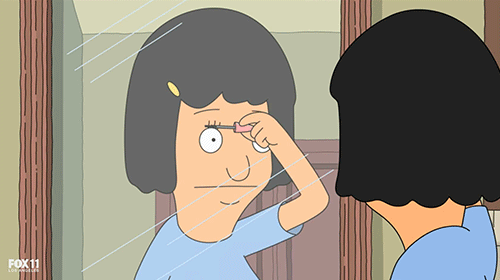 Photo Credit: Giphy.com
Alright! Let's jump into the actual makeup in my travel bag. If you want more tips, let me know! I am happy to write a post entirely devoted to tips when traveling with makeup. As for now, here are my makeup essentials when traveling! (P.S. I am going to try and keep the options drugstore/affordable.)
Garnier BB Cream – I love this BB cream. It is so lightweight, contains SPF, and has just enough coverage to last me for a good amount of my day. When paired with a good concealer, you can mask those pesky imperfections. Also, I do not use a primer when using BB Cream, however if you prefer a primer, I recommend the Rimmel Fix & Perfect Primer (drugstore) and Smashbox Photo Finish (High-end).
Maybelline Instant Age Rewind Concealer – The best drugstore concealer ever. I am not kidding. If you do not have this in your makeup collection, go and get it. A lot of the time, I cover up any small breakouts, under eye circles, and redness around my nose with this concealer in lieu of doing a full-face foundation routine. If you are going on the beach and expect to take photos, this is a great option. Cover those small imperfections, chuck on some mascara, and you are ready to roll. What I also love about this concealer is that it can double as an eyelid primer. One less item I need to put in my travel bag!
Covergirl Clump Crusher Mascara – You can get this in a waterproof option as well, by the way. I love this mascara. It is a must-have for me when wearing makeup. Honestly, I only use mascara to complete an eye look. I don't really care much about it otherwise. However, on days when I know I may need to look more awake, I pair the Maybelline concealer with this mascara. Clumpy lashes is a big no-no for me. This mascara has a curved brush to help prevent that from happening. It is perfect for travel/almost any occasion.

Photo Credit: Giphy.com

Essence Make Me Brow – If you are familiar with the Benefit's Gimme Brow product, this is essentially the $3 version of that. Make Me Brow has little fibers that hang on to your brows to make them appear full and defined. The applicator is basically a mini mascara brush. Personally, I don't go all out for my brows ever. I do understand that some people prefer to have their brows on fleek in order to walk out the door. If you are that person, pair this product with your favorite brow pencil/pomade. Right now I use the Anastasia Beverly Hills Dip Brow Pomade (only for special occasions).
NYC Smooth Skin Bronzer Powder – Okay Hoola by Benefit lovers… sick of spending $29 on bronzer? Me too. I am obsessed with the Hoola bronzer for a few reasons. First, it gives you a healthy bronze. You appear naturally sun-kissed. Love that. Second, it is pretty great for all skin tones. My darker toned friends love it, fair toned gals love it, and the olive skin tones (like me) also love it. Finally, it is a matte-bronzer. This is important to me. When contouring, I don't like sparkly bronzers. I like my contour to appear subtle and natural. Adding a sparkle draws attention to it. No thanks. If you are looking for a pretty amazing dupe to Hoola, then you need to get the NYC Smooth Skin Bronzer Powder. Ugh, I love this stuff. And guess what! It is only $4! Yeah baby! These two products are almost identical. Truly fantastic for someone who doesn't have the budget right now for high-end products.

Photo Credit: Giphy.com

Shaaanxo Eyeshadow and Lipstick Palette – I spoke about this in my July Favorites blog. This palette is everything! Not only are the colors neutral and versatile, but there are also 9 shades of lipsticks to choose from in the same palette. For me, the less things I have to carry, the better. The eyeshadow options are incredibly pigmented, neutral shades, and can easily be transitioned from an everyday look to a night look. Flip the palette over and you have all the lipsticks you need to get you through your trip. The colors are playful, gorgeous, and easy to apply. Click here for a video of Shaaanxo swatching her palette if you want to learn more. I highly recommend finding palettes like this when traveling. Neutral is best because it can match every outfit, can easily turn into a darker look for evening wear, and it is inexpensive.
Katy Kat Matte Lipstick by Covergirl – Here is another lipstick to consider if you prefer the classic options. I recently began using these lipsticks and I love them. The matte finish is fantastic, in my opinion. It is nice to have a matte option especially if you are going somewhere windy. I hate glosses on a windy day! I recommend bringing TWO of your favorite lipstick colors with you when traveling. Choose one neutral shade and one fun shade. In the fall, I go for purples. Any other time of year I stick with red. For the Katy Kat Matte line, there are a lot of funky color options for you dare devils out there! Two colors I swear by are Catoure (KP 10) and Maroon Meow (KP 09).
Milani Everyday Eyes Palette "Bare Necessities" – I wanted to give you another option for eyes. I understand some may not be interested in purchasing a palette that is not as well known. Milani is an amazing, affordable, brand. I love their eyeshadows. They are pigmented and gorgeous. This particular palette is exactly as it is named… An everyday eyes palette in the color bare necessities. The neutral shades are exactly what you need when traveling. You do not have all your shades at your disposal when traveling, so you have to choose neutral shades that can compliment any outfit. Take a trip to your local CVS/Walgreens and grab this palette.
e.l.f. Studio Blush – Elf cosmetics are amazing. Why? THE PRICE! How can you hate the affordable and quality options from Elf? The Studio Blush comes in two color options. I prefer Mellow Mauve. It is less pink and medium toned. I think it pairs well with most bronzers. I don't use a lot either. This blush is build-able and great for just adding some color to your face.

Photo Credit: Giphy.com

NYX Matte Finish/Dewy Finish Setting Spray – Last, but certainly not least, is a setting spray. When I have a few extra dollars laying around, I go for Urban Decay's All Nighter spray. But, let's be honest, I rarely have an extra $30+ for makeup. So, I turn to my favorite drugstore setting spray by NYX.  You can choose between the Matte or Dewy finish options. I think they are both quite similar. Obviously these are not as amazing as Urban Decay, but they work. It is a wonderful product to own if you need to set your makeup and not break the bank.
You may be wondering where eyeliner is on this list. I do not use eyeliner. It doesn't look great on me and if I do choose to use it, I use a gold colored one by YSL. Instead of eyeliner, I will bring my eyeshadow down to my lower lash line. I do have a recommendation for those of you who love eyeliner. Here are two must-haves for eyeliner lovers out there. One is gel, the other is a liquid pen. You can choose which you prefer. I prefer neither LOL! If I had to choose, it would probably be the liquid liner. First is Maybelline Master Precise Liner Pen and second is the 24hr L'oreal Gel Liner.
Wellp, that is all I have for you all today! I hope this helps you when you are putting together your makeup bags for travel. Play around with your favorite products, see what works and what doesn't, then make the final decision! <3 Happy packing!
Completely unwarranted life lesson from a married woman #28: My main tip is to keep it minimal. Choose products that are versatile and easy to work with. Some eyeshadows can triple as a shadow, liner, and highlighter. Some concealers can double as a concealer and a primer. Have fun with it!