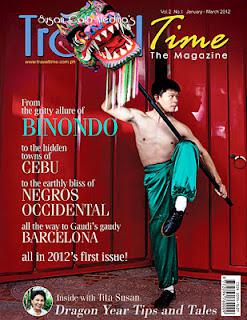 Susan Calo Medina's Travel Time, The Magazine welcomes the Year of the Dragon with its first issue for 2012 carrying the theme "Dragon Lore."
The January to March 2012 issue is packed with articles on major and emerging destinations, travel tips, people, and culture. On the cover is Wushu World Champion Mark Robert Rosales carrying a dragon head from the Ling Nam Athletic Federation. This issue features articles from prominent Tsinoys such as Teresita Ang-See, Meah Ang-See and Doreen Yu. It also carries articles from former DOH Secretary Jaime Galvez-Tan and director Floy Quintos.
The cover story is "My Downtown" by Doreen Yu, who takes readers around the streets of Binondo to share favorite places from her childhood.
In "The Sugarland Express" (Detour), Ricky Lopez also talks about his tours of Negros Occidental and finds out that there is so much more to the province than its title as the Sugar Capital of the Philippines. Meanwhile, in "Suroy Suroy Sugbo" (Special Feature), Maridol Ranoa Bismark tours 22 towns in three days and watches the whole of Cebu come alive during the Suroy Suroy Sugbo festivities. Celina Cruz and Lala Dimaano, for their part, enjoy a whole day of eating with only P100 in "A Diliman Food Trip" (Quick and Easy).
Meah Ang-See opens the doors of Bahay Tsinoy and takes us on a tour to see the story of Tsinoy generations in "Scenes from a Tsinoy Past" (Soul). In "The Inconvenient Truth About Water" (Travel Green), Olivia la O' Castillo of the United Nations Advisory Board on Water and Sanitation shares some points on the conservation of water.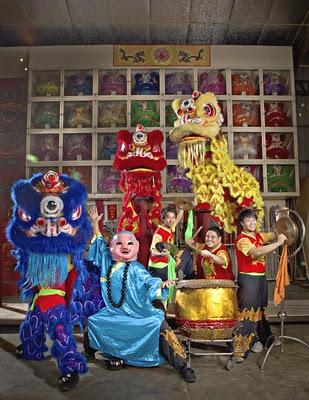 Readers are in for an drenaline rush while reading "My Kayak and Me" (Thrill), written by Buzzy Budlong, who kayaks his way around the Philippine islands in 88 days. Walter Ang, on the other hand, tours Barcelona and discovers the Gaudi beneath the gaudy in the article "Gaudy! Gaudi! Go!" (Letters From Abroad).
And in "From Niño to Nazareno" (Folio), Floy Quintos sees the depth of our devotion to Senyor Santo Niño and the Nazareno in dramatic images captured by various photographers.
Celebrate the Chinese New Year with features such as "Enter the Dragon" (Astral Travel) by Walter Ang, and find out what the Dragon has in store for you in 2012; in "Here, There and Everywhere" (Dossier), Teresita Ang-See shares the journey of Tsinoys in the Philippines.
Learn some tips on how to attract positive energy from Feng Shui expert Francis Gaw in "It's All About Balance" (Savvy); find out which charms will bring you health and good luck in "Stoned!" (Market). And in "The Best of Traditional Chinese Medicine" (Whole), former DOH Secretary Jaime Galvez Tan ticks off the most effective Chinese treatments, while Jin Perez welcomes the Chinese New Year with some all-time favorites in "Beyond Basic Chinese" (Flavors).
DOT Secretary Ramon Jimenez Jr. talks about what's in store for Philippine tourism in 2012 in "A Golden Era Begins" (Memo). Also, let's celebrate heirloom cuisine in Silay City's 14th Adobo Festival in "Adobo (r)evolution" (Flavors); read "A Fair Affair" (By Demand) and make Valentine's Day extra special and extra equitable with the recommended His and Hers activities.
Finally, Tita Susan talks about her Chinese roots in "My Chinese Connection" (Travels With My Aunt).
Susan Calo Medina's Travel Time, The Magazine, retails for only P125 and is available in Powerbooks, Fully Booked, Wilcon Builder's Depot, National Bookstore and other major bookstores and magazine outlets nationwide. It is distributed by Emerald Headway Distributors, Inc. Grab your copy now!
For subscriptions, call Louise Lim 0917-5696554. For editorial inquiries, Lala Dimaano 0917-5696315 or Celina Cruz 0917-8480831.