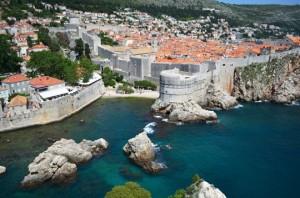 If you're a big fan of Game of Thrones (GoT) like I am, you're probably pretty psyched that the fourth season has officially kicked off.
But if you're looking to fully immerse yourself into the incredible (and sometimes twisted) world created by George R.R. Martin, why not channel your fanaticism and turn it into a new travel experience?
Many of the show's scenes are filmed in real places around the world, from Morocco to Iceland—and, man, are they stunning! Although it may not be possible to travel from country to country, it's certainly worth hopping on a GoT tour or using one of the locations below as inspiration for an upcoming trip.
While we can't promise you'll see any real dragons (sorry!), you don't have to worry that White Walkers and a malicious boy-King will ruin your fun.
Happy travels!
Croatia: While you can travel on your own, you might want to consider signing up for the Game of Thrones Tour, which stops at various filming locations including Split, Krka National Park, Hvar, Ston, and the picturesque city of Dubrovnik, which has provided the setting for King's Landing since the second season. Dubrovnik is also a UNESCO World Heritage site.
Ireland: The northern part of the country has been a popular site for Game of Thrones, specifically Castle Ward (Winterfell), the Mourne Mountains (home of the Dothraki), and Ballintoy Harbour (Port of Pyke of the Iron Islands).
Malta: The charming city of Mdina was the original King's Landing from season one. Other important locations include Fort Manoel (the Sept of Baelor) and the Azure Window, a natural arch created from limestone caves that hosted Khaleesi's wedding to her Sun and Stars.
Morocco: See the world through the eyes of the Mother of Dragons at Essaouira, which provides the settings for parts of Astapor, Yunkai, and Meereen in Slaver's Bay.
Iceland: Although there are no White Walkers or Crows at the Vatnajokull National Park, it's impossible not to appreciate the beautiful areas "north of the Wall." While a massive black cloak isn't necessary for hiking or camping at the park, you will want to bundle up!
Photo from Huffington Post.