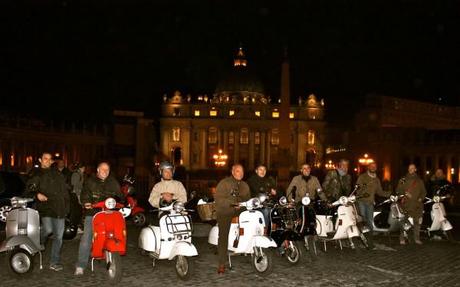 I've always wanted to say "When in Rome…." and mean it literally, so you can imagine how much I overused it when I actually was in Rome.   I was a guest of HouseTrip, along with several other travel bloggers and learned to shop like a local and even learned how to fight like a local – well an ancient one anyway at Gladiator School.  Naturally we also had to travel like a local – which in Rome means riding a Vespa!  When in Rome…OK, I'll cut it out, I promise.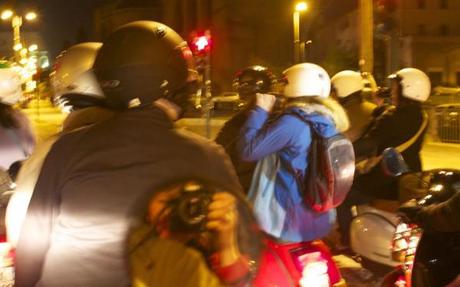 10 Vespas in Rome attracts some attention - fortunately we were with locals!
I don't know if Rome was quite ready for a group of intrepid travel bloggers to take to its streets, so we went with locals on a Vespa tour causing quite a stir as our group of 10 Vespas whizzed through the streets of Rome.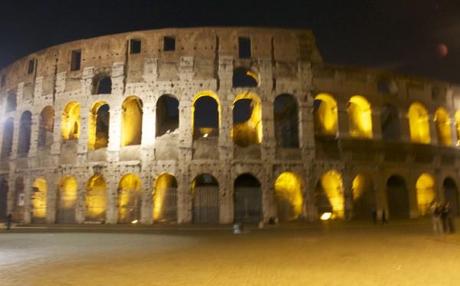 The Coliseum was one stop on our Vespa tour.
Our Vespa tour could be described as a cultural adventure.  We would drive to a cultural site, such as the Rome Coliseum or the Roman Baths, dismount from our Vespa and learn about the history.  Then we would get back on again and we were off to the next place.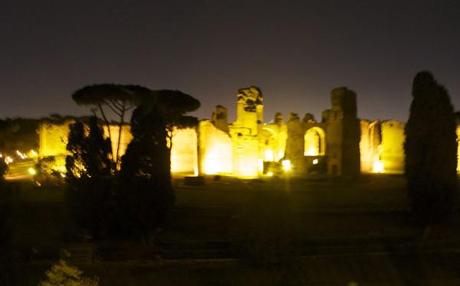 The Roman Baths were illuminated at night. I need to return to visit them properly.
My favorite part of living like a local is actually meeting locals and I had a great chat with Stefano, my Vespa driver.  In fact it was my favorite part of traveling like a local.  Come on, admit it ladies, doesn't every girl dream of hanging on for dear life to a hot Italian guy as he navigates you through the streets of Rome?  I may be married, but I'm not dead!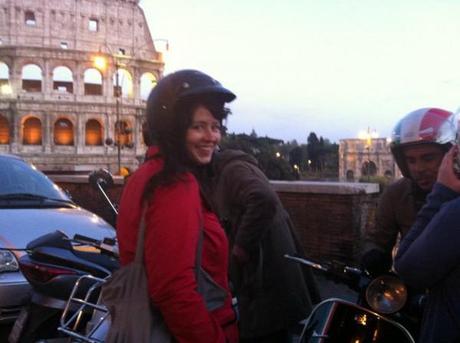 Me on the back of a Vespa with Stefano.
Needless to say that I've forever grateful to Angie from Angie Away for this photo. 

It was through our chat that I learned how special our Vespa drivers were.  These were not ordinary tour guides, but professionals with a love, some may say obsession for Vespas.  "This type of Vespa is not so comfortable, so they are not very popular," Stefano explained.  It turns out our drivers were part of a Vespa club who just happened on occasion to offer Vespa tours through the streets of Rome.  "Obsession" may seem like a strong word, until you realize that each Vespa driver has more than one Vespa.  Stefano has 11, all of which are sitting in his mother's garage.  When I asked another guide how many Vespas he owned, he looked at the ground, then shot Stefano an envious glance as he replied "Only three."  I still thought three Vespas was quite a few.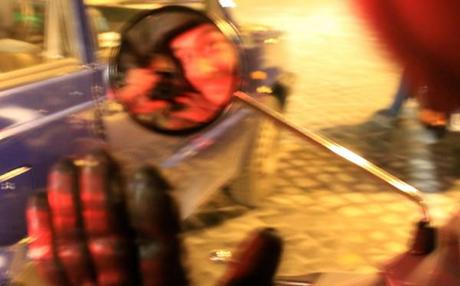 Stefano as seen through his Vespa mirror.
Just what kind of people are obsessed with Vespas?  Surprisingly professional ones.   Stefano is an architect.  Other guides were doctors or engineers.  But they are also friends.  It's a small group and they will often go for rides together.
Up next for Stefano?  A drive (on his Vespa of course) from Rome to London for a Vespa Conference, which he expects will take 5 days, so if you happen to see an old style Vespa  with an Italian license plate, somewhere outside of Italy en-route to London, stop and say "Ciao".  Stefano is one of the most interesting locals I've ever met and I had the privilege of traveling like a local with him!
I was a guest of HouseTrip, which provides an ideal alternative to hotels through its wide range of holiday rentals for all budgets.  I certainly felt like a local staying in this fabulous apartment in Rome with views of the Coliseum!
You may also be interested in A Vespa Tour of Rome by the PlanetD which describes more of the sights we saw on our tour.   Carried Away on a Vespa by Kirsten Alana  has great photos of our Vespa tour.  Vespa Tours and Italy. describes Heather's not   one, but two Vespa rides in Italy.