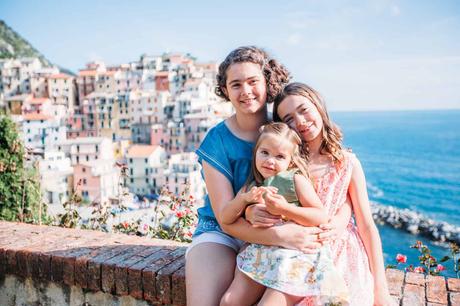 We're probably not alone in saying this, but a trip to Italy is what we all dream of. It's a place that you should experience at least once in your lives, no matter if you're traveling solo or with a family.
It can be tricky to find a destination that suits the whole family. But you have absolutely nothing to worry about, this is one of the best places you can choose for a family trip.
We've done it numerous times, and there are thousands of others who choose to travel to Italy with kids!
Guide to Travel Italy with Kids
There are some incredible places in Italy for children and with such diverse Italian landscapes and cities. You'll be sure to find a destination that's just right for your family.
Plus with our tips for amazing travel with kids, you'll be ultra-prepared.
Best Places to Visit in Italy with Kids
Part of the reason we all fall in love with Italy is because of the mouth-watering food and delicious gelato. But nothing comes close to grabbing a slice of pizza under the Tuscan sun.
There's so much to love about the landscapes, culture, and activities found here.
Below I've shared some of the best places in Italy for a family holiday. You'll find destinations from both the south and north of the country, along with unique adventures and incredible accommodation in each.
Best Places to Visit in Northern Italy with Kids
Northern Italy encompasses the wealthiest parts of the country and it's where you'll find some of the country's luxury resorts and cultural treasures. Explore ancient castles, roam around kid-friendly museums, and take the family to all kinds of memorable destinations.
1. Tuscany with Kids
Tuscany is one of the most wonderful places in Italy to visit with kids, purely because of how beautifully diverse the region is.
Children love a good beach day, and they'll be kept happy for hours splashing in the warm waters and building sandcastles.
Lucca with Kids
Lucca is a charming, quaint city on the Serchio river, with plenty of things to do and see. It is most famous for its well-preserved Renaissance walls.
Things to do in Lucca with kids:
If your kids are a little bit older and up for the adventure, nothing beats a bike ride around the city walls of Luca and tree-lined paths.
For kids older than 7, take an adventure up the top Torre Guinigi, which shows off panoramic views of the Lucca rooftops. Once the fun descend down the tower is over, reward yourselves with some fresh pizza from Trattoria Gigi.
Where to stay in Lucca with kids:
For an absolute treat, we recommend staying at an Italian villa, where there's plenty of space for the kids to enjoy.
Check out the current prices for B&B Villa La Perla here.
Florence with Kids
Florence is a much smaller city than Rome and Milan, but it's the most populated. There's so much to see and do in Florence, which makes it an ideal option for longer stays.
Things to do in Florence with kids:
If you're all keen on a break from the city, a picnic or stroll around Boboli Gardens is fantastic. After all the city seeing, head to Piazza Della Repubblica and enjoy a ride on the antique carousel.
When you're in Florence, you can't miss out on a trip to one of their museums. Visit some kid-friendly ones like the Galileo Museum, Palazzo Strozzi, or Palazzo Vecchio.
Click here to book your tour of Florence Palazzo Vecchio.
Where to stay in Florence with kids:
Staying somewhere central is ideal when visiting Florence. Some hotels, like Hotel Orcagna, even offer bike rentals which make getting around the city super convenient! It's also got a garden for the kids.
Check out the current prices for Hotel Orcagna here.
2. Rome with Kids
Ah, Rome, one of the most loved cities in Italy. And for good reason. It's a city filled with local history, culture, and mouth-watering delights.
Things to do in Rome with kids:
While a visit to the Colosseum is a popular tourist attraction for adults, kids will be excited to know that it's also where a collection of wild animals once lived.
As a family, you can row a boat at the Borghese Gardens, eat gelato at the Spanish Steps or explore the Roman Catacombs.
Click here to book your tour of the Colosseum.
Where to stay in Rome with kids:
Guesthouses are a great option when you're traveling with the whole family. They're quiet, relatively central, and usually very spacious. A great option is for travelling Italy with toddlers and kids is Sofia's Suite Guesthouse.
Check out the current prices for Sofia's Suite Guesthouse here, or find out which hotels are popular in Rome here.
3. Venice with Kids
Venice is a city that's built on more than 100 islands in a lagoon in the Adriatic Sea. With no roads and just canals, you can spend your days exploring via the water or wandering the streets of this charming city.
Things to do in Venice with kids:
One of the most fun things to do in Italy for kids is to hop on a gondola tour that takes you along the beautiful turquoise waters. It's an awesome way to see the whole city, especially during the summer. Kids will also enjoy a trip to St. Mark's Basilica, where they can marvel at the beautiful colored glass as it hits the light.
Click here to book your tour on a gondola in Venice.
Where to stay in Venice with kids:
Located just 50m from St. Mark's, Hotel Noemi is one of the top choices when it comes to staying in Venice with kids. With a superb location, this family-run hotel has beautiful rooms with an 18th-century Venetian décor.
Check out the current prices for Hotel Noemi here.
4. Cinque Terre with Kids
Cinque Terre is made up of dreamy seaside villages that house centuries-old homes along the Italian Riviera coastline. The 5 towns are filled with colorful houses, magical fishing boats, and vineyards that grow on steep terraces.
Things to do in Cinque Terre with kids:
A trip to Cinque Terre is unimaginable without a beach adventure. Parco Nazionale Cinque Terre is a wonderful coastal park that's ideal for beach days and outdoor hikes -- an awesome opportunity for older kids.
Other than a trip to the beach, visiting Doria Castle, seafood dining, and enjoying copious amounts of ice cream is a must, too.
Where to stay in Cinque Terre with kids:
Cinque Terre offers beautiful holiday homes that are nestled right along the coastal cliffs. They're fantastic for staying central and soaking up the outdoor sun. If you're looking for ocean views and a stunning garden, Casa Lorenza is the perfect choice.
Check out the current prices for Casa Lorenza here.
5. Lake Garda with Kids
Lago di Garda is the largest lake, popular for its crystal clear waters, and fantastic for those traveling to Italy with toddlers or kids.
Things to do in Lake Garda with kids:
Given that you're traveling with kids, you can't miss out on a day at Gardaland. This huge amusement park features water rides, parks, and classic carnival rides.
A lot of the activities in Lake Garda involve the water, so take a ferry tour and explore the surroundings or take a splash in the warm waters.
Click here to book a tour on Lake Garda.
Where to stay in Lake Garda with kids:
You'll want to stay as close to Lake di Garda as possible, for easy trips to the water. Hotel Tre Punto is just a 10-minute drive away from the turquoise waters.
Check out the current prices for Hotel Tre Punto here.
Best Places to Visit in Southern Italy with Kids
All the adventure-seeking and beach-loving families will love a trip to the Southern parts of Italy. The south boasts some of the oldest parts of the country, as well as some iconic Italian sites that attract tourists from around the globe.
And of course, the beaches play a huge part in the south's popularity. With its warm Mediterranean climate and breathtaking coastal cliffs, both you and your kids will love every minute.
1. Amalfi Coast with Kids
The Amalfi Coast is a 50km stretch of coastline, showing off the gorgeous Mediterranean ocean. It's one of the most notorious Italian vacation spots, with a collection of seaside villages, pastel houses and plenty of cobblestoned streets to explore.
Things to do in the Amalfi Coast with kids:
Because of the narrow, cobblestone streets, the Amalfi Coast isn't ideal for families traveling with young children in a stroller. But older kids will love visiting all the beaches, boat rides, parks, and town square.
Be sure to stop at San de Riso pastry shop in Minori to pick up some tasty treats, too!
Click here to book a tour and boat ride on the Amalfi Coast.
Where to stay on the Amalfi Coast with kids:
We recommend staying at Villa Maria, located in Praiano. It's rated highly for family stays, with the biggest draw being private steps leading down to the beach and panoramic views from the hotel.
Check out the current prices for Villa Maria here.
2. Puglia with Kids
Puglia is a region found in the heel of the iconic Italian "boot". It's known for its ancient farmlands that sit along the coast, whitewashed towns, and endless Mediterranean coastline. There are plenty of stunning places to visit in Puglia.
Alberobello with Kids
Alberobello is a quaint town in Puglia that's great fun for traveling with your family. Kids will love the look of all the interesting buildings and maze-like streets to play around.
What to do in Alberobello with kids:
This fairy-like town is awesome for when you're traveling Italy with children. It's safe, quiet, and very laid-back, and you can spend your days in the beachside towns, going on a short walking tour and taking a visit to the Castellana Caves.
Click here to book a tour through Alberobello.
Where to stay in Alberobello with kids:
Treat your kids and book a stay in a whitewashed farmhouse, with a gorgeous patio and BBQ facilities. It's the perfect place to enjoy some quality family time!
Check out the current prices for Dimora Sumerano's Bed and Breakfast here.
3. Matera with Kids
Once an Italian city shamed for poverty, Matera is a city made of stone that now attracts hundreds of tourists every day. It's home to many museums and shows off an incredible rocky landscape (the perfect backdrop for a family photo).
What to do in Matera with kids:
Explore houses in old cave systems and find out what life was like living in a cave. Kids will be fascinated with this new idea of living. It's a thrilling experience to wander deep into the caves of Palombaro Lungo, as well as to visit churches built in the caves.
Where to stay in Matera with kids:
You shouldn't miss out on the opportunity of staying inside a cave. Book yourself a one of a kind experience that'll be fun for the entire family.
Check out the current prices for Cave Rooms Sassi here.
4. Sicily with Kids
Sicily is the largest Mediterranean island, rich in both culture and history. It also boasts insanely beautiful beaches.
You'll have the chance to explore the island like a local, eating fresh seafood, soaking up the sun, and discovering the island's heritage.
Taormina with Kids
Within Sicily, you'll find Taormina. It's a hilltop town that features an active volcano, Mount Etna. From Taormina, you can visit ancient sites and take cable car rides down to the beach.
What to do in Taormina with kids:
Visit the ancient Greek theatre, which is probably the most famous site in Taormina. Even though the history won't be that important to the kids, they'll be more than happy climbing the tiered seating.
Another great thing to do is to take a visit to Mount Etna. It not only shows off fantastic views of the surroundings, but the cable car ride is an adventure on its own.
Click here to book a tour to Mount Etna.
Where to stay in Taormina with kids:
Your family will love a stay at a gorgeous B&B that's only 800m from the center of Taormina. With colorful rooms and sweet Italian breakfasts, you'll feel right at home.
Check out the current prices for B&B La Terrazza Sul Mare Taormina here.
Final Thoughts on Traveling to Italy with Kids
There's no shortage of things to do in Italy with kids. A country this diverse and exciting makes it one you can explore over and over again. Each city or town offers something uniquely different and fascinating.
Besides its beauty and history, it's a brilliant destination to travel to as a family because of how child-friendly it is. Enjoy the warm climate, indulge in mouth-watering food, embark on numerous boat trips, and explore many historically significant sites that your kids remember forever.