Quite often a new product launch offers a generous sign-up bonus to generate hype/buzz.  This is one such case and is easy money.  Order a NetSpend Debit Prepaid Mastercard which you can use practically anywhere that accepts cards as payment and load $40 to the card and you get a $20 bonus.  Refer friends and family and both YOU and THEY get a $20 bonus.  It doesn't get much simpler than that! Feel free to leave your referral link in the comments.  
HT to FrequentMiler for yet another great tip!
Check out the rest of my travel hacking tips here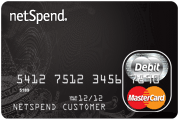 Tags: ..
Travel Hacking - Tip #18 – NetSpend Prepaid Cards
..
If you like what you've read, why not subscribe to updates click here