This isn't exactly breaking news but American Express seem to love giving away money e.g. here so it would be down right ungrateful not to accept - right? A few months ago they were giving away a $25 Amex pre-paid card (up to 3 per person) if you bought a $25 pre-paid card (that was $75 for free per person).  I got 2 for me and 2 for the missus.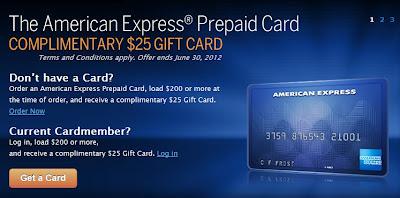 If you didn't get in on the bonus back then don't worry because it is now available again here   until June 30th but this time you need to load $200 on each card (which can be used like a credit card and is reloadable) to get the $25 bonus.  They do require your social security# on the application and you give your bank a/c details to load the card but there is no credit pull so it's easy money with minimal red-tape.
If you already got the $25 bonus from the original offer you should be able to get it again by loading $200 on the card.  
 .
Tags: ..
Travel Hacking - Tip #17 – American Express Prepaid Cards
..
If you like what you've read, why not subscribe to updates click here