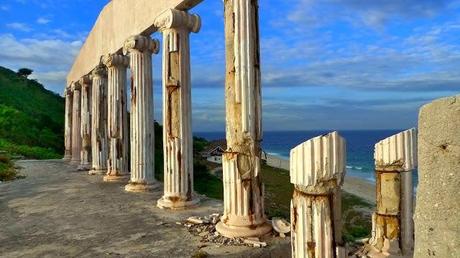 I'm moving I'm coming
Can you hear, what I hear
It's calling you my dear
Out of reach
(Take me to my beach)
I can hear it, calling you
I'm coming not drowning
Swimming closer to you 

- Pure

Shores by

All Saints -

Fortune Island was once a luxury island resort, but now it is now just an abandoned island with a few crumbling structures. However, this does not diminish the natural beauty that the island offers. In fact, one of these structures, called the Acropolis from the

Acropolis of Athens

, is the island's current main attraction. Fortune Island's Acropolis stands on a rocky cliff that juts out into the water. Many visit the island to take photos by this crumbling structure that is an imitation of the famous ancient citadel in Greece.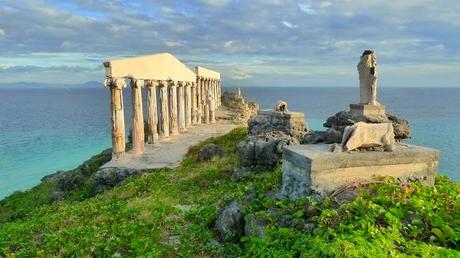 Fortune Island's Acropolis
The island is located about 15 kilometers off the coast of Nasugbu, Batangas. The best way to experience the island is to camp there overnight but many just visit it for a day-trip. The best time to visit is between the months of February and May because the waters to cross by boat will be calmer.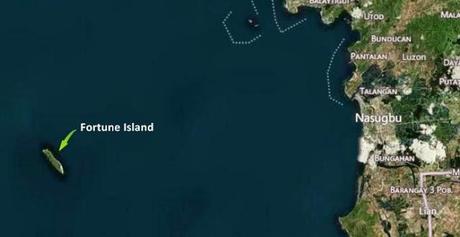 HOW TO GET THERE
1. Bus from Manila to Nasugbu, Batangas
Go to the Coastal Mall's Provincial Bus Terminal in Parañaque City. There are several bus lines there, both ordinary and air-conditioned buses, that travels to Calatagan, Batangas. Make sure to ask the driver if they can drop you off at the Nasugbu Town proper.
Travel Time:
2 - 3 hours or less (depending on how heavy the traffic is)
Bus Fare:
Php 130.00 (ordinary bus)
Best Time to Travel:
The earlier the better because there is less traffic and crossing the water to the island is safer in the morning.
Note: - There are other bus terminals (Cubao and Buendia) with buses that travels to Batangas.If the Coastal Mall Provincial Bus Terminal is inconvenient because it is too far, it is best to check if these terminals have buses that can drop you off in Nasugbu.- Another option is to check where to get passenger vans that travels to Batangas.- Additional shopping can be done in Nasugbu, especially for supplies like meat, vegetables and coal for grilling.

2. Tricycle to the coast of Nasugbu
Travel Time:
10 to 20 minutes

3. Boat Ride to Fortune Island
The waves can be treacherous and as mentioned, it is best to visit the island 
between the months of February and May. The price of renting a boat depends on your length of stay on the island. The boats can usually carry up to 10 passengers.

Travel Time: 
45 minutes to 1 hour (more if the waves are big)
Day-trip:
more or less Php 4,000.00
Overnight:
 more or less Php 6,000.00
Boat Rental OptionsOption 1
Contact Person: Mang Dante (0939.489.5292)
Option 2
Contact Person: Chris (0908.722.5628)
Option 3
This option is not verified if true and possible but according to a source, upon reaching Nasugbu, you can ask your tricycle driver to take you to Wawa, the port or the coast near where the Coast Guard is stationed and that there are boats there that can be rented to Fortune Island and their prices can be considerably lower.
Note: - It is best to negotiate with your contact person regarding the cost of renting a boat but another way to minimize the cost is to travel in a large group (8-10 persons).


ACCOMMODATIONS, AMENITIES & ACTIVITIES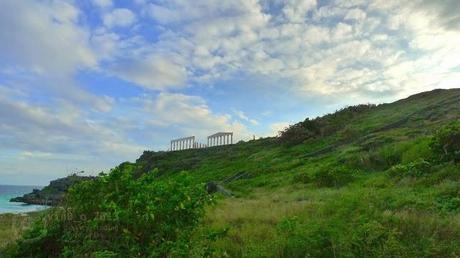 Fortune Island Landing Fee / PermitDay-trip:
more or less Php 350.00 per person
Overnight:
 more or less Php 400.00 per person
If you are planning to stay overnight on Fortune Island, your only option is to bring tents and to set up camp for you and your company. There are still a few standing structures on Fortune Island, however, most are boarded up while others can be used as "camp central" for cooking and evening socials.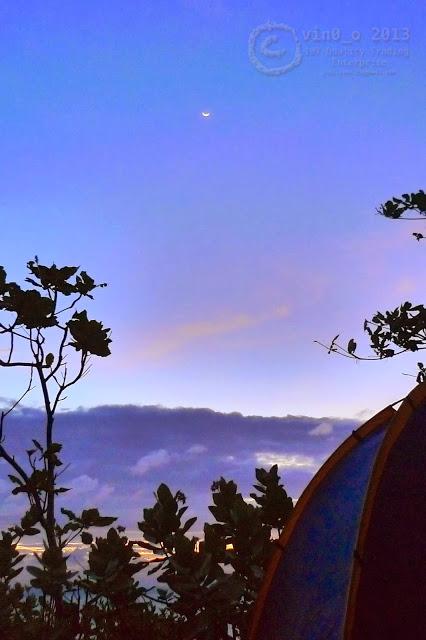 The island has a stay-in caretaker, Kuya Loret (0928.453.8821). He can be asked if it is possible to use the bathing facilities in his cabin. However, since fresh water is limited on the island, it is possible that he may not be able accommodate a large group of people.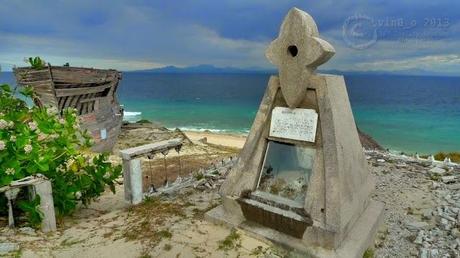 Front-Right: a small monument with human bones inside
- According to Kuya Loret, the island's current caretaker, the bones belong to a woman and her remains were found during the construction of the island's resort grounds and buildings. He also said that the ghost of this woman used to roam the island at night.
- The marble plaque mentions a dedication to Former President Fidel Ramos and  First Lady Amelita Ramos who were guests of honor of the Levistes on the island.
Back-Left: a replica of a ship which was once Fortune Island's restaurant
Since the luxury resort on Fortune Island was abandoned for more than half a decade, there is no visible maintenance and trash can be seen along the beach. This made everything look so sad and forlorn. So, if you are visiting the island, make sure to be responsible not add to the trash.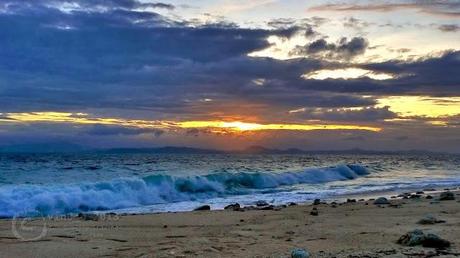 Sunrise
ACTIVITIES
Day and Night Swimming * Snorkeling * Sun Bathing * Scuba Diving * Skim boardingCamping * Beach Bonfire and Socials * StargazingSunset and Scenery Pictorials * Pictorials by the Acropolis 
Diving
 There are about 20 diving spots near and around the island. Many divers flock this area of Batangas because of these underwater "parks" as well as to visit some of the sunken vessels located there. Currently, Fortune Island is "leased" to some Koreans who regularly drops by the island after their diving activities.
Photo Ops
Aside from the photographic opportunities offered by Fortune Island's Acropolis, the sunset is also best viewed and photographed from this location. The island also offers a great view of the lights coming from Nasugbu at night.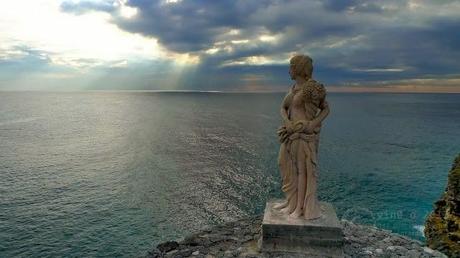 Almost Sunset (unfortunately cloudy, taken from Fortune Island's Acropolis)
Wildlife
There are some wildlife that live and visit the island. The island is often visited by sea turtles (pawikan) that lay their eggs along it's beach. Also, a couple of big birds of prey (Philippine eagles or monkey eating eagles, according to a source) can be seen flying around the island.
DO NOT FORGET TO BRING
travel wear * swim wear * sleep wear * underwear * foot wearflashlights and lamps * sunblock * towel / sarong / malong * food * lots of watersnacks and booze * trash bags * portable stove and fuel * charcoal for grilling * ice chestcamera and other photo gear * goggles and snorkeling gear * shades * hat or sports captoiletries * your basic meds (eg. allergy and asthma medication)first aid kit * cooking and eating utensils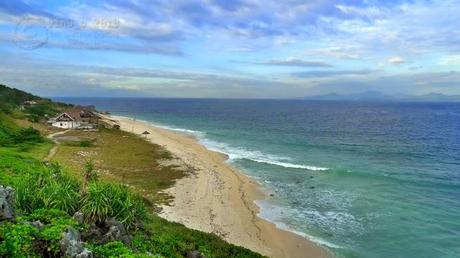 THANK YOU!
Marvin and Joni - for all the photosMang Dante, Kuya Dan-dan and company - for assisting us during our travel to and from Fortune IslandKuya Loret - for the stories and accommodating us during our stay
Enjoy your trip to Fortune Island and share your experience with me!
If you have any questions, feel free to get in touch by leaving a comment or by sending me an email at
[email protected]
DEVIENS CE QUE TU ES