Last weekend it was sunny and warm, so I met a friend at the train museum.  I've been meaning to go for some time, but first it was too hot and then it was too cold.  Since the entire museum is just old trains parked on tracks outside, it's essential to have nice weather for a visit.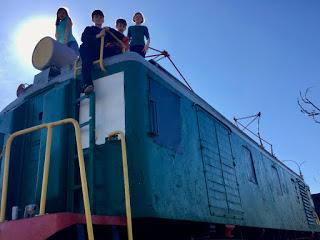 My friend brought four of her five children and I brought all of mine, so everyone had a great time climbing on all the cars.  The children love Tashkent's hands-off approach to old machinery.  If you can figure out how to climb on or in something, feel free.  After all, the worst thing that's going to happen is to you, not the trains.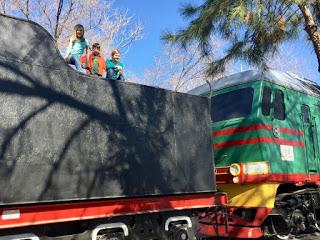 Brandon, the sensible one in our relationship, was at home so I let the children climb wherever they wished.  After all who doesn't want to climb on top of a very large train?  And when would you ever get the chance?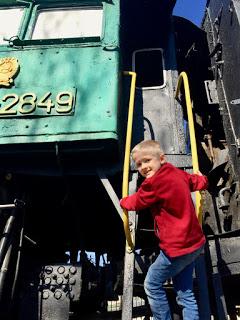 The children were all quite disappointed to discover that most of the trains were locked.  However, being resourceful, they found out how to worm their way into a surprising number of places.  My favorite was the boiler.  They reported that it was very dirty.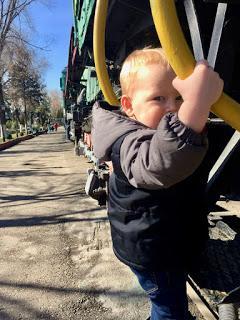 William, whose climbing skills aren't quite up to train roofs yet, mostly enjoyed pushing his stroller around.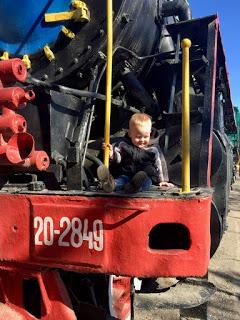 He also enjoyed sitting and posing for the occasional photo.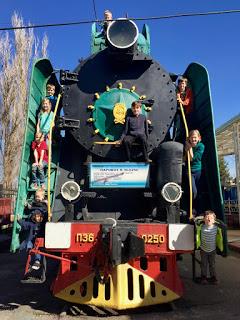 The children even agreed to posing for a picture on a large old steam engine.  Great fun was had by all.  Now they can say they've played on steam engines and tanks.  Not too bad!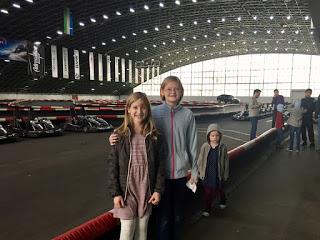 On President's Day the weather was not warm and sunny, so we took the children indoor go-karting.  Well, we took almost all the children.  William was ditched with the housekeeper because outings without two year-olds are always more enjoyable than outings with two year-olds.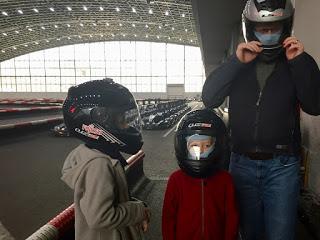 It was noon on a Monday so we were the only people on the track.  I love American holidays!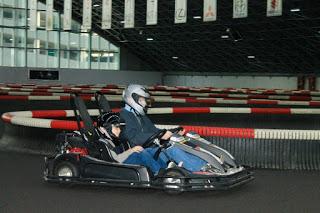 It was pretty expensive, costing almost $40 for a ten-minute drive, so we only took one turn.  Driving go-karts is fun, but not $80 kind of fun - especially when I can drive a car whenever I want.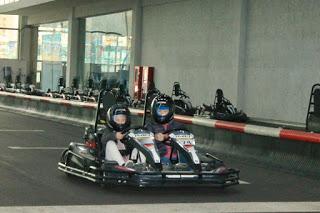 Sophia and I won the race, lapping cautious Kathleen five times before our ten minutes were up.  We were warned of a two hundred euro fine for damages, so she was very careful as she motored her way around the track.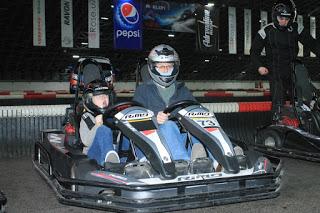 Edwin declared go-karting to be 'okay,' as did Sophia.  Kathleen enjoyed herself, having her first experience driving a gas-powered vehicle.  Joseph, who was barely tall enough to go, was the most enthusiastic about our outing and has already asked when we will go again.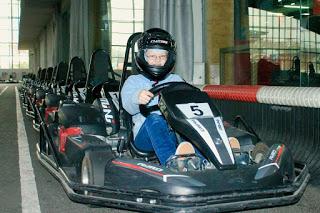 We finished the outing with gelato at a very tasty gelato place that had a price tag I was much happier with - $8 for seven double-scoops.  As we sat around the table chatting and enjoying our gelato (and nobody was fighting, making messes, complaining, or getting out of their seat), I marveled at how much I have grown to enjoy spending time with my children.  It's taken quite some time to get here, but I'm grateful that we can do it every now and then!