The bathroom is one of the most heavily utilized parts of most homes. It's the first place we go to as soon as we wake up and is the last place we go to before we sleep. Bathrooms are the perfect place to detach one's self from the outside world to relax, clear the head and get ready for the day ahead. That is why bathrooms are also known as restrooms.
So because most of us spend an enormous amount of time in the bathroom, we must make it a point to keep our bathrooms as clean and as stylish as possible. A good way of achieving this look is by installing beadboard panels on the bathroom walls.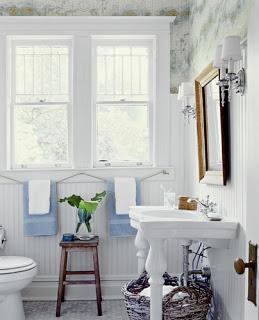 Beadboard wainscoting will provide a rustic and cottage-style appeal which is perfect if you want to create a relaxing mood for your bathroom. Read on to learn more about using beadboard paneling in the bathroom.
Advantages of Beadboard Wainscoting in the Bathroom
Wainscoting is a type of wood paneling that became popular in the late nineteenth century to enhance the look and appeal of homes. This style of paneling is done by installing panels vertically in the bottom half of the walls. This technique was primarily intended to protect the walls from being scratched and damaged by chairs or other pieces of furniture.
Beadboard wainscoting at that time was also helpful when it comes to improving the insulation of a house. Today, beadboard paneling has become a trend in the decoration of bathrooms which also serves as a way of covering up mold and mildew stains or blotches because of moisture.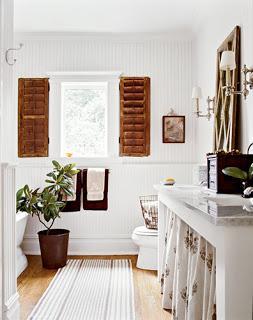 Moreover, wainscoting can be a more practical choice instead of using tiles for bathrooms. It will not only cost lesser than high quality tiles but it will also give your bathroom a more unique design. Another benefit of beadboard wainscoting is that it helps in accentuating the walls. By painting or staining the thin vertical lines in these panels the walls become more attractive and striking.
Decoration Tips in Beadboard Paneling Bathrooms
Decorative wooden molding is common for cottage style houses. The molding is positioned on the top of the panels or panels at the chair rail level. The usual colors of paint used for these panels are shades of white or cream to give off a pristine and inviting appeal. However, you can also opt for livelier or even dark colors. Just makes sure that the color you pick goes well with the other elements of your bathroom's design.
You can also paint the wooden panels to make them look like they were made of a different material. You can go for a rich wood feel by using a thin coat of varnish or use light wood staining. Pre-finished beadboard sheets are also available for people who don't have a big budget. You can make these shine by applying gloss paint to the panels.
Installation of Tongue-and-Groove Paneling System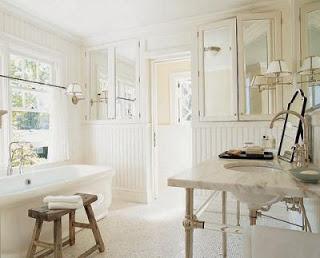 Aside from the pre-finished beadboard sheets, another option for beadboard paneling is the tongue-and-groove paneling system. It is important to note however, that using this will require more time and effort.
Additionally, using beadboard sheets are more expensive. The sheets will have to be cut to size and installed according to the desirable height. Bathroom vanities will have to be removed prior to installation and returned once the project is done. If you know you have the capacity to do this on your own, you could turn this into one of your home improvement projects for the weekend. Otherwise, it would be best to hire the services of a professional.
As online sales manager of commercial wood doors provider Door Emporium, Jove Arthur makes sure he gives his best. He believes that the only way to overcome challenges in a highly competitive business is to be of great service to all customers.