There are three types of people: those who have tried 3D printing, those who are fascinated by it and can't wait to try it and those who have no idea what it is — yet. But a new collaboration between EKOCYCLE and 3D Systems is making the technology more accessible for novices and experienced users alike. The EKOCYCLETM Cube® 3D Printer allows home users the ability to create new, beautiful and meaningful objects with a groundbreaking printer filament made in part from assorted post-consumer recycled plastic bottles.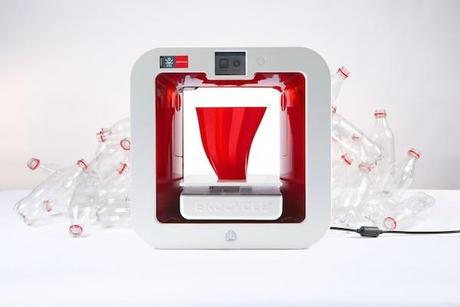 In its simplest terms, 3D printing allows one to manufacture a 3D object from a digital design. While the term "printing" often confuses people, it makes sense when you realize that items are created by adding successive layers of filament material – which can include plastic, metal, even food – to build the object, just as a regular printer adds ink to paper to create text, images or a photograph. Artists are using 3D printers to create pieces ranging from necklaces to large-scale sculptures, but the technology is also used to create everything from textiles to medical devices to engine parts.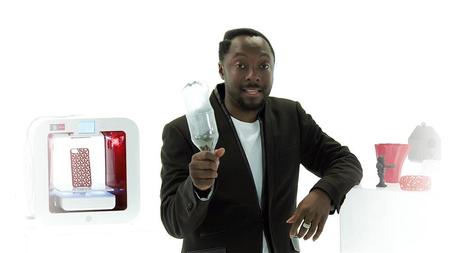 The EKOCYCLE Cube prints with a filament cartridge made in part from assorted post-consumer recycled 20oz PET plastic bottles. Each EKOCYCLE cartridge turns the recycled plastic into a variety of products including wearable fashion and music accessories. The new EKOCYCLE Cube prints in dual color in a curated color palette of red, black, white and natural. New to home 3D printing, rPET is a flexible filament material that retains full durability.
EKOCYCLE is a sustainability-minded partnership between will.i.am and The Coca-Cola Company. The goal of the program, as will.i.am explains, is to "partner with the most influential brands around the world and use technology, art, style and inspiration to change an entire culture. We will create aspirational lifestyle products made in part using post-consumer waste. We will make it cool to recycle. And we will make it cool to make products using recycled materials."
"The EKOCYCLE Cube takes 3D printing to the next level, giving people all over the world the ability to transform discarded waste into useful, functional and fashionable objects," said will.i.am, Chief Creative Officer, 3DS. "This is the beginning of a more sustainable 3D-printed lifestyle."
The current collaboration with 3D Systems to launch the innovative EKOCYCLE Cube 3D printer fits naturally with other EKOCYCLE products made with recycled materials such as Beats by Dr. Dre ® Studio headphones and New Era® 59FIFTY fitted caps.
"With EKOCYCLE products, consumers have been able to get beautifully designed items made with recycled materials," notes Kelli Sogar, Senior Global Licensing Manager at The Coca-Cola Company. "With the EKOCYCLE Cube, there is enormous potential for everyone, from students and home crafters to artists and inventors, to feel a more direct connection with recycling and think of it as an integral part of creating something new. It's not just about making an object at home, it's about making a change in how we think about recycling."
Of course 3D printing has a natural appeal to the more tech-oriented passionate "makers" of the DIY movement, students and teachers, and to those people who just can't get over how cool it is to see an object being built. But, according to Sogar, with the EKOCYCLE Cube, there is an opportunity that goes beyond seeing ideas to life. "We believe that innovation and technology are critical in delivering meaningful consumer experiences with our brands."