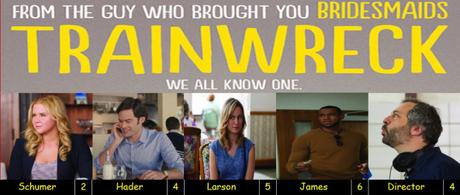 Director: Judd Apatow
Writer: Amy Schumer (Screenplay)
Starring: Amy Schumer, Bill Hader, Brie Larson, Evan Brinkman, John Cena, Tilda Swinton, LeBron James
Plot: Having thought that monogamy was never possible, a commitment-phobic career woman may have to face her fears when she meets a good guy.
There may be spoilers the rest of the review
Verdict: Offense Comedy
Story: Trainwreck starts as we meet sexual adventurous Amy (Schumer) who sleeps around looking for the best sex of her life, she works for a magazine called Snap which is all about smut articles. She is going through helping her sister Kim (Larson) as they must move their father to assisted living.
Amy gets given an assignment to write an article about a doctor that could bring a new dimension to sports treatment. The doctor in question is Dr Aaron Conners (Hader) who just happens to be working with LeBron James. When the two hit things off Amy must decide if she wants to actually commit in a relationship for the first time in her life, we see how her past will test her relationship.
Trainwreck is a comedy that misses all the jokes because they all go through awkward sexual references. The romantic side of the story is almost non-existent because you don't believe the chemistry between Schumer and Hader. I understand this is trying to give us the new look at relationships but nothing is believable in this film.
Amy Schumer shows that her stand-up routine is for the select few people because most of her jokes a pop-culture that will be out dated within a few years. She isn't leading lady material and by taking the lead role the comedy ability of Hader is effected because he is almost wasted throughout the film. The best part of the film really is LeBron James as the friend of Hader's character. This film is only going to be for the select few with nothing working for my own sense of humor.
Overall: This comedy explains what is so wrong about comedy now a days.
Rating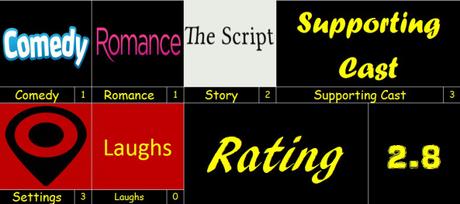 Advertisements