As you will remember from my
post
on Tennyson and the Isle of Wight, I am not averse to a bit of celebrity hunting when it comes to dead Victorians.  Having pursued the poet to Farringford, it seemed only natural that I would travel up country at some point and find out where it all began.  This Easter, I packed my bags and headed north to Lincoln...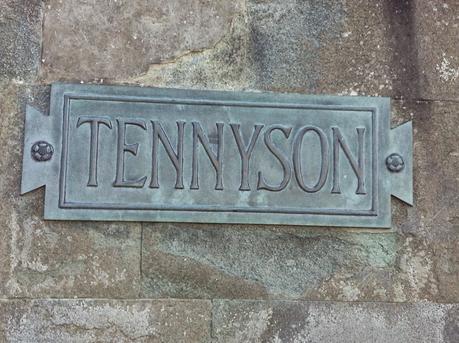 I began my weekend in Lincoln, beautiful cathedral city and home to the massive bronze statue of Tennyson...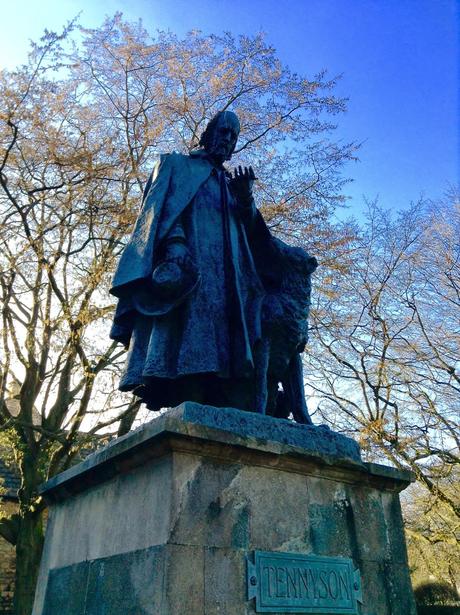 The BFT (Big, Friendly Tennyson)
One of my more regular pleasures (in terms of frequency rather than normality) is visiting the whopping great statue of Tennyson and his dog, Karenina, in the Watts Gallery, Surrey.  I'll see him again soon when I'm over there for their upcoming Dadd exhibition.  Anyway, just outside the cathedral in Lincoln is a bronze version of the statue, with Tennyson looking down at a flower in the palm of his hand. G F Watt's statue has a wonderful inscription on the reverse of the plinth, which reads: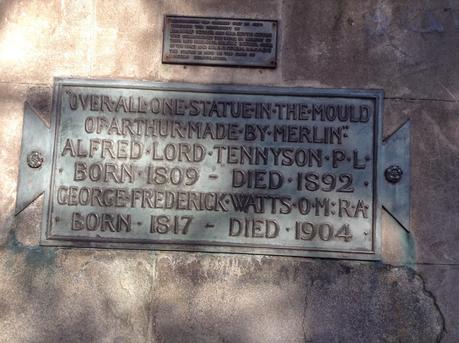 Watts was Tennyson's neighbor in Freshwater and close friend, meeting in 1857 in Little Holland House in Kensington. After the poet's death, Watts began work on the monument, finishing it ready for casting in 1903.  Watts died before the statue was in place in 1905. The quote "Over all one statue in the mold of Arthur made by Merlin" is very touching and tells you something of the relationship between the two men. 
 Under the plaque of his name on the front of the plinth is a poem from 1863:
Flower in the crannied wall,
I pluck you out of the crannies,
I hold you here, root and all, in my hand,
Little flower—but if I could understand
What you are, root and all, and all in all,
I should know what God and man is.
 I love this piece of poetry and it seems rather apt for my journey. As Tennyson felt and acknowledged frustration at his attempts to understand the flower (and by extension, everything), so too can a biographer feel frustrated trying to understand a person by the pieces we have of them, out of context. To that end, I waved goodbye to BFT and headed east in search of context...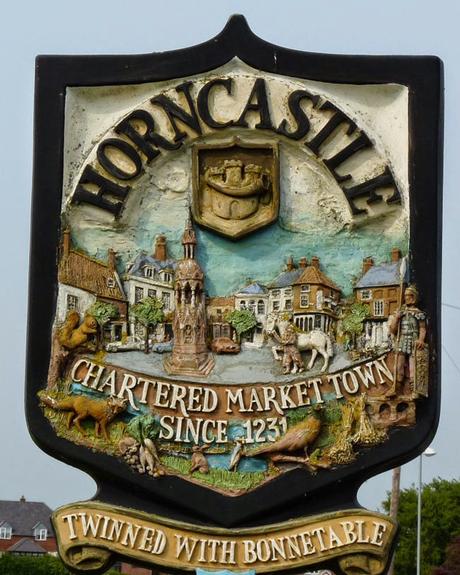 First stop, Horncastle. Birthplace of Emily, wife of Alfred Lord Tennyson, and home to a vast array of antique shops.  Emily's father was a solicitor, Henry Sellwood, and according to the 1841 census they lived in the Market Place.  Her uncle was the explorer John Franklin who died horribly during Arctic exploration (as seems to be traditional).  A statue to him is in the market place of Spilsby, another market town to the south and east of Horncastle.  Passing through the very pleasant Horncastle, I was intent on finding Somersby, birthplace of Tennyson...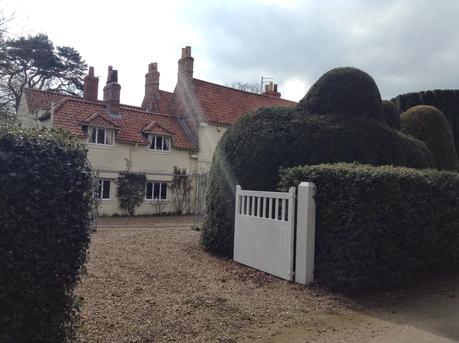 Former vicarage, home of Alfred Tennyson, Somersby
The hamlet of Somersby is astonishing in size (tiny) and level of birdsong (loud).  It has a mere 30 inhabitants, less than a third of the population at the time Tennyson was growing up there, but even with 90 people in the cluster of houses, it must has been an isolated place.  I began to consider the frequent themes of isolation in Tennyson's poems, the dislocation many of his narrators and characters feel with people and normal life. His father, George Clayton Tennyson, was a scholar and vicar of both Somersby and neighbouring Bag Enderby churches.  He is described in turn as both talented and clever, but also depressed, violent and unpredictable with drug and alcohol dependencies.  The home was extended by Tennyson snr, but still in 1824 there were 23 people sleeping under that roof (the family plus 10 servants) which made it a crowded home indeed.  It's unsurprising then that Alfred enjoyed roaming the countryside, the woods, gardens and streams that would occur over and over in his poetry. Nearby Holywell Wood is where Tennyson brought his new friend, Arthur Hallam (who subsequently fell in love with Tennyson's sister) and where he carved 'Byron is dead' on a rock on hearing the devastating news of his hero's death in 1824.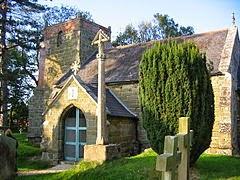 St Margaret's, Somersby
The pretty church that his father was vicar to usually looks like this, above.  However, at present it is undergoing pretty drastic restoration and so when we visited looked like this...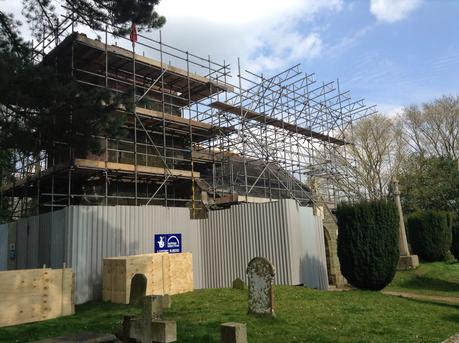 It was very exciting to see how much work is being undertaken and the skillful and thorough steps that are being taken to ensure the safety of the building.  It should be reopened to visitors in the autumn.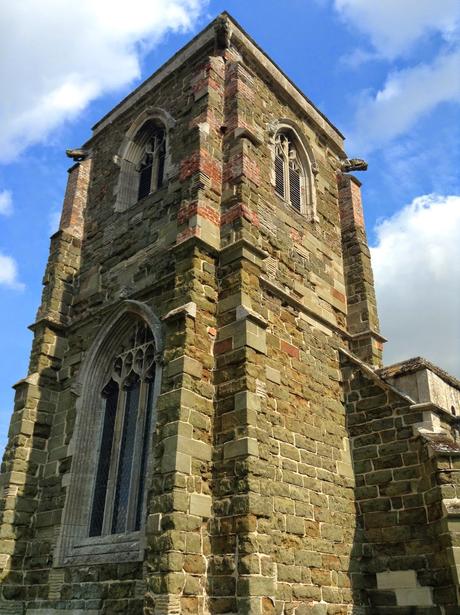 St Margaret's, Bag Enderby
We made the short journey from Somersby to Bag Enderby. No, that really is the name of the village...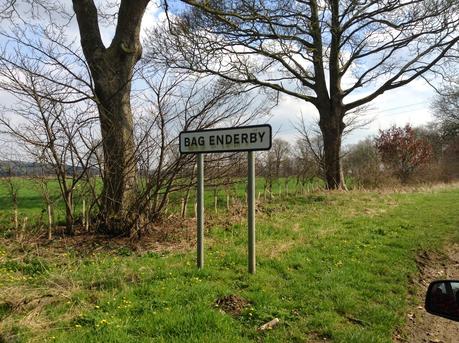 Awesome.  There is the sister church to Somersby, where George Tennyson would walk after delivering a 'long and impenetrable sermon' in order to deliver another long and equally impenetrable sermon for the good people of Bag Enderby. Currently this is where the local history display of Tennyson's Lincolnshire life is being housed.  I especially like my new tea towel...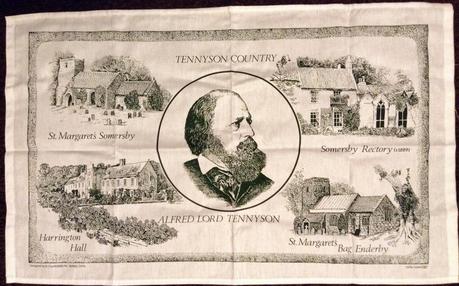 It doesn't get any more English than a souvenir tea towel.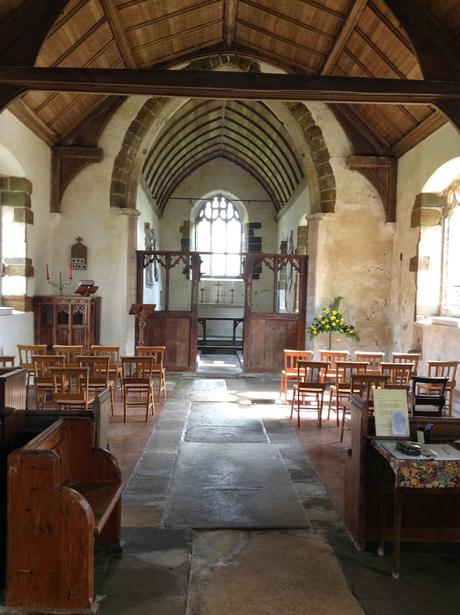 Inside St Margaret's, Bag Enderby
The greenstone and wood interior gives an impression of what Somersby's church was like.  It is airy and plain, without pretense or grandeur.  At the back is a perpendicular octagonal font (a tall one which is octagonal) but that is about as ostentatious as it gets. There is a simple pleasure in the paleness of the stone, the echoing arches and the barrel of the roof above you. With the sun streaming in, it was wonderful.
On then to the market town of Louth, the Capital of the Wolds, which felt positively urban in contrast to the hamlets.  Tennyson was sent here to the Grammar school (since replaced by a red brick building) which Tennyson hated for the bullying and harsh discipline.  After four miserable years he was allowed to return home to be taught by his father (which presumably was occasionally little better).  Happier is the fact that Louth is the place of Tennyson's first publisher...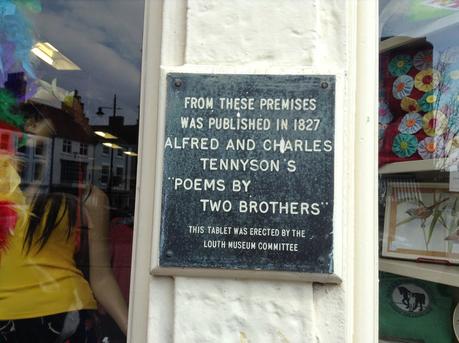 Jacksons, booksellers and printers in the Market Place, Louth, were the first to publish work by Tennyson and his brother, in 1827 (it's now an Oxfam shop).  Jacksons paid the Tennyson brothers £20 which they spent on hiring a carriage and riding to nearby Mablethorpe and shouting their poetry at the sea.  Now quite a recognised holiday place due to the railway link of 1877, the beautiful golden sands were still a local draw half a century previous.  Google it, it's beautiful.  In fact shout some poetry at an image of the beach.  Go on, it's traditional.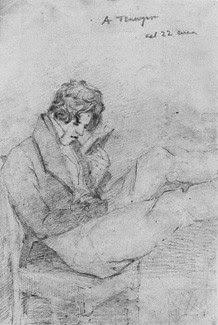 Alfred Tennyson (1831) attrib. James Spedding
This picture is particularly poignant as it was drawn in the year that changed the poet so much.  In 1831 both his father and his very close friend and almost-brother, Arthur Hallam, died.  Tennyson returned from Cambridge, where he had been at University, to take charge of the family and live in the hamlet for another six years. I'm a great believer in context and standing in the seclusion of Somersby it was easy to feel detached from the world.  Even though I am an avid reader (and writer) of biographies, I do not think you can underestimate the experience of standing in the place where the object of your interest stood.  It gives you new insight, understanding beyond someone's words of what it must have been like for them however many years separate you. As an adult, Tennyson found mixing with people a struggle, yet was a good loyal friend to those who understood him.  His time in Lincolnshire ended with the need for the family to move from the vicarage to Epping Forest.  He must have felt that he was leaving so much behind, both good and bad.
As much as I regretted leaving young Mr Tennyson as I traveled south, I shall see the older Mr Tennyson again soon.  I'm over to the Wight on Friday...