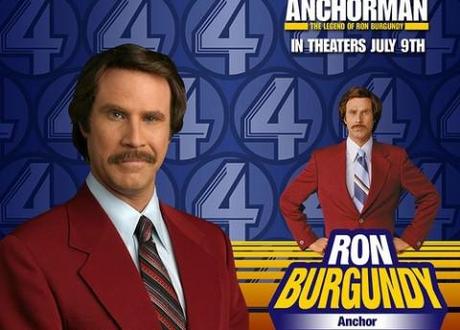 Anchorman 2: it's kind of a big deal. People know it. It's very important. Photo credit: Morgan Porter http://www.flickr.com/photos/morganporter/2219533202/
The background
Whilst filming for the movie hasn't even started yet, the makers of the sequel to the much-loved and much-quoted Anchorman have released a teaser trailer for Anchorman: The Legend Continues, which will be coming to cinemas in 2013.
After the dramatic announcement of the sequel on Conan O'Brian's show, much excitement and trepidation has surrounded the follow-up to what is undoubtedly one of the most successful cult comedies of recent years. Female First say that the trailer has been "hastily put together" to appease the hype, and also reported that the film will be set in the late 1970s and may feature a custody battle between Veronica Corningstone and Ron Burgundy. The trailer is being shown to audiences before Sacha Baron Cohen's latest release The Dictator.
The trailer gives nothing away about the plot. But as Examiner said, quoting the sampling of an Anchorman clip in Kanye West's N****s in Paris, "the voice of Ron Burgundy echoes, 'Nobody knows what it means, but it's provocative…It get's the people going.""