I'm part of the generation Y, so I'm also part of the generation Pokémon. I started watching the anime when I was 13 years old, later followed buying the Pokémon game for the Game Boy, trading cards, the games for Nintendo 64 an so on. The only thing that was missing was the real deal – until now: the live-action film "Detective Pikachu" is coming!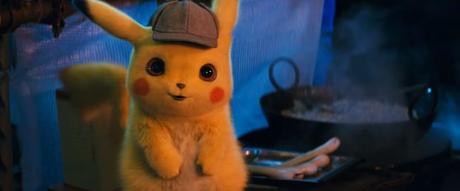 About three weeks ago the "Detective Pikachu" trailer was released. After watching it like 60 times I wanted to share some insights about the first impressions it gives us. The first few times I watched it I was skeptical about the voice of Ryan Reynolds because it sounds very much like… well, him. When I hear his voice I automatically think "Deadpool" which bothered me at the beginning. But what were the other choices?
Other actors considered for the role were Mark Wahlberg, Dwayne Johnson, Hugh Jackman and Danny DeVito. The first two would have been terrible in my opinion (because I don't even consider them great actors) but Hugh Jackman and Danny DeVito sounded interesting (pun intented). But in the end I'm glad that detective Pikachu is Ryan Reynolds after all. The other voices would have been too old for the young role of Pikachu (he/she is only 21 after all). I also liked that they put the "real" voice of Pikachu (Ikue Otani) sometimes in the movie.
What else? The 3D animation of all the Pokémons we see in the trailer is really well done. They don't look as fake as Gremlins for example but also not too computerised like the creatues in "The Hobbit". They look like Pokémons in real life would look like (if only).
The story seems pretty much based on the story of the adventure game "Detective Pikachu" for the Nintendo 3DS. In the game Pikachu meets a young man named Tim Goodman who is able to understand what Pikachu is saying. They end up working together as detectives and investigate the disappearance of Tim's father Harry Goodman who was Pikachus owner.
The film will be released by Warner Bros. Pictures on May 10, 2019. Until then enjoy the trailer!