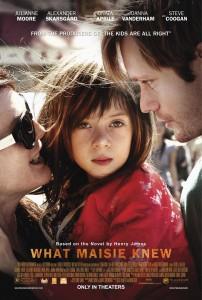 True Blood's Alexander Skarsgård's upcoming film, "What Maisie Knew" has just released its first official trailer. This film is a contemporary version of Henry James' classic novel first premiered at this year's Toronto International Film Festival. In the film, Alexander plays the part of "Lincoln."
The thought-provoking and poignant new movie stars Julianne Moore as aging rock star Suzanna and Steve Coogan as major art dealer Beale. Suzanna and Beale are fighting over the custody of their young daughter Maisie, played by child actress Onata Aprile.
As her father Beale marries her nanny Margo (played by Joanna Vanderham) and Suzanna gets hitched with local bartender Lincoln (portrayed by Alexander Skarsgard), Maisie winds up being shuttled back and forth between her parents while each attempts to start their lives afresh with new partners. As the story unfolds, turns out Lincoln and Margo are the family that Maisie really needs.
The film is directed by the duo of Scott McGehee and David Siegel, who first dealt with complicated parent-child relations in "The Deep End" and "Bee Season". The Nancy Doyne and Carroll Cartwright-written movie will open in limited theaters in the U.S. on May 1.
So mark your calendars to see this film; looks like it's gonna be a good one, if you ask me.
source: aceshowbiz.com