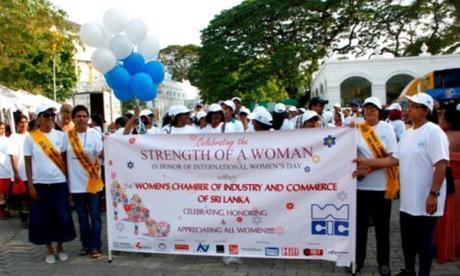 Women represent 51.58 percent of the population of Sri Lanka, according to official data published by the Department of Census and Statistics in 2016. However, their participation in the economy remains low. Women make up only 36.5 percent of the 8. 3 million economically active population of the country, aged 15 years and over. Out of the economically inactive population, more than three quarters (75.4 percent) are women. Data compiled by the Department of Census and Statistics for the 3rd quarter of 2016 also shows a higher rate of male participation in the labor force as compared to women, in all age groups and all levels of education. For instance, the highest participation in the workforce for women was reported in the age group 45-49 years (54.1 percent) whereas in the case of men the highest participation rate was in the age group 35-39 (98.1 percent). When looking at these numbers, one wonders how women in Sri Lanka can be empowered to have the same economic opportunities as men do.
One way to address such problems is to get together and utilize women's organizations as a mechanism to gain access to opportunity, remove obstacles standing in the way of women's participation in the economy and defend their interests. Women's business associations and women's chambers of commerce work to raise the economic status of women and provide them with a platform to make their voices heard and advocate for change.
The Women's Chamber of Industry and Commerce (WCIC) Sri Lanka is a prime example of such organizations. It is the first women-only trade chamber in Sri Lanka and the first one in the world. The impetus for the creation of the Women's Chamber came from a group of ten selfless, visionary women who had successful businesses and careers and wanted to empower women in the rural and urban areas with a view of improving their standards of living through entrepreneurship. Since its establishment in 1985, the WCIC has stayed true to its mission of advancing the interests and views of business women and has become a powerful voice for improving the business environment for women in Sri Lanka.
Through skill building, networking opportunities, access to customers, promotion, recognition and, more recently, advocacy initiatives, the WCIC has assisted members in doing business and promoted the views and interests of business women in Sri Lanka in the policy arena.
Since 2013, the WCIC has been a part of the South Asia Women's Network, supported by the Center for International Private Enterprise (CIPE) and, along with women's organizations from Pakistan, Bangladesh, Nepal, Sri Lanka and India, the Chamber received training in critical areas such as governance, strategic planning, membership, services, and advocacy. Additionally, CIPE has partnered with the WCIC to support its advocacy efforts aimed at passing gender-sensitive policies on small and medium-sized businesses in Sri Lanka and increasing women entrepreneurs' access to funding in the form of bank loans.
As we celebrate International Women's Day and its 2017 campaign theme #BeBoldForChange, let's honor the Sri Lanka Women's Chamber of Industry and Commerce for its over thirty years of bold initiatives and tireless work to unlock the potential of women and empower them to contribute to Sri Lanka's economy.
To learn more about the Women's Chamber of Industry and Commerce Sri Lanka, please read the latest Economic Reform Feature Service article.
Carmen Stanila is a senior consultant for CIPE.