Back in March 2010 we did our first proper wedding fayre at the Hard Days Night Hotel in Liverpool (what a beautiful venue that is) and our films caught the eye of Mr Tam, Maria's Dad. Not long after that we welcomed Maria and Michael, along with Maria's parents, in to our home and showed off some of our favorite wedding DVD's and enjoyed answering all the questions they had about getting their two day wedding filmed.
Fast forward a few months and I was being ushered in to the Tam's beautiful home and up the stairs to see the gorgeous Bride having her make up done. For a house full of people it was surprisingly calm! At the Groom's house the usual confusion with ties was going on…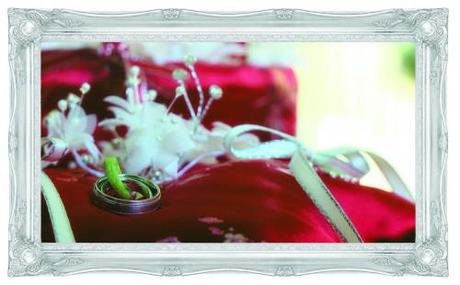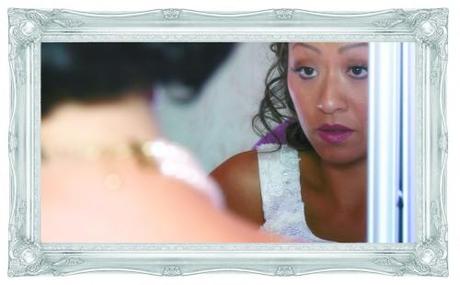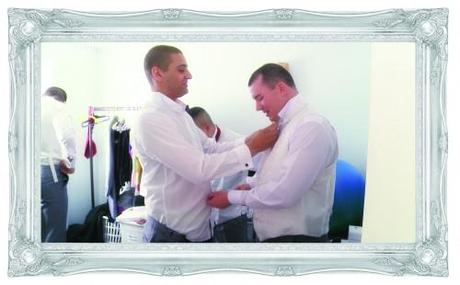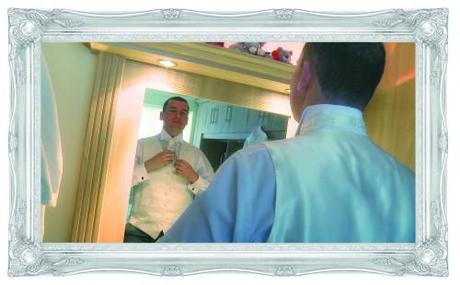 One of my favorite moments in the morning is when the Bride, looking beautiful in her Bridal attire, finally steps out in front of the eagerly awaiting Bridal party…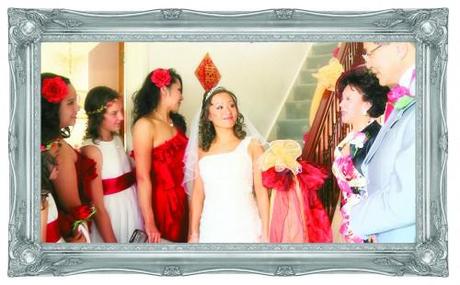 Before we knew it the finishing touches were being added as the A2 wedding car pulled up outside. They had chosen a beautiful chauffeur driven Beauford to take Maria and her Dad to the Church and it waited patiently as the family got ready to escort Maria from the front door to the car under the traditional red umbrella. As we made our way to St Mary's Church in West Derby the Groom was waiting patiently in front of all of their guests. This is always a lovely moment to capture on film as it's a part that Bride never usually gets to see-until she watches her wedding film back that is! Another amazing moment to capture is the walk down the aisle. I know from my own experience that this part of the day can go so fast and passes by in a bit of a blur…
I love this moment when Maria's Dad steps on her dress…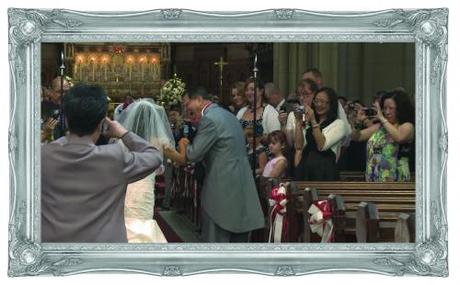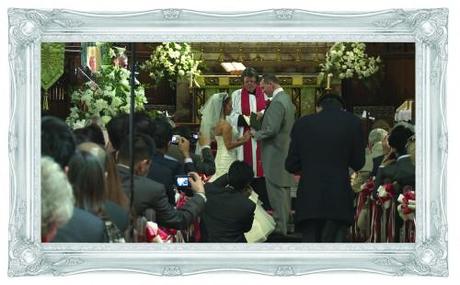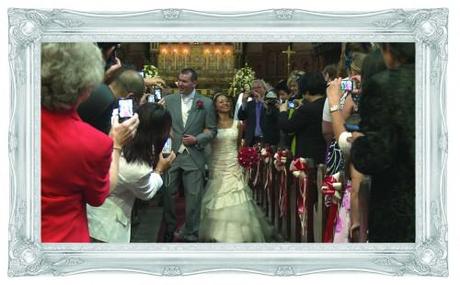 The day continued with the largest group photo I'd seen-well done to David Au, their wedding photographer, for getting them organised! Lots more family shots were taken in the grounds of the church and then we had a fun coach trip to their reception venue, the Crowne Plaza Liverpool. Guests were treated to some really entertaining speeches as well as an amazing surprise given to them at the end, a full on feast for the wedding breakfast, a bling cake cutting (made by the fabulous Julie's Cakes in Huyton), tricks from a magician and a trip outside the Crowne Plaza to have some pictures taken as the Crown Princess set sale from Liverpool Dock! The evening didn't fail to disappoint with a huge chocolate fountain thanks to The Big Chocolate Fountain Company, a dress change for the bride, a first dance with bubbles and even more food on the menu! Here are a few of my favorite bits…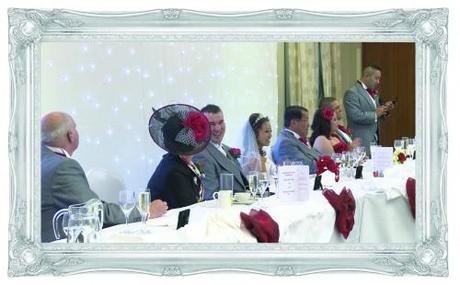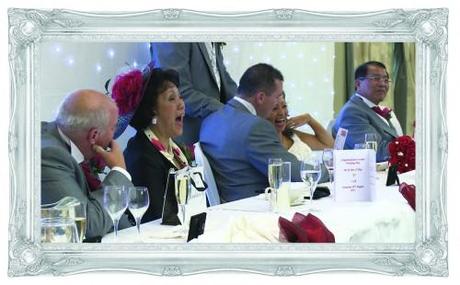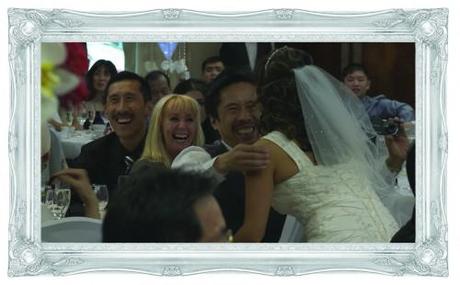 Blue skies welcomed us to the Chung Ku restaurant (also known as City Rendezvous) on the Sunday and as Tamzyn Angela and her team added the finishing touches to the venue we waiting eagerly for the arrival of the bridal party. The views were incredible from where we waited as you could see all the way down the Mersey! We had been informed of all the beautiful plans and traditions before the wedding so couldn't wait to capture it all for their wedding film! The guests were welcomed in to the venue personally by the family and soon the Chung Ku was filled with a loud buzz of excitement. We captured all the guests as they enjoyed course after course of the amazing banquet and were even treated to some special treats ourselves! Maria's Dad and Brother said their thankyous to each floor of guests and then set firecrackers off outside which was a fun (and loud) experience! My favorite line from the day was when Rob, Maria's Brother, stepped up to repeat her Dad's Cantonese speech in English…'Not sure what he's just said as it's all Chinese to me'!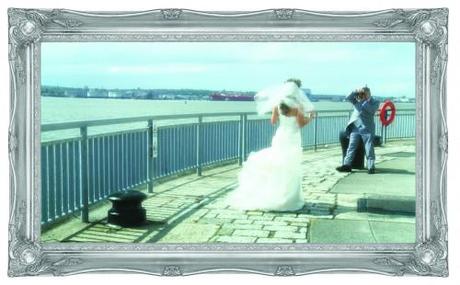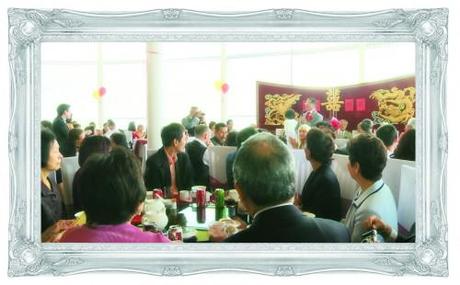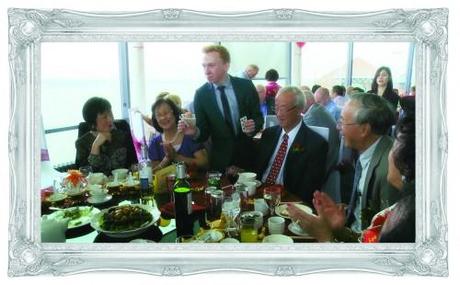 But my favorite tradition of all was when they went round and toasted every single table and every guest. It was really heart-warming to watch the guests reactions and see Maria's charming Dad get everyone laughing out loud!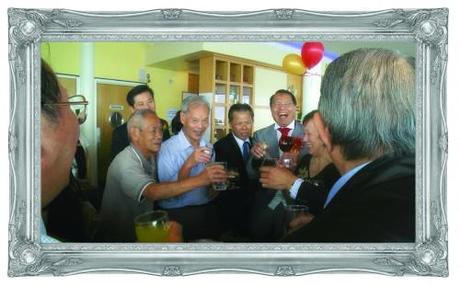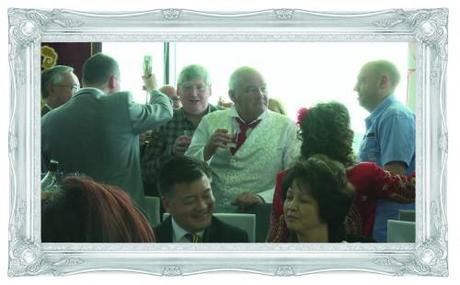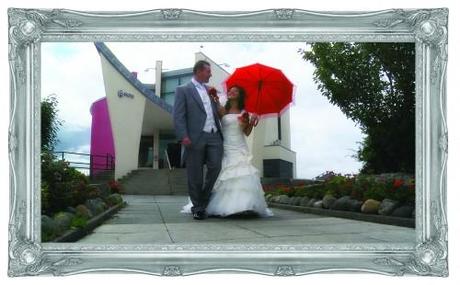 We felt really privileged to have been able to have captured such a beautiful celebration and everyone was so kind and welcoming. It really helped us capture the wedding as though we were seeing it all through the eyes of a guest and also meant the guests were as relaxed as the couple because they were chatting to us all day! I love being able to work closely with a couple to really make everything about the film completely personal to them, from the extras to the soundtrack, it all has to be perfect and we couldn't have done that without their input.
We even had the pleasure of bringing in the Chinese New Year with them at the community center in Liverpool China Town, something I will never forget (so thank you Maria and Michael!).
Click here to view the embedded video.
It wasn't just us that loved every minute…
"There was laughter, tears and cheers and everyone really enjoyed the video. Some even watched it twice. They were all really impressed and a couple of relatives even commented on the quality of your editing which reflected how much work you had put into our video. We were so pleased to see that everyone had enjoyed our video as much as we did- the tracks we had chosen, the photo credits which just confirmed that it was the perfect wedding DVD. We are so grateful of your hard work and your patience." Maria and Michael.