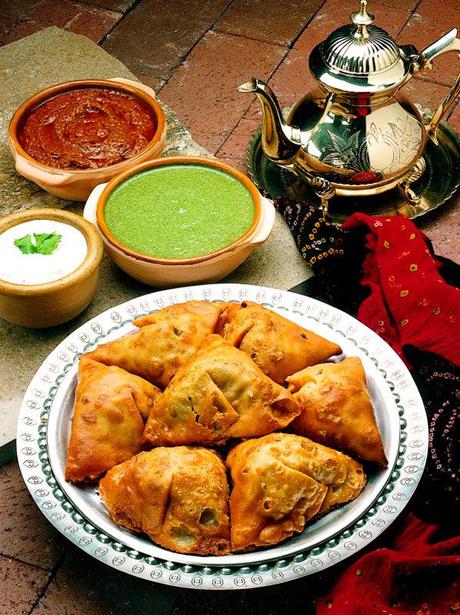 Samosas are one of the few Indian fried treats that I just can't get enough of. They are savory, puff pastry packets of heaven: spicy and sweet, with a great crispy crust surrounding a piping hot filling. When made well, they aren't too oily and are just fried to perfection.
I don't usually make samosas at home, because honestly if I did, I would eat them all. They're mainly a treat for me when we go out to Indian restaurants for dinner.
The husband is somewhat of a samosa connoisseur - he loves them even more than I do. It's pretty much guaranteed that if we go to an Indian restaurant that no matter what the other appetizer options are available, he will order samosas every time. This actually works out well for me, because then I can nibble on the crispy pastry crust of more than one samosa without my fellow diners getting annoyed with me

Because honestly, the crust is SO good.
When making samosas at home, I would probably bake them in the oven versus frying them. This recipe below gives you the instructions to fry them if you so choose, but you can also bake them in the oven using these directions from Aarti on the Food Network.
Today's recipe for samosas comes courtesy of the USA Dry Pea and Lentil Council, who contacted me with the idea of adding split peas into samosas to amp up the protein & fiber in traditional recipes. I thought it was a great addition to the traditional samosa filling, since it goes really well with the potatoes and other Indian flavors in this dish.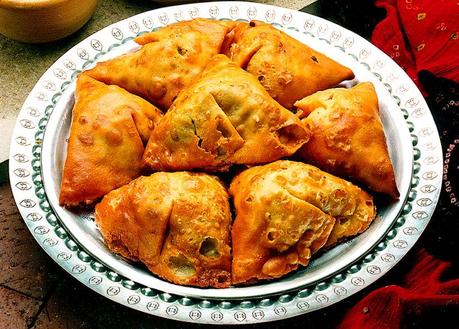 Note: Makes about 24 samosas. These little turnovers contain yogurt in the dough and a curried vegetable filling. Serve them with chutney or a good tomato ketchup.
The Ingredients: Filling
1 cup dry USA green or yellow split peas, rinsed
2.5 cups water
2 medium potatoes
1 teaspoon salt
1 tablespoon canola oil
1 medium red onion, chopped
1.5 teaspoons minced fresh ginger
2 teaspoons ground coriander (with a few whole coriander seeds sprinkled in)
1 teaspoon garam masala
1 to 2 teaspoons salt
Vegetable oil for deep frying
Chutney or tomato ketchup, for dipping
The Ingredients: Dough
2 cups all-purpose flour (whole wheat flour preferred)
1⁄2 teaspoon salt
1⁄2 cup plain yogurt
1⁄4 cup canola oil
Variation: If you are short of time, use potsticker wrappers in place of the traditional dough.
The Directions
In a medium saucepan, combine split peas and water. Bring them to a boil, reduce heat, cover, and simmer until peas are tender, about 35 to 45 minutes. Drain peas, and set aside.
Boil potatoes with 1 teaspoon salt until they are tender. Drain, and mash the potatoes.
Meanwhile, prepare the dough. Combine flour and salt in a medium-sized bowl. Make a well in the center and add yogurt and canola oil. Mix ingredients until they form a ball.
Turn the dough onto a lightly floured surface and knead it until it is smooth, about 2 to 3 minutes. Cover dough, and set it aside for 30 minutes.
Heat 1 tablespoon canola oil in a heavy skillet. Add onions and cook, stirring frequently, until they are translucent. Add ginger, and continue stirring for another minute. Add coriander, garam masala, and salt, and cook, stirring, for about a half minute more. Add potatoes and peas, and mix well. Set filling aside.
On lightly floured surface, roll out the dough into a rectangle measuring about 12 x 18 inches. Cut dough into 3-inch squares.
Place 1 scant tablespoon of filling on each square. Use your fingers to moisten edges of dough with water, and fold dough diagonally in half to make a triangle. Press edges firmly together to seal in the filling.
Heat 1 inch oil in a heavy skillet until it is hot but not smoking, about 350° to 380°. Fry samosas until golden, turning once. Drain samosas on paper towels, and keep them hot.
Transfer samosas to a heated serving dish, and serve them with chutney or tomato catsup.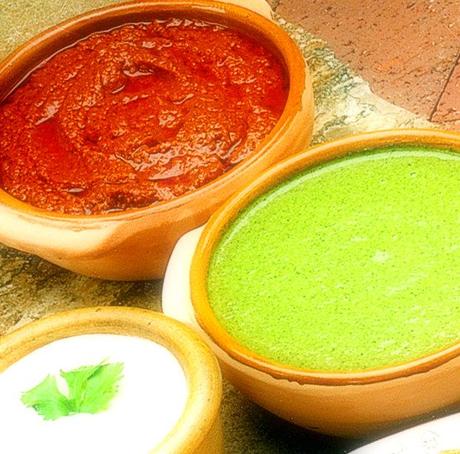 Red and green chutney are the traditional options for serving with Samosas. The red chutney is usually sweet and a tiny bit spicy, and the green chutney is almost always very spicy. I buy my chutneys from the Indian store, I haven't ventured out into making them from scratch yet!
If you don't already love samosas, you will after trying this recipe!
Nutritional Info: For 1 Samosa
Calories: 82
Protein: 3 g
Fiber: 2 g
Total Fat: 2 g; Saturated Fat: 0 g