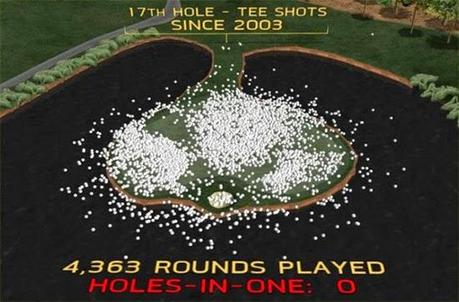 The 17th hole at TPC Sawgrass is one of the most famous in golf, and each year the hole plays a pivotal role in 
The Players Championship
. What are the records for the hole - the bests and worsts and mosts - during Players Championship week? Records are listed below, including the number of balls hit into the water during each tournament.
For more about the golf course, including the origins of the 17th hole, see our 
profile of TPC Sawgrass
. For more photos of this hole, see our 
TPC Sawgrass Photo Gallery
. Now, on to the records:
Balls In the Water at the 17th Hole During The Players Championship
How many balls are hit into the water each year on the 17th hole during The Players Championship? The 
PGA Tour
 has kept records on this only since the 2003 tournament. Here are the numbers:
2013 - 44 balls in the water on No. 17
2012 - 39
2011 - 40
2010 - 29
2009 - 32
2008 - 64
2007 - 93
2006 - 67
2005 - 68
2004 - 30
2003 - 29
What is the highest score on No. 17 during the Players?
Bob Tway holds the record for worst score on the 17th hole during The Players Championship with a 12 in the third round of the 2005 tourney. Tway put four balls in the water, reached the green on his fifth attempt, then 3-putted.
Has anyone birdied the 17th hole all four rounds of The Players Championship?
Yes, that has happened exactly once in tournament history. Paul Azinger accomplished the feat at the 1987 Players.
How many holes-in-one have there been at No. 17?
There have been six aces scored on TPC Sawgrass' No. 17 during The Players Championship:
2002 - Miguel Angel Jimenez, first round
2000 - Paul Azinger, third round
1999 - Joey Sindelar, first round
1997 - Fred Couples, fourth round
1991 - Brian Claar, third round
1986 - Brad Fabel, first round
What is the longest putt made on the 17th?
That is a putt of 59 feet, 9 inches, made by Bernhard Langer during the second round of the 2008 tournament.
Who has made the most birdies on the 17th?
That's Langer again with 24 career birdies on the TPC Sawgrass 17th. Hal Sutton is next on the list with 19.
Other Players Championship Records Involving the 17th Hole
Birdie-Eagle Streaks
The record for best birdie-eagle streak at TPC Sawgrass during The Players Championship is 6-under over four holes by Fulton Allem in 1999. But two golfers have gone 5-under over four holes that include the 17th:
Sergio Garcia: birdie-birdie-eagle-birdie on holes 14-17 in final round, 2011
Mike Heinen: birdie-birdie-eagle-birdie on holes 14-17 in third round, 1995
Best Score Over Final Four Holes
The closing stretch of four holes at TPC Sawgrass can be one of the most exciting "stretch runs" in golf. The best cumulative score over the final four holes at The Players Championship is 12. These are the golfers who've achieved that score:
Sergio Garcia, fourth round, 2011
Vaughn Taylor, fourth round, 2006
Padraig Harrington, fourth round, 2004
Tommy Tolles, second round, 1997
Rocco Mediate, fourth round, 1996
Fred Wadsworth, first round, 1987
Gary Koch, fourth round, 1983
-  -  -  -  -  -  -  -  -  -  
The stats and information listed were collected by Brent Kelly and posted on About.com