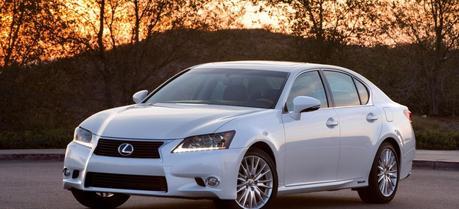 2014 Lexus GS 450h. (Credit: Toyota Motor Corporation)
Toyota has released the details on its 2014 Lexus GS 450h. Its drive system delivers a combined output of 338 hp and EPA fuel economy ratings on par with cars half its power: 29 mpg city, 34 mpg highway and 31 mpg combined.
The fuel economy of the new-generation GS 450h represents an impressive 35 percent improvement over the previous generation GS hybrid model. Lexus was the first luxury brand to introduce a hybrid model nearly 10 years ago and today offers five hybrids, including Lexus GS 300h hybrid sedan we wrote about earlier.
The Lexus Hybrid Drive system teams the output of an Atkinson cycle 3.5-liter V6 engine with a water-cooled permanent magnet electric motor through a planetary-type continuously variable transmission. Independently or in parallel as needed, the gas engine and electric motor drive the rear wheels. The high performance nickel-metal hydride battery pack uses a stacked design to improve trunk space, which is greater than even the gas-only models of the previous generation GS.
Thanks to high system torque at all speeds, and a zero-to-60 mph acceleration in just 5.6 seconds, the GS 450h is intended to feel more like a V8 to the driver. The 2014 Lexus GS 450h hybrid is quite fuel-efficient, in part because of the expansion of the regenerative braking operation range, which contributes to further improvements in fuel efficiency over the previous generation.
Among other reasons for the improved fuel consumption over the previous generation is the high compression ratio of 13:1, the new mid-port intake tumble generator and the adoption of a Lexus D-4S fuel injection technology. With one injector installed in the combustion chamber and a second mounted in the intake port, D-4S combines the strengths of both direct and port injection for maximum efficiency and lower emissions.
The driver can choose from five different driving modes to select an optimal balance between dynamics and efficiency. The PCU boosts motor drive voltage to a maximum 650V in Sport mode and limits it to a maximum of 500V in ECO mode under normal driving conditions.