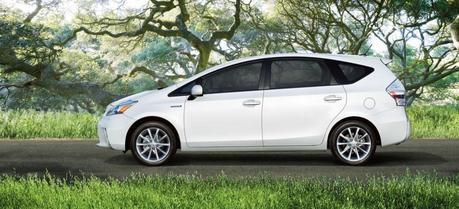 2014 Toyota Prius v Family Hybrid. (Credit: Toyota Motor Corporation)
Largest in the line of Toyota Prius models, the Prius v provides enough room for a family while offering 42 mpg combined fuel economy. The "v" in the name of the crossover Prius stands for "versatility."
In the Prius v, generous interior space and good visibility are complemented by a high seating position, ample head room and a roomy 35.9 inches of rear seat leg room. A low, wide-opening rear hatch accesses 34.3 cubic feet of cargo space behind the 60/40 split folding rear seats, which expands to a generous 67.3 cubic feet with the seatbacks lowered. The fold-flat front-passenger seat allows the vehicle to carry long items. Sliding second row seats allow for easier ingress and egress and rear-storage flexibility, with a 45-degree recline for greater comfort.
The Hybrid Synergy Drive system in the Prius v is essentially the same as in the current Prius model. The system combines the output of a 1.8-liter Atkinson-cycle, four-cylinder engine with an a 60 kw (80 hp) electric motor that mainly works to power the compact, lightweight transaxle and another smaller motor that mainly works as the electric power source. Maximum motor drive voltage is 650 volts DC. The nickel-metal hydride battery pack is the same as on the Prius, but with a cooling duct located under the rear seat.
Hybrid Synergy Drive's combined 134 net system horsepower feels even stronger to the driver due to the way the system combines the power of the gasoline engine and electric motor. It is a series-parallel hybrid system that can provide power either from the engine alone, or the motor alone, or a mix of both. Regenerative braking helps to recapture electrical energy under deceleration, which helps to reduce fuel consumption. An automatic start/stop system also helps to reduce fuel consumption in urban driving. The compact and lightweight gasoline engine operates quietly and qualifies for SULEV and Tier2 Bin3 emissions standards.
In addition to the standard driving mode, the Prius v includes an ECO driving mode, an EV driving mode, and a POWER mode. In POWER mode, enhanced mid-range response enables easier coping with slopes and mountainous terrain. In EV mode, the Prius v can run on battery power alone under certain conditions, at lower speeds, for up to about a mile. In ECO driving mode, the engine management system prioritizes fuel economy, managing throttle response and limiting power consumption from the air conditioning.
Another Toyota hybrid—the 2014 Toyota Highlander—was on display at the 2013 Los Angeles Auto Show.