Religion is NOT required to 'interpret' science.  REASON is required, and the intellectual honesty to adhere to facts, not faith or belief that runs counter to facts.  No religion worthy of adherence requires belief in the factually false.
"The good thing about science is that it's true whether or not you believe in it."




― Neil deGrasse Tyson
Below is a graphic that defines the foundational difference in thought and politics of the right and of the left. 
Those of us who are more cynical note that those who promote religion against science consistently take money from those who profit in the fossil fuel industries from their position, which certainly calls into question the validity of their statements and beliefs as being for sale. 
In the upper part of the graphic is Ben Carson, token black Republican candidate who has abandoned his knowledge of science to pander to the religious right for the next chapter of his life and career.
He will fail.
In the lower section of the graphic is the renowned and respected Neil de Grasse Tyson, scientist and science presenter.  He seeks fact and truth, not power; he does not promote a theocracy as does Carson.  He continues to be one of the most influential figures in our country and around the world. 
He is a success.
He is a success, because he is reality based, and because he has two goals that define his life's accomplishments, and also his politics.:
"The problem, often not discovered until late in life, is that when you look for things in life like love, meaning, motivation, it implies they are sitting behind a tree or under a rock. The most successful people in life recognize, that in life they create their own love, they manufacture their own meaning, they generate their own motivation. For me, I am driven by two main philosophies, know more today about the world than I knew yesterday. And lessen the suffering of others. You'd be surprised how far that gets you."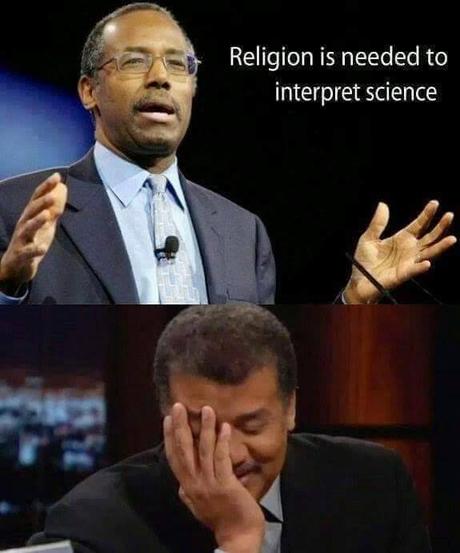 Other quotes from  de Grasse Tyson that apply here:
"God is an ever receding pocket of scientific ignorance."
   ― Neil deGrasse Tyson
"I want to put on the table, not why 85% of the members of the National Academy of Sciences reject God, I want to know why 15% of the National Academy don't."
   ― Neil deGrasse Tyson
"When scientifically investigating the natural world, the only thing worse than a blind believer is a seeing denier."
   ― Neil deGrasse Tyson,

Death by Black Hole: And Other Cosmic Quandaries
The pope has arrived in the U.S.A.
He is being boycotted in his address to congress by idiot right wingers who duped their ignorant constituency into representing them -- and embarrassing all of the rest of us.  Climate change, and the adverse effects from it, like drought and famine, is of serious concern to all of us, not only because of the direct effects of natural disasters, but because of the destabilizing effects of indirect results like food shortages and lack of drinking water.  California is a practical case in point.
From
the Phoenix Times
:
Arizona U.S. Representative Paul Gosar Insists Others in Congress Will Join His Papal Boycott

Citing climate change as a "socialist talking point," Arizona Congressman Paul Gosar announced that he will boycott Pope Francis' speech to a joint session of Congress later this week.
His office claimed he won't be the only one.
"Several House colleagues spoke to Congressman Gosar last Friday in support of his stance and told him that they, too, would not be attending," Gosar's press secretary, Steven Smith, wrote to New Times  in an e-mail .
But anyone hoping to learn which members of Congress is out of luck: "Out of respect to those members, Congressman Gosar will not publicly name who they are because he feels that they can speak for themselves if they choose to," Smith's e-mail went on to say.
Recently, Gosar has received a lot of attention for a Townhall.com op-ed in which explained that initially, as a "proud Catholic," he was really excited to hear that the Pope would be [addressing] Congress but that his view changed after he learned what the Pope might say.
"Media reports indicate His Holiness...intends to focus the brunt of his speech on climate change," Gosar wrote. "If the Pope plans to spend the majority of his time advocating for flawed climate change policies, then I will not attend."
Gosar goes on to say that he finds the possibility of the Pope discussing climate change "troubling" because "this climate-change talk has adopted all of the socialist talking points, wrapped false science and ideology into 'climate justice' and is being presented to guilt people into leftist policies...If the Pope chooses to act and talk like a leftist politician, then he can expect to be treated like one."
Gosar should know better; he is a dentist when he is not a tin-foil hat wearing tea partier.   A little more about Rep. Paul Gosar, from thatsmycongress.com, which would further put him in conflict with the principles of Christianity and his faith, and in the positions of the pope, as well as anti-science positions:
Rep. Gosar's Conservative Action Score: 67
The Conservative Action Score is calculated by compiling a series of observably conservative roll call votes and bill cosponsorships in the 113th Congress and comparing Paul Gosar's behavior against that conservative standard:
Disregard for constitutional protections of American civil liberty
Secrecy and exclusion of citizens from government
Support for discriminatory policy
The symbolic denigration and practical undermining of science and education in America
Active harm to the environment or passive allowance for environmental destruction
Pursuit of further advantage for those in America who are already its richest
Dismissal of peaceful possibilities and obeiscance to the military-industrial complex

A score of 67 means that Representative Gosar has taken 67% of the possible conservative actions identified on the That's My Congress scorecard.
And in a piece on opposition to solar energy from the Center for Investigative Journalism, we find Gosar and other conservatives happily signing a letter against solar energy written by.......wait for it...not a congressional staffer who has the duty to research issues and serve constituents, but by a big money donor to Gosar, a large utility company in competition with solar energy.  It certainly appears that Gosar will think and believe whatever he is paid to think or believe when it comes to energy - or climate change.:
Aps Drafted Anti-Solar Letter Signed By Congressmen

...sent by six Arizona congressmen in letters to the Federal Trade Commission and the recently created Consumer Financial Protection Bureau. But one of those letters was originally drafted by an employee of Arizona Public Service, the state's largest utility and one of the largest campaign donors for the group of lawmakers.
The APS-authored, congressmen-signed letter comes as the latest in an ongoing effort to stymie third-party solar panel companies, whose business has grown tenfold over the past half-decade, presenting a challenge to the long-term business model of utilities like APS.
The high-profile fight between the traditional utility and newer rooftop solar panel companies is not unique to Arizona. Similar struggles have emerged in other states as rooftop solar installations have increased since 2009. ...Thomas Van Flein, Gosar's chief of staff, said the Dec. 12 letter sprang from a draft provided to his office by APS.
Van Flein said the draft letter was one of numerous documents provided by APS on the topic. "I think this is not unusual, to even have a draft provided to you by other stakeholders," Van Flein said. "Sometimes you have the opportunity to make changes, sometimes you don't." Van Flein estimated that he changed 30 or 40 percent of the letter APS provided letter. "We read it, we revised it, we reviewed it. It was our letter at this point. We adapted it, we changed it, we vetted it," Van Flein said. A comparative analysis shows four sentences of APS' draft were completely or mostly changed, along with a handful of other words and phrases. Metadata encoded into the digital file provided by APS and edited by Van Flein lists David Peterson, Energy Innovation Program Consultant for APS, as the author of the letter. It also lists Pinnacle West, the parent company of APS, as the company that owns the computer it was created on. APS spokesman Jim McDonald would not answer specific questions about why Peterson wrote the letter, which purports to spring from constituent complaints.
Gosar aide Van Flein said signing a letter drafted by APS was not a quid pro quo for campaign contributions. Over the past three election cycles, the political action committee and employees of Pinnacle West Capital Corporation have given a combined $99,675 to Arizona Republicans Franks, Gosar and Salmon, according to data compiled by the Center for Responsive Politics. Pinnacle West has been the single largest campaign contributor for Gosar during his entire political career and has been the second largest campaign contributor for Salmon. The political action committee and employees of Pinnacle West spent more than twice in 2014 than they did in 2012 on the campaigns. Peterson said he could not comment on why he was asked to write the letter. He also declined to provide details about the consumer complaints cited in it.
In Peterson's draft, however, he explained, "many reports are surfacing that homeowners who have signed these zero-money-down leases are struggling to sell their homes." That was changed to read, "numerous reports have found that homeowners who have signed these zero-money-down leases are struggling to sell their homes." Van Flein said he did not actually review any consumer complaints.