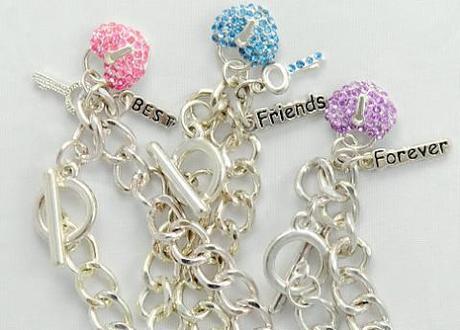 These bracelets may not be your best friends after all: These Claire's charm bracelets were recalled in May 2010 over high levels of cadmium. http://www.cpsc.gov/cpscpub/prerel/prhtml10/10227.html
If you need an excuse to go to Tiffany's, then you'll be glad to hear that a study released by the US Alliance for a Healthy Tomorrow and the Michigan-based Ecology Center last week reveals that cheap costume jewelry contains toxic chemicals. But can those pretty shiny things really hurt you? Are your kids safe? And whose fault is it anyway?
According to the report, 59 percent of the 99 items tested, which were sold in 14 US shops including Claire's Accessories, Forever 21, H&M, Target and Walmart, contained lead, cadmium, chromium, mercury and arsenic, among other highly toxic chemicals. Victoria Wellman in the Daily Mail reported that these substances have been linked to acute allergies, birth defects, impaired learning, liver toxicity and cancer. The report follows another recent study showing that children can suffer cadmium poisoning after mouthing or accidentally swallowing cheap costume jewelry, which is often marketed to them.
The Ecology Center scientists report their findings:

You might as well be wearing a car battery round your neck? Dr. Jeffrey Weidenhamer, Professor of Chemistry at Ashland University, was lead author on the cadmium study and collaborated with the Ecology Center on this study. In the above video, he said, "[Lead] ends up in the jewelry because it's cheap, it's easy to melt, it makes nice heavy pieces of jewelry … a lot of the pieces we've tested that are 95 percent lead by weight, the alloy composition is almost identical to what you'd find in lead acid car batteries."
""Oh, we all thought we were so clever, buying cheap but cute necklaces and colorful bracelets at places like Forever 21, Target, and Claire's. Sure they might make our outfits look better for a very low price, but it turns out these pieces of crappy jewelry might also be poisoning us. Grr. Looks like it's time to admit that deep down, we knew it was too good to be true,"  sighed Cassie Murdoch on Jezebel.
Don't suck your necklace, darling! The chemicals are much more of a danger if you ingest them, and it is children who habitually put these necklaces, pendants and rings in their mouths that are most at risk. The Environmental Protection blog quoted advice from the Consumer Product Safety Commission (CPSC) that children should not be given cheap metal jewelry because, "Swallowing, sucking on, or chewing a metal charm or necklace could result in exposure to lead, cadmium, or other heavy metals, which are known to be toxic at certain levels of exposure." CBS spoke with  Dr. Kenneth R. Spaeth, director of the occupational and environmental medicine center at North Shore University Hospital in Manhasset, N.Y., who noted that because cheap jewelry is often cheaply made, it can chip, break, and crack more easily; the likelihood of a child ingesting something he or she ought not increases.
Consumer choice? Alliance for a Healthy Tomorrow is keen to persuade American lawmakers to legislate against the sale of products containing dangerous chemicals, in Massachusetts by passing the Safer Alternatives bill. They complain that "this is a problem that we can't "shop our way out of."  These products aren't labelled, or in some cases they are mislabeled – one necklace that was labelled "lead free" was found to be 96.4 percent lead, the group claimed According to the Daily Mail, six states have already moved to regulate cadmium: California, Connecticut, Illinois, Washington, Minnesota, Maryland. In 2011, Senator Lautenburg introduced a bill, the Safe Chemicals Act (S.847) to reform the Toxics Substance Control Act. In the meantime, manufacturers are being urged to clean up their act; the Consumer Product Safety Commission is also investigating the report's claims.
So are diamonds a girl's best friend? Maybe it's time to save up for the real thing. Or as Cassie Murdoch on Jezebel concludes: "[U]nless they come up with some foolproof way to test every piece of jewelry on sale, you're probably better off skipping the super cheap jewelry in favor of a more bare, but significantly less carcinogenic neckline."
More things that can kill you

Deadly airborne bird flu virus
Yoga (yes, really)
Arsenic in apple juice?
Harvard study finds link between high red meat consumption and increased mortality rate