I
posted about
my childhood home of Goderich, a town centred on a round 'Square'. At its hub, which was actually an octagon, the clean lines of an Art Deco courthouse cut right angles amid a gnarled host of old maple, chestnut, and elm trees.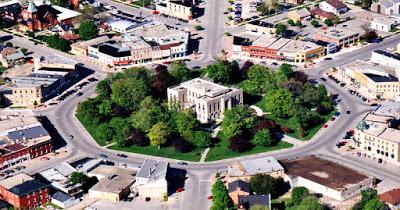 The Square, Goderich.
Source: http://civix.ca/resources/secondary-municipalities/
The courthouse wall that faced my street featured a clock above the central window, so that when I
looked up the street from my front yard
, there they were: the law and correct time.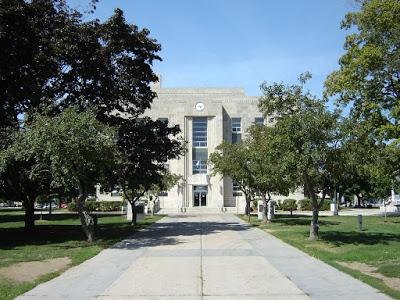 Huron County Courthouse.
Wikimedia Commons, Rjsbird287 CC BY-SA 3.0 https://creativecommons.org/licenses/by-sa/3.0
Venturing the other way took one to another juristic octagon, the 
Huron
County gaol
, an
honest-to-goodness
Benthamite panopticon
.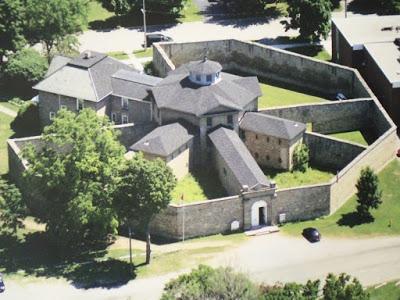 Huron County Gaol.
Photo from Bruce Forsyth's page CC BY-NC-ND 3.0 https://creativecommons.org/licenses/by-nc-nd/3.0/
The prominence of the octagon in the town's physiognomy has long fueled speculation, including this note in Goderich's
Downtown Core Master Plan
:
The uncanny resemblance between the Goderich Gaol design and that of the Square may be mere coincidence, as may be the octagonal shape coinciding with the eight letters of the town's name, or it may have been deliberate. Certainly an octagon is a very unusual shape for a town 'square' and has few precedents beyond a utopian town layout found in Northern Italy [Palmanova] and in unbuilt town designs from the Renaissance. (Town of Goderich, Downtown Core Master Plan [May 14, 2012], p. 6 n. 1)
These observations conjure a dystopian theme, setting Goderich in the ambit of an all-seeing authority. This motif may find an echo in the Calvinism of the area's settlers, but I won't pursue it. While the
region has
its dark
 history, including the miscarriage of justice 
in the Truscott case
, this was before my brief time there. No overbearing authority loomed in my childhood experience of the place. After all, the gaol had already become a museum when I lived in Goderich, and the courthouse seemed barely occupied, a place people visited to pay parking tickets (if they ever went there at all).